Heads up! We're working hard to be accurate – but these are unusual times, so please always check before heading out.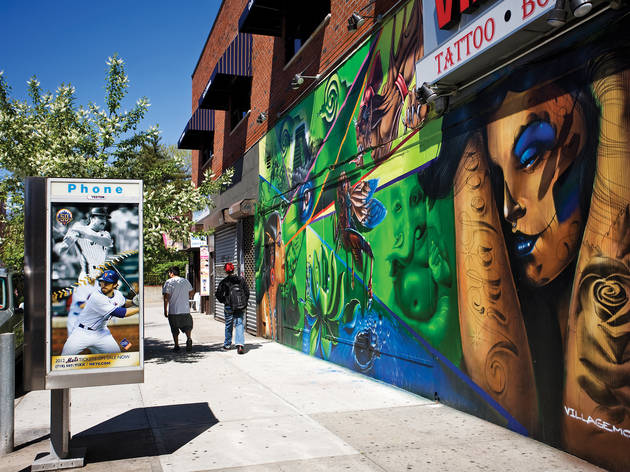 "Transhistoria"
Authors, poets and a rapper spin an oral history of NYC's most diverse borough.
In a city of seemingly endless noise and motion, the Guggenheim's series "stillspotting nyc" highlights havens of calm and quiet. The borough-hopping project launched in June 2011 with a stress-busting sanatorium in Downtown Brooklyn (a team of artists treated visitors' mental-health ailments by channeling healing energy into dolls, and giving blessings in the form of paintings). For its second project last September, architecture firm Snøhetta and composer Arvo Pärt transformed areas in lower Manhattan into a series of soundscapes. Now the third installment, "Transhistoria," takes over Jackson Heights, Queens, for four consecutive weekends beginning Saturday 14 and Sunday 15. While public space played a major role in the two previous editions, this one has a different focus. "You can't speak about stillness or finding a quiet moment in the city without speaking about domestic space," says David van der Leer, the museum's assistant curator of architecture and urban studies. "This project is focused on issues of the home: creating a home, experiencing a home—or leaving a home, for that matter."
"Transhistoria" features 10 writers with strong ties to the borough—some are lifelong residents, while others are transplants who put down roots. They, along with additional speakers, will present both autobiographical and fictional narratives in locations throughout the neighborhood. After receiving a map at the starting point, visitors can drop by four spaces of their choice for an intimate reading of each site-specific vignette. We asked the participants for teasers from their Queens-related stories.
Himanshu Suri
Occupation: Rapper in Das Racist
Queens cred: Queens native and community organizer for Richmond Hill nonprofit Seva NYC
"The city moved around him, making grand gestures as he lived his mundane life oblivious to it. Manhattan was a scary place. There's no need to go there. The same for the Bronx. Staten Island is to drive over. Coney Island is where work is, but the F train isn't so bad. Queens was home. It was the only thing he knew."
Erik Baard
Occupation: Environmental activist and journalist
Queens cred: Long Island City resident and Greenest NYer award winner who founded the LIC Community Boathouse and other borough-based green initiatives
"I grew up under the whine of jet airplanes approaching La Guardia Airport, and the rumble of others more distantly ascending."
Premilla Nadasen
Occupation: Writer, historian and teacher
Queens cred: Professor at Queens College
"Second-generation, and maybe third-generation, Indian immigrants find their way to Jackson Heights, looking for community, belonging or just good masoor dal."
Maria Terrone
Occupation: Author, poet and assistant VP of communications at Queens College
Queens cred: Lifelong resident of Jackson Heights
"Six out of ten people I pass on the street in Jackson Heights were born in another land—Ecuador, Peru, Mexico, Bangladesh, Thailand, the Ukraine. Did they flee famine? Killing fields? Violent relationships? Or a sudden, political fall from lives of privilege?… This is what immigrants are born to do: face both forward and back, like Janus, one of our many Roman gods."
Roger Sedarat
Occupation: Author
Queens cred: Literature teacher at Queens College
"Compared to Texas, when I arrived in my early twenties, Queens looked like Mars, with so many cultures beyond my own Iranian background. I immediately felt more at peace in the diversity of Queens, where you could be from anywhere and pursue your own life."
Nicole Steinberg
Occupation: Author and editor
Queens cred: Queens native, editor of Forgotten Borough: Writers Come to Terms with Queens
"My mother passed away at Elmhurst Hospital on a Tuesday morning. It was February, cold and sunny, and I was between jobs. I was riding the 7 train on my way there when my father called with an update."
Ishle Yi Park
Occupation: Poet and singer
Queens cred: Poet laureate of Queens 2004–2007
"Queens was the birthplace of my travels, and my brother's, as we grew into adults and into our skin."
TREAD SOFTLY "Transhistoria," Ticket kiosk: 40-40 75th St between Broadway and 41st Ave, Jackson Heights, Queens (stillspotting.guggenheim.org). 11am–7pm; $10, members $8. Sat 14, Sun 15, Apr 21, 22, 28, 29, May 5, 6.