Heads up! We're working hard to be accurate – but these are unusual times, so please always check before heading out.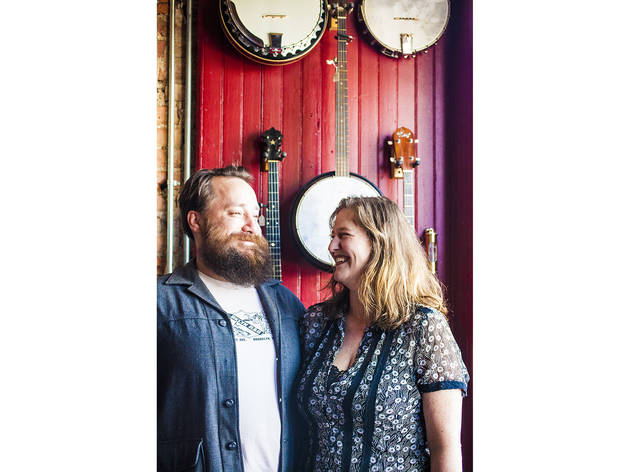 1/3
Photograph: Krista Schlueter
Vintage New York trendsetters and scene makers: Lynette Wiley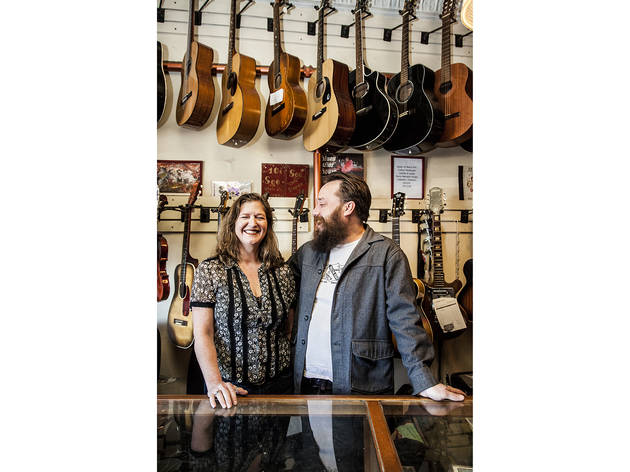 2/3
Photograph: Krista Schlueter
Vintage New York trendsetters and scene makers: Lynette Wiley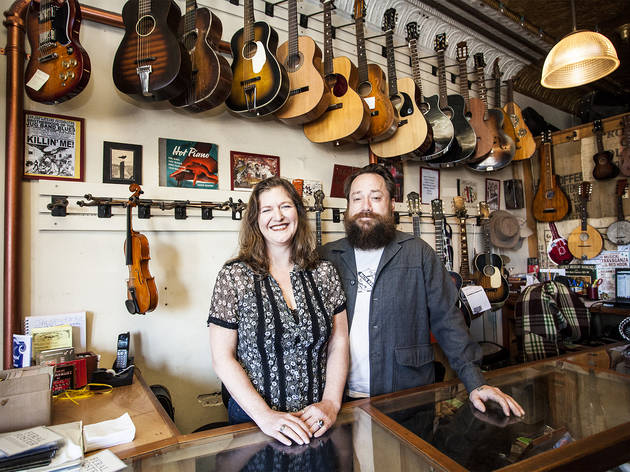 3/3
Photograph: Krista Schlueter
Vintage New York trendsetters and scene makers: Lynette Wiley
Vintage New York trendsetters and scene makers: Lynette Wiley
Lynette Wiley, co-owner of Red Hook's Jalopy Theatre and Jalopy Tavern, is a booster of the vintage New York folk and country scenes.
Red Hook honky-tonk Jalopy Theatre is the nerve center of Brooklyn's burgeoning neofolk scene; in addition to checking out live acts, you can shop for vintage instruments, take music classes and sip classic cocktails—no front porch required. Lynette Wiley opened the vintage New York venue with her husband, Geoff, nearly seven years ago.
RECOMMENDED: All vintage New York coverage
Lynette Wiley
, 40; Red Hook, Brooklyn; co-owner,
Jalopy Theatre
and
Jalopy Tavern
How long has Jalopy been around?
It'll be seven years in September. My husband [Geoff Wiley] and I came here after searching all over the country and parts of Europe for where to open. We wanted a small venue, we wanted to sell and repair vintage instruments and have music classes for adults in the folk tradition, and we wound up finding Red Hook and falling in love with the neighborhood. We did all the construction ourselves. We opened with the coffee shop and a couple weeks later opened the instrument shop, and a couple weeks later got married here. And then we started having shows.
Why were you drawn to Red Hook?
Red Hook is an amazing place to live—like no other. We were looking for a place that had a lot of people and an established music scene. We looked at Portland, Oregon; Portland, Maine; Lisbon, Portugal; and we kept thinking, What about New York? There was no way we could afford Manhattan, so we started looking at Brooklyn. And then we came down and explored Red Hook and peeked in the windows of Sunny's Bar, and met some people. We decided that same day that we were gonna buy the [Jalopy] building.
How did you get interested in the folk scene? Are you a musician yourself?
I'm actually not. This started out being more of my [musician] husband's idea. I've always worked in the nonprofit arena. When I realized the potential of supporting a growing community, I really fell in love with the Jalopy concept—the love of music, and love for learning. I was always thinking I'd do this part-time and then go back to working in nonprofits, and that didn't happen. I'm very happy where I am.
What's your favorite event that Jalopy has put up?
The Brooklyn Folk Festival
(brooklynfolkfest.com)
, which we do every year, is a major part of what I love. It takes a whole year's worth of planning. But we've done so many different things here. We've had speaker series and lectures that are all really great.
What are some of your other favorite folk venues in the city?
Sunny's Bar
(253 Conover St between Beard and Reed Sts, Red Hook, Brooklyn; 718-625-8211, sunnysredhook.com)
, of course, is just the heart of Red Hook in so many ways. And I really like what
the Bell House
(149 7th St between Second and Third Aves, Gowanus, Brooklyn; 718-643-6510, thebellhouseny.com)
does, and Bklyn Rod & Gun
(59 Kent Ave between North 10th and 11th Sts, Williamsburg, Brooklyn; bklynrodandgun.com)
is a fantastic place. But for me to actually leave this 120 feet of Columbia Street is really rare. [
Laughs
] I'm sort of always here.
Last year, you opened Jalopy Tavern, a bar-restaurant next to the original space. What prompted that addition?
We spent a lot of time at the tavern when it was Moonshine [a bar that closed in 2011], and we loved the idea of people having a place to eat before a show or hang out after. Our students play in the backyard, and musicians jam late-night. It was a natural progression for ourselves and our community.
Next up: Bayou n' Brooklyn Music Festival, May 10–12.