Weekend fitness trips
Get out of the city-and the gym-for some fitness fun in the sun.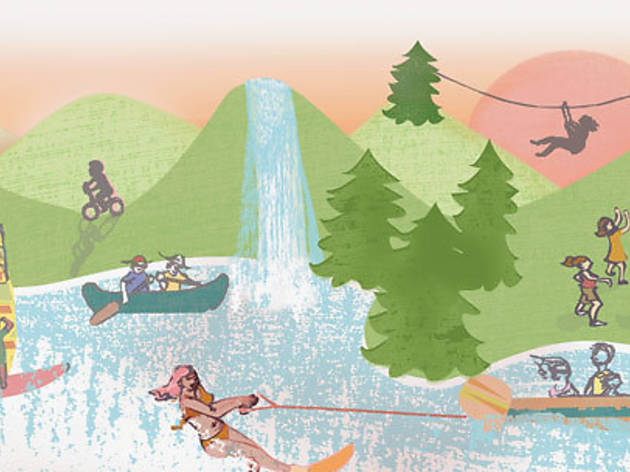 RECOMMENDED: See all day trip ideas
For singles: Club Getaway
Kent, CT
At Club Getaway, set in a picturesque mountainous lake environment dotted with cabins, you can take advantage of waterskiing, archery, canoeing, a zip line, a rock-climbing wall and 30-plus other activities. Although the retreat is only a two-hour bus ride from the city, you'll think you've traveled back in time to middle-school sleepover camp. "Last time I went, I did an outdoor yoga class, the bungee trampoline, a kickboxing class, a ten-mile bike ride, an Amazing Race relay game, a Thai massage class, the 'bike and hike,' volleyball, trapeze...and played flip cup," says Sheri Franklin, a frequent Getawayer from Manhattan who admits to meeting a few dateworthy men on her trips. ("I know of two couples who met there and are now married," she adds.) And unlike kiddie camps, coeds aren't forced to separate after nighttime mixers. And the free-flowing wine supply at dinner helps everyone mingle.

Getting there: A round-trip bus leaves from 63rd Street and First Avenue for just $45. A weekend costs $279--$459, depending on the theme and number of nights. Everything (activities, food, flip-cup beer) but the bar is included. Visit clubgetaway.com for more information.
For a dedicated workout: Deerfield Spa
Stroudsburg, PA
Grab a friend and your comfiest sweats for a revitalizing stay in the Poconos (it's not as cheesy as you'd think). "I was looking for a jump start," says former (and future) guest Janine DeVito of Brooklyn. "I work in television production and my hours are insane—six days and up to 75 hours per week. And eating healthfully while dealing with a hectic schedule is damn near impossible." At Deerfield, days are filled with exercise classes (weight training, spinning, water aerobics, ballet tone and more); meals are chock-full of healthy, delicious options (with calorie counts included); and the pool, hot tub and sauna are brimming with friendly fellow fitness fans. Nearly every imaginable spa treatment (facials, massages, etc.) is available at an extra cost.

Getting there: A Martz Trailways bus departs from downtown Manhattan (about $60 round-trip) to Stroudsburg, and a cab to the spa is just $15. Weekends cost $370--$610, depending on accommodation and occupancy. Visit deerfieldspa.com for more information.
For wilderness lovers: Outdoor Bound
Various nearby mountain locations
Leave behind your cluttered apartment—and your comfy bed—for the wide-open spaces and steep mountain faces of the Adirondacks, Catskills or whatever Northeast destination Outdoor Bound has planned. Most multiday trips include hiking, rock climbing and sleeping under the stars (tent rentals are an additional $15). "The guides are game for whatever the group wants to do," says Chris Vasquez of Harlem. "On one trip to Mt. Marcy, we got to the summit two or three hours early. We were pumped and decided to take a longer route around the peak and back down—it ended up being a ten-hour, 18-mile hike." Upcoming trips include canoeing, camping and hiking in the Adirondacks (August 14) and rock climbing, yoga, kayaking, hiking and camping in the Shawangunk Mountains (September 25).

Getting there: A bus will pick you up and drop you off at 73rd Street and Broadway (fare is included in the ticket price, as are most meals). Trips range from $225 to $695 depending on destination, activities and the number of nights. Visit outdoorbound.com for more information.
For peace of mind: Kripalu Center for Yoga and Health
Stockbridge, MA
"You shed your old skin for a new one upon walking through the doors," says frequent retreater Yvette Bolling of Jamaica, Queens. Okay, not literally, but Kripalu does offer a variety of detoxifying ayurvedic spa treatments for an additional charge. What you'll find here is a simple, rustic yoga and meditation sanctuary, featuring guided hiking, biking, swimming and kayaking, plus yoga classes and workshops for every ability level held multiple times per day. What you won't find: Cheetos and Coca-Cola—the included meals are all-natural with vegan, vegetarian and high-protein choices. "Unlike in the city, everyone is quiet and respectful of space and each other," Bolling jokes. "And when someone hugs you there, you don't check your pockets to see if something's missing."

Getting there: A charter bus leaves from Penn Station ($70 round-trip). Depending on accommodation, trips cost $366--$906. Visit kripalu.org for more information.

See more in Travel