Where to find Time Out New York
Whether you want to pick the magazine up on the streets of NYC or get it delivered to your door, we've got answers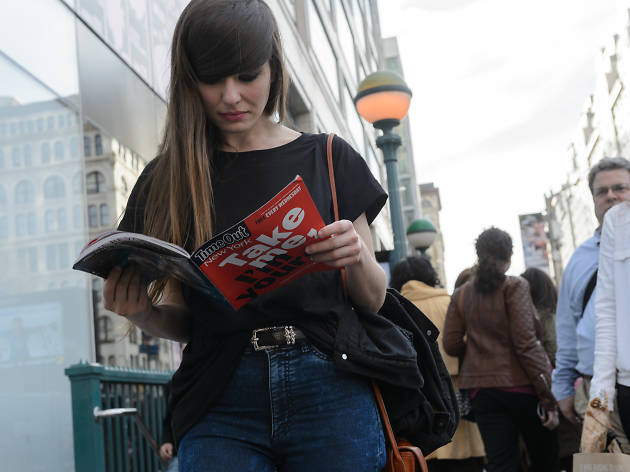 Time Out New York is a free biweekly magazine that can be picked up from locations throughout New York City. You can also subscribe to have the magazine delivered to your door anywhere in the United States.
When are magazines distributed?
The magazine comes out every other Wednesday. Distribution dates in 2018 include: June 27, July 11 and 25, August 8 and 22, September 5 and 19, October 3, 17 and 31, November 14 and 28 and December 12 and 26.
Where can I get a free copy of Time Out New York?
There are copies inside cultural establishments, cafés and stores for you to pick up at your convenience. Time Out New York is now available in vending boxes across New York City. Find a map of locations here. Also, Time Out New York will now be available, for free, at thousands of newsstand and publication outlets in and around New York City including Long Island, Westchester County and Putnam County. Please send an email to TOnewsstand@timeout.com and provide your zip code, and we will provide you locations nearest to you.
Can I subscribe digitally?
You can read the print magazine online here. Subscribe to our newsletter to get the best of Time Out New York straight to your inbox.
How can I get copies of Time Out New York to distribute at my business?
We're so glad you're excited to share Time Out New York with your customers! If you're interested in having copies sent to your business each week, please send an email to nydistribution@timeout.com.
Subscription questions
Why should I subscribe to a free magazine?

As a subscriber, you'll still receive your personal copy delivered to your door to make completely sure you don't miss out on the biggest, best and newest things New York has to offer.
Can I still get the magazine outside of NYC?
Yes, readers outside of NYC can still subscribe to Time Out New York and receive the same magazine they are accustomed to delivered straight to their home each week.

How much is a subscription?
The annual rate is $25. This service is charged at cost against postage and packaging. (So, yeah, it's a great value for the money!) You'll be informed of any new rates with your next renewal notice.
Where do I sign up for a subscription?
You can order a subscription to Time Out New York right here.
Already a subscriber? Find FAQs and contact Time Out here.