Where to volunteer: Women's-rights organizations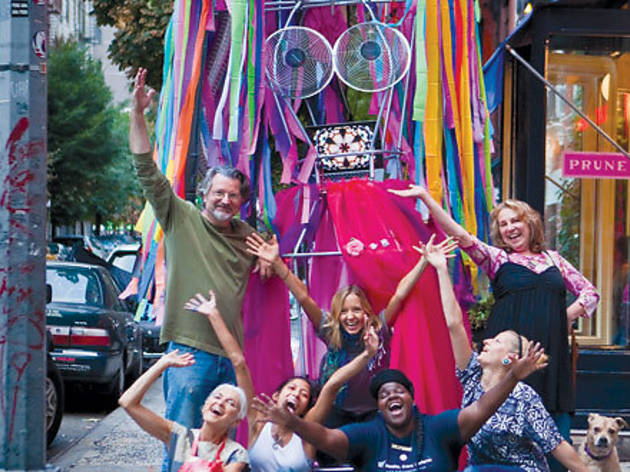 RECOMMENDED: Where to volunteer in NYC
Madre
By working with sister organizations in countries like Colombia, Haiti, Iraq and Sudan, this human-rights group sends essential items (such as medical and school supplies for female clinics and girls' schools) to families and women around the world. Volunteers make it happen by reaching out to companies for donations, organizing and taking inventory of supplies, and packing and shipping goods. If you aren't available during office hours, you can help in other ways: Throw a house party to raise awareness for the organization, or spearhead a collection for one of the group's many fund-raising drives. 121 W 27th St between Sixth and Seventh Aves, suite 301 (212-627-0444, madre.org)
The Lower Eastside Girls Club
This downtown organization offers plenty of activities for young women, including craft workshops, career development and after-school tutoring. Mentors, who sign up for a nine-month commitment, are needed to take girls on monthly museum trips, as are tutors to assist with homework and SAT-prep sessions. If you have a special skill (such as gardening or tech knowledge), you can apply to lead your own workshop. The club also seeks volunteers to assist with its upcoming Walk-a-thon for Girls' and Women's Health (May 12)—you can pitch in by making signs or directing participants on the day of the event. Various locations; for more information, visit girlsclub.org.
Women in Need
Since 1983, this nonprofit has worked to get homeless NYC families back on their feet by providing transitional housing. Now able to accommodate 800 families at a time, the organization also teaches life skills (with classes on financial literacy and job readiness), and offers child care. Volunteers can assist residents with résumés and job applications, or work with a group to run after-school activities such as story time, arts and crafts, and fitness programs. Locations vary (212-695-4758, women-in-need.org)
The New York Women's Foundation
Now in its 25th year, this group gives partner grants to lady-led NYC organizations, and recruits women to get involved in female-focused philanthropy. Joining a committee is the best way to volunteer. Examples include Circle of Sisters for Social Change, a new group that unites a diverse range of women, and Committee for the Future, for women under 40 who work mainly in the corporate world. You'll attend meetings, help organize donation dinners and brown-bag luncheons, and provide administrative assistance like filing and mailings. 39 Broadway between Morris and Rector Sts, suite 2300 (212-514-6993, nywf.org)
Planned Parenthood of New York City
The sexual- and reproductive-health-care, clinical-services and advocacy provider is all over the news lately—mostly because it's under constant attack from the right-wing. Luckily, there are plenty of ways you can help the embattled organization. Members of the Activist Counsel (who commit to a minimum of three-months) attend monthly meetings and can choose to focus on sex-ed advocacy, political action, fund-raising or field activities (such as staffing tables at city fairs and concerts). If you're strapped for time, attend a monthly volunteering nights to help assemble information packets or mailings. (212-274-7224, ppnyc.org)
RELATED
Meet a member of Permanent Wave, a network of feminist artists and activists
Listen to 10 great feminist anthems
Read an interview with pioneering activist Gloria Steinem
Browse NYC landmarks named for women
Sponsored listing
Viva Toro
Brooklyn's only mechanical bull destination, serves up Mexican and Latin-Caribbean favorites, signature drinks and a side of unbeatable entertainment.
Venue says: "Happy Hour Tuesday-Saturday from 4pm to 7pm with 1/2 off select appetizers, $5 frozen mojitos & margaritas, sangria & well drinks."
You might also like