Heads up! We're working hard to be accurate – but these are unusual times, so please always check before heading out.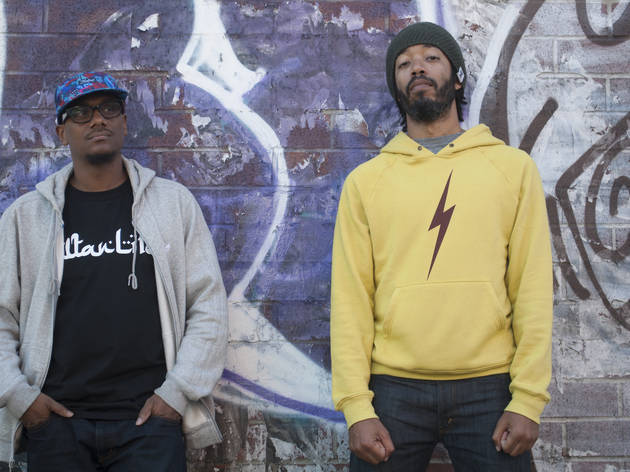 Wyatt Cenac and Donwill talk about Black History Month
Shouting at the Screen founders Wyatt Cenac and Donwill discuss the February edition of their awesome screening series
Each month, former Daily Show correspondent Wyatt Cenac and MC Donwill, of hip-hopcollective Tanya Morgan, crack wise over blaxploitation flicks like That Man Bolt andMonkey Hustle at Williamsburg's IndieScreen venue—with audience heckling encouraged. It's a true movie treat, and the next screening takes place February 6; here's why you should check it out.

What is Shouting at the Screen?
Wyatt Cenac: Don and I had this idea to show obscure '70s blaxploitation films, because some of them are really amazing, and talk through them. It felt like a fun way to make people aware of these movies, and it's our way of paying a little tribute but also poking fun at it.
Donwill: We definitely celebrate the films' quirkiness. It's more a celebration of the genre than a heavy-handed critique.

What movie are you going to show for Black History Month?
Cenac: We might try to find something a little bit more Black History Month–related, we might try to find something a bit Valentine's Day–related. But in our own weird way I feel like every time we do the show it's kind of Black History Month, because we're shining a light on these movies that have been forgotten.
Donwill: Personally, I don't have to celebrate Black History Month because I'm a black person and I'm part of history. I have 365 days.
Cenac: I feel like it's almost for people who aren't black.
Donwill: That to me is probably the bigger point. This month exists to get other people to pay attention and recognize black people's contributions, and perhaps weave them back into the fabric of this nation's history. What's unfortunate is that it gets perceived as, Oh, it's black-people time—if you're a black actor, congratulations, you just booked a McDonald's commercial.

Is a month of recognition long enough?
Donwill: Well, it's sort of like Valentine's Day in a sense, where you might love your girlfriend for a year—you might even bring her home flowers in the middle of March—but on Valentine's Day you have to bring her home a gift or something.

But February is the shortest month of the year. Would it be better to have it in October, like in the U.K.?
[Both]: No.
Cenac: The amount of people who dress up in blackface for Halloween…I feel like their first defense would be, "I was doing it because of Black History Month," and there would just be too much of that.

So if you're not black, you should definitely come to the February show.
Cenac: It counts toward your Black History Month credit.
Donwill: We're taking attendance this month, and you want to get at least one or two events under your belt or else you won't be able to celebrate Black History Month next year.

If you could invite any black person—dead or alive, real or fictional—to dinner, who would it be?
Cenac: I'm going to go with Uhura from Star Trek.

Why?
Cenac: I like Star Trek. And she was really attractive.

That's pretty much how I choose my dinner guests.
Cenac: Exactly, that's all you need. You can talk about Star Trek, you can talk about space, and Tribbles, and if we hit it off maybe she'll take me to the future with her.
Donwill: I want to go with a dead person, because I think it'd be cool to eat dinner with a dead person. I think Tupac would be an interesting person to talk to because, if you can get him away from being thugged out for a little while, it would be cool to get his take on what the world is now. That's the fun of having dinner with these people who are like 10 or 15 years removed from the Earth; they've never seen Twitter, iPhones—I mean, you could show him his performance from Coachella where he was a hologram. It'd be cool to introduce him to his life after death, like, "Yo, so you put out a couple of albums, did Coachella, still kicking it." It'd be dope.
Check out these Black History Month events