Heads up! We're working hard to be accurate – but these are unusual times, so please always check before heading out.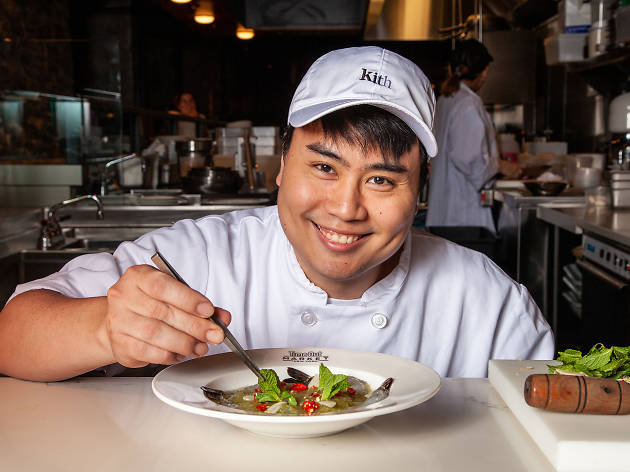 The Grilling: Ohm Suansilphong thinks a lot of Thai food in New York is too Americanized
In each issue, we put a different culinary star from Time Out Market New York in the hot seat. This time, the chef behind Fish Cheeks answers our burning questions.
"There was a real misconception in New York about what Thai food is—that it was just pad thai, pad see ew and a couple of curries," says Ohm Suansilphong. "But now, because of a lot of newer spots with a greater focus on authenticity, that's getting better."
Fish Cheeks, Suansilphong's own NYC eatery, is one of the latest innovators. After learning the ropes of his native cuisine from his parents, who owned a restaurant in Thailand, Suansilphong went on to work in fine dining at Nahm, in Bangkok. Then, in 2016, he brought his expertise to New York with the opening of his seafood-forward favorite in Soho.
This past May, Fish Cheeks swam across the East River to Time Out Market, where its stall serves fresh phlaa salmon and spicy zabb chicken wings daily. Through a translator, we spoke with Suansilphong about how the city has surprised him, the iPhone apps he can't live without and that one time he almost burned down a hotel.
What's your favorite film?
The Godfather. It didn't really influence my view of New York before I moved here, though. I knew the city wasn't as violent as it used to be, so it didn't scare me off.
Yeah, things have changed a lot.
But I did actually see Al Pacino on the street once. That was a big moment—probably my biggest celebrity encounter. John Legend and Chrissy Teigen came into the restaurant once, too, which was huge. I really like them.
What has surprised you about living in NYC?
Coming from Bangkok and having worked in Sydney, I thought the Thai food here would be more authentic than it is. When I got here a few years ago, I thought there'd be a handful of Thai restaurants that really stayed true to [the cuisine], and I was surprised that only a small number of them actually had authentic Thai food. There are a lot of Thai restaurants in the city, but almost all of them make the food taste Americanized. They cater to more of a Western palate, which I don't think is necessary to do.
Do you have a go-to app on your phone?
The Weather app. In Thailand, I didn't really have to look at the temperature at all. It's pretty much the same all year round. But here, the weather fluctuates so much.
What's a valuable lesson that you learned from another chef?
When I was working at Nahm, chef David Thompson told me that every moment in the kitchen should be thought of as a teaching experience. It's like a school more than it is a restaurant. Everything you do there should be taken very seriously.
Speaking of lessons learned, what's been your biggest mistake in the kitchen?
Back when I was working at Nahm, I was at a grill station, and in Thailand we grill a lot of things with charcoal. When you first light charcoal, you use a little bit of lighting liquid to start the fire. I tried to light it but didn't notice that some of the charcoal was already lit. So, I went back and got a lot more lighter fluid and threw it on, and it started this gigantic fire. The restaurant was right in the middle of a hotel, too. The fire alarm went off, and they had to evacuate the entire hotel.
Where would you travel to spend a whole week eating?
Paris. It's so different from what I do, which is mostly Thai and Southeast Asian cuisine, so it would be nice to try it. I would just like to walk around and sample from all the tiny bakeries I find on the street.
What's a dish that you make for yourself?
Fried eggs, Thai-style. It's kind of a Thai omelette: You whisk it and add other condiments—sometimes you can add proteins—and then you cook it at high heat
in the wok.
What's your favorite neighborhood in the city?
I work a lot, so I'm often in Soho, and I really like it. I don't really drink, but I like going to the coffee shops there. I'm kind of on a coffee tour—I'm trying as many possible shops as
I can in downtown New York. But I think I probably like Chinatown the most. It reminds me a bit of Thailand, and I do a lot of my grocery shopping there. It's better than Whole Foods or Trader Joe's, and the main thing is the condiments: There are a lot of sauces and other things that you can find there that aren't available in normal stores. So many sauces.
Named after a part of the fish that is considered to be a delicacy in various cultures, Fish Cheeks offers Bangkok-style sour-orange curries and chili jams that showcase the culinary diversity of Thailand. Psst: Don't leave without trying the fiery coconut-crab curry. For complete Time Out Market menus, more info and editors' picks, head to timeout.com/newyork/market.