If you can barely remember the last time you left your state, let alone got on a plane, you're in plenty of company. After a year or more of being largely housebound, when we finally come out on the other side, our "first trip" out of the country will feel extra special, a celebratory antidote to the sadness and the many, many months spent chilling at home.
But where to go? To a beach? A city? A rainforest? A cultural hotspot? There are so many possibilities, and Costa Rica offers them all. With miles upon miles of untouched tropical rainforests, endless strips of stunning beaches, an abundance of wildlife and waterfalls, cultural hubs scattered throughout the country, incredibly fresh and local food, and more, the land of "pura vida"—which translates to "the pure life"—truly has something for everyone. What's more, the country is also completely dedicated to sustainability, with a program in place that encourages local travel companies to build sustainable business models. The Certification for Sustainable Tourism program (CST), was established in 1997 and, as of 2019, includes more than 400 CST-certified tourism companies in its roster. Should you choose to travel with any one of them, your tourism dollars will help make Costa Rica a better place.
Here, 20 reasons why you won't regret making Costa Rica your first trip after a very travel-less and oh-so-trying year. (Bonus: All of the companies mentioned are, in fact, CST certified!)
---
1. Because you can leave 2020 behind you—both physically and metaphorically—as you zipline through the jungle with the Osa Canopy Tour in the Osa Peninsula.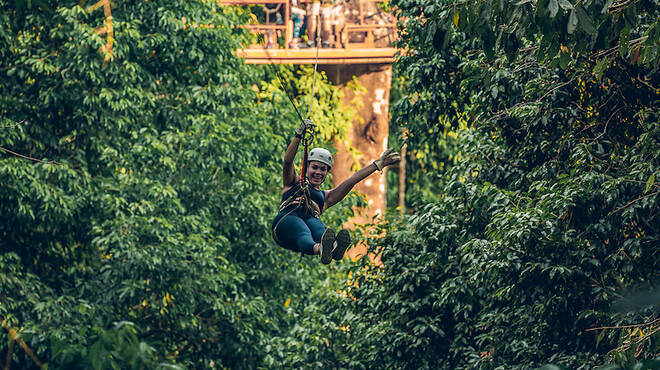 Costa Rica's Osa Peninsula is one of the most wild, undisturbed regions in the whole country, which means that ziplining through it is always epic. But after the past year, that soaring sense of freedom as you watch the world whiz by below you will make you feel more alive than ever before.
2. The country's beautiful beaches will soothe your restless, tired soul, from Playa Grande…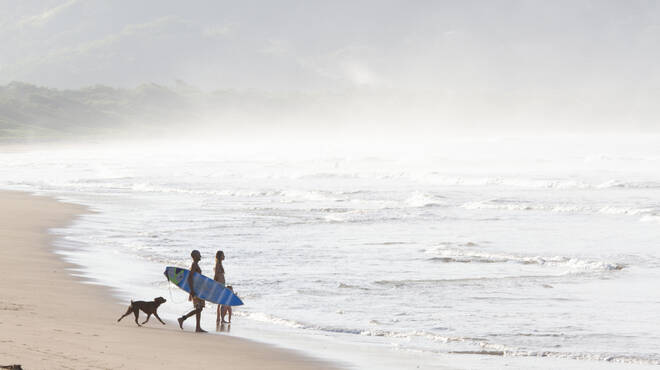 Located in Guanacaste, a province in the northwestern part of the country known for its sunny beaches, calm waves, and generally dry weather, Playa Grande is arguably one of the most popular beaches. Surfers especially dig it for its just-right waves, wide stretch of sand, and absolutely bonkers sunsets.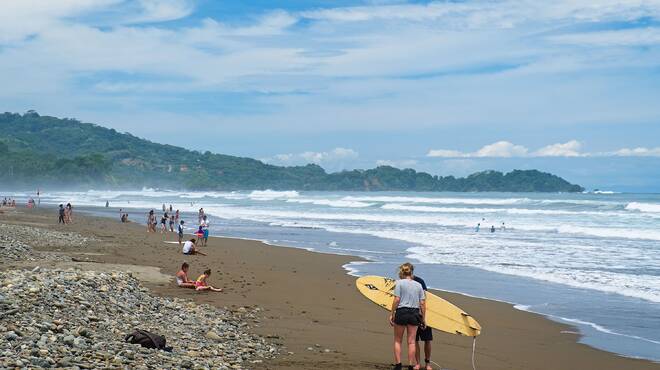 While many beach bums tend to head to Guanacaste for the forever sunshine and classic surf town vibes, Dominical is much less developed and a bit sleepier—perfect for those who prefer to go off the beaten path. Playa Dominical has more of a wild jungle feel than those in more touristy zones, and bonus: You'll get a taste of more local life, too.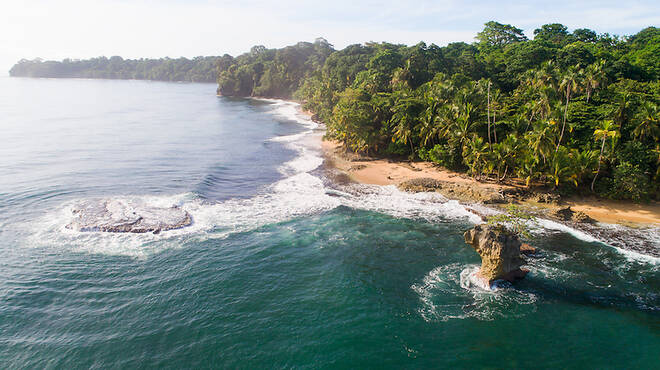 Like Dominical, the Caribbean side of Costa Rica—where Manzanillo is located—is also a bit sleepier than other more developed parts of the country. But it's also not to be overlooked. The area has a heavy Caribbean influence you'll recognize in the food, which often features ingredients more common in those nations, like coconut milk, ginger, chili pepper, and various curries. Manzanillo Beach, in the province of Limón, is surrounded by mangroves and has a great restaurant and bar where you can fill up on fresh seafood and get a taste for local life.
5. You can even learn to surf at Del Mar Surf Camp in Nosara—so you can ride the waves into a brighter future.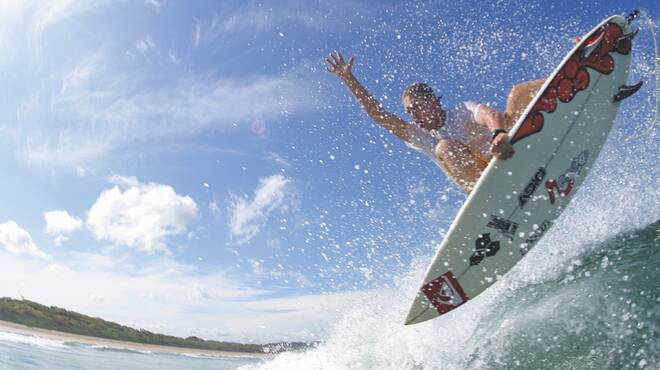 Of course you can surf all over Costa Rica, but sometimes you want to go really devote yourself to the cause—enter Del Mar Adventures. In multiple locations around the country, the company truly shines in its original location, Nosara, where you can personalize your own experience based on your preferences. The best part? Originally known as the Costa Rica Surfing Chicas, Del Mar was the first surf camp in the country to be run by a Costa Rican woman—and it continues to employ locals to support the surrounding community.
6. You can pamper yourself silly at Tabacón Grand Spa Thermal Resort, a five-star resort at the base of Arenal Volcano.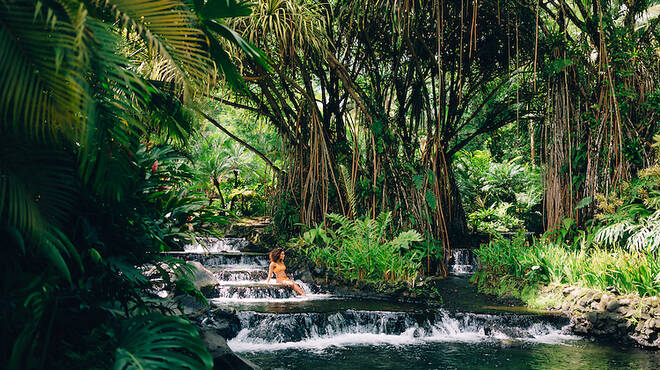 You know how you missed all of those massages and facials during quarantine? Make up for lost time at Tabacón. Rejuvenate your soul and mind with dips into the various natural hot spring baths and swimming pools, all fed by healing water from the surrounding volcanic land by Arenal Volcano, in the central part of the country. Make sure to book one (or ten!) of their luxury spa treatments, too. It was a YEAR, and your cooped-up body will thank you.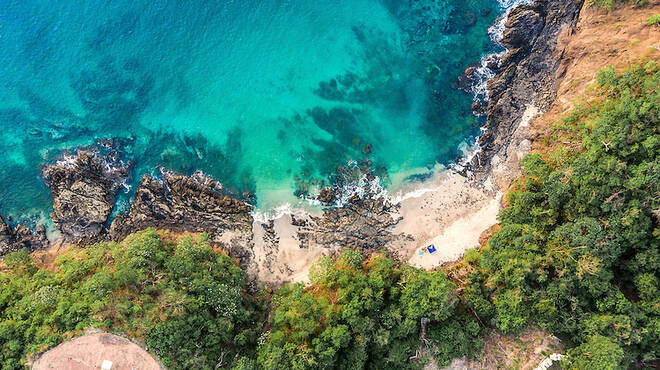 If you prefer some self-spoiling in the mountains on the coast, Borinquen Mountain Resort & Spa is a wonderful relaxation option, too. The spa features thermal springs with hot pools, volcanic mud pots, and an abundance of other refreshing full-body treatments.
8. On the other hand, you can also thrill yourself silly on an epic bungee jumping adventure at Monteverde Extremo in Monteverde.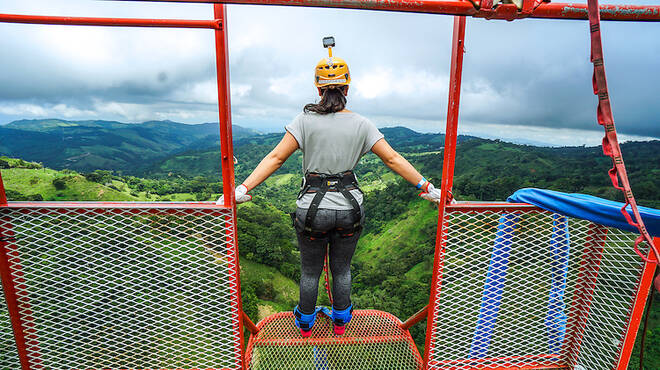 No trip to Costa Rica is complete without a visit to Monteverde Cloud Forest, known as the "cloud forest" for the constant layer of mist that blankets the trees. But bungee jumping in the cloud forest—which is also the largest canopy in Costa Rica—will take your visit to new heights...literally.
9. …or get your adrenaline rush on the Río Negro with a one-day adventure pass with Hacienda Guachipelín in Guanacaste.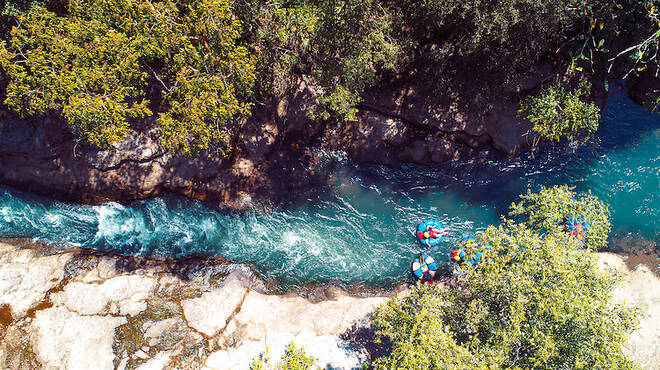 The Río Negro is one of Costa Rica's most scenic rivers, and this day trip leads you in and around it in all the best ways, with a zip line tour, a tubing adventure, a horse back riding session, and, lastly, a dip and steam in the surrounding thermal waters and mud baths to soothe your muscles after an action-packed day.
10. ...or get Zen at a forest therapy session with Sensoria in Alajuela.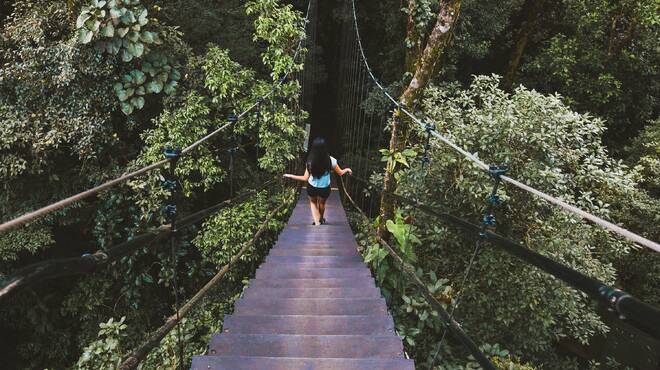 While forest bathing—the art of absorbing a forest atmosphere—originated in Japan, it has grown quite a following in Costa Rica as well, only here it takes place in a rainforest. The tour company Sensoria encourages you to think of your forest bathing journey as an "invitation" to awaken your senses as you take in the sounds and scents of the jungle. The best part? Getting in tune with your emotions in such a serene setting may help you reflect on recent challenges in a way that was more difficult to do when you were still in them.
11. Because you can finally eat local food somewhere that is not your kitchen table—like Jaguar Restaurant at Buena Vista Lodge.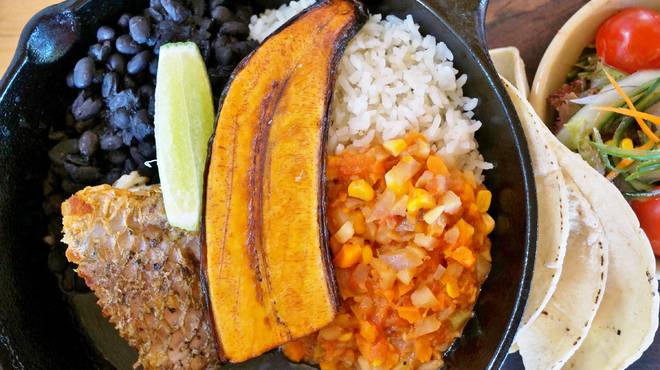 Raise your hand if the pandemic made you very, very sick of your own cooking. Ah yes, that would be basically everyone—which is why dining out will feel extra special again. Though there are lots of good eats all over the country, restaurants with the CST certification, like Buena Vista Lodge's Jaguar Restaurant in Guanacaste, are extra special because they feature fresh, seasonal ingredients from the surrounding area.
12. For an even more local experience, you can dine at your soda—what Costa Ricans call their neighborhood Costa Rican restaurants.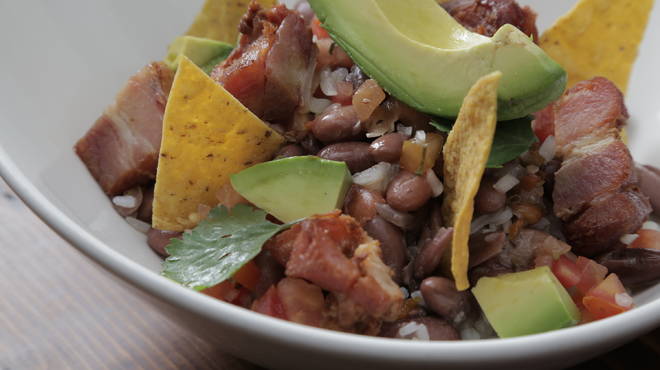 Make sure to order patacones and chifrijo, one of the most traditional Costa Rican dishes. Chifrijo is a bowl of rice and beans topped with fried pork rinds and lime juice, and it's served with patacones—sometimes called tostones—which are fried plantains. Other local dishes to try: casado (a combo platter with a mix of meat, rice, black beans, vegetables, and plantains), and tres leches (a vanilla sponge cake).
13. And fresh smoothies on the beach or in the rainforest are always a recipe for happiness, too.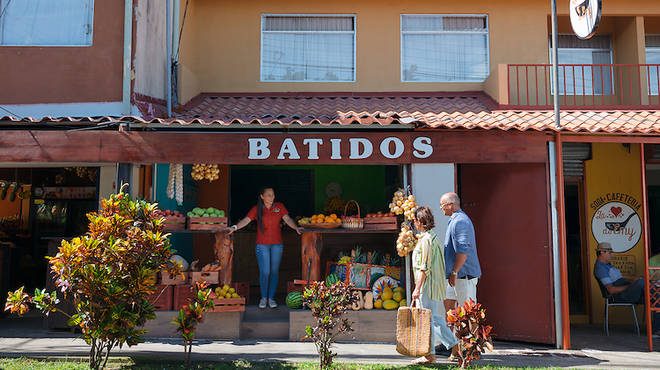 Costa Rica is brimming with delicious tropical fruits, from star fruits to mango to guava to papaya to soursop. Your mission: Find a nearby smoothie stand (they're everywhere), and prepare to taste the fresh tropical magic.
14. Because mornings in Costa Rica are THE BEST, whether you wake up in a bungalow by the beach at Harmony Hotel in Nosara...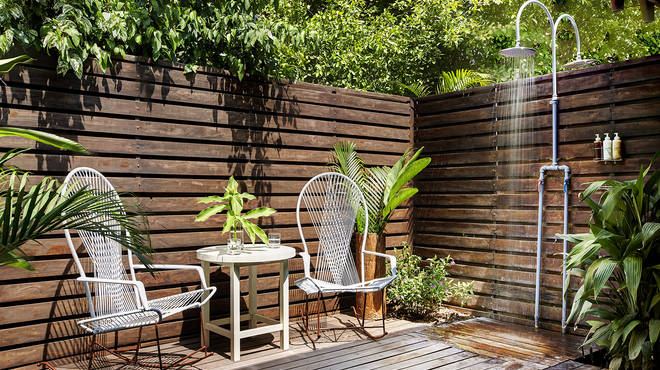 As one of Costa Rica's classic surf towns, Nosara is filled with boutique hotels that capture the "pura vida" lifestyle, but none is perhaps more low-key luxurious than Harmony Hotel. Just steps from the beach, the hotel is also surrounded by lush native gardens, so you can head out for a morning beach walk followed by breakfast with the tropical birds.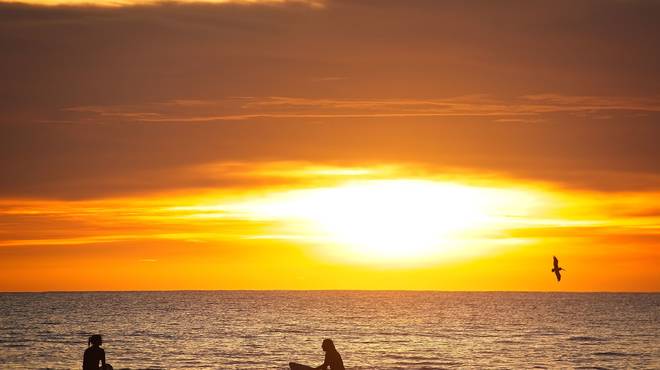 Like Nosara, Tamarindo is another classic Costa Rican surf town, known for its wide stretch of beach and fantastic sunrises and sunsets. With a collection of breezy beachfront suites and bungalows that scream barefoot luxury, Hotel Capitán Suizo is tucked into its own tropical zone at the end of Playa Tamarindo, so you are at once in your own private paradise and just steps away from all the action.
16. ...or wake up in the rainforest to the sound of howler monkeys at Lapa Ríos Lodge in the Osa Peninsula.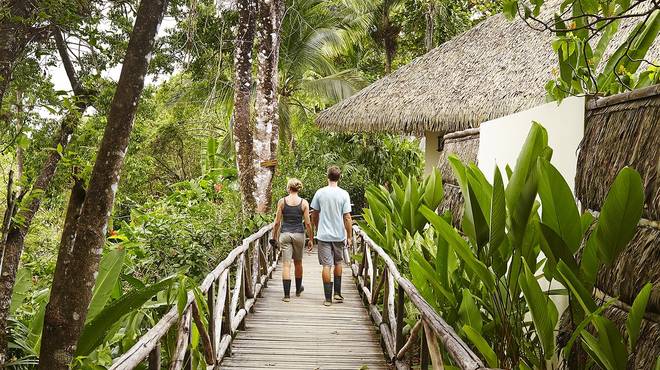 There is nothing quite like waking up in the thick of the rainforest, and Lapa Ríos Lodge allows you to do just that...in luxury. Many of the villas and bungalows have private balconies nestled within the trees—some with private plunge pools!—so you can walk out your door with your morning cup of coffee, and listen to the sounds of howler monkeys and tropical birds and insects buzzing all around you. Plus, the hotel is perched so high in the jungly hills, so you can even see the ocean in the distance.
17. ...or wake up in a cloud at El Silencio Lodge & Spa in Bajos Del Toro.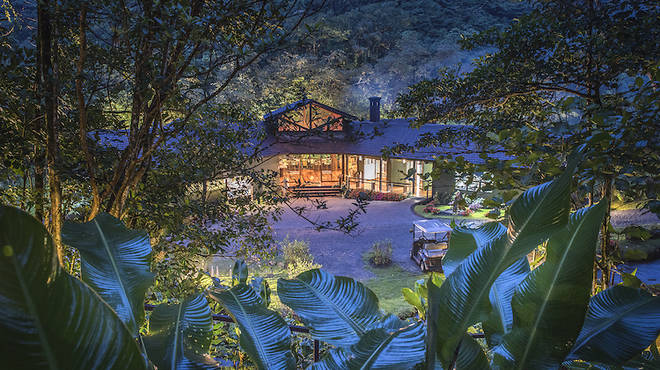 Waking up here means you can cross "visit Cloud 9" off your bucket list. For real: El Silencio is located high up in the trees on a private 500-acre tropical cloud forest reserve in Bajos Del Toro, a tiny rural town in the middle of the country, two hours north of San José by car. Each suite and villa has incredible views of the surrounding misty mountains, and provides a serene atmosphere of utter seclusion.
18. ...or wake up in volcano land at Nayara Gardens in Arenal National Park.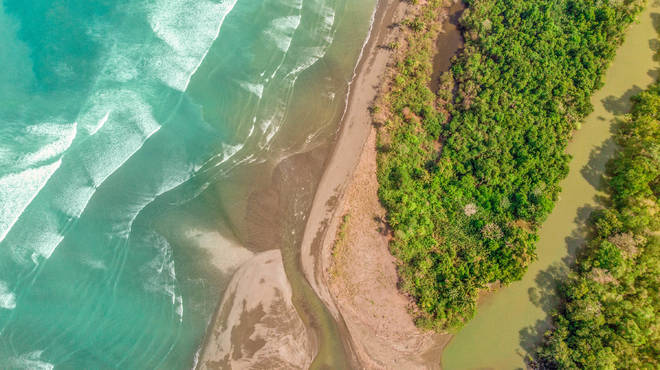 Arenal Volcano is one of Costa Rica's most prized natural treasures—and Nayara Gardens is among the most luxurious places to stay in the area. Each casita is surrounded by lush tropical flora and fauna and, best of all, has an outdoor shower and an outdoor jacuzzi, so you can enjoy the scenery through a haze of soul-cleansing steam. The hotel's fresh cuisine, indulgent spa, and fun cultural activities are also a treat—and make sure to enjoy a drink on the terrace, with amazing volcano views.
19. Perhaps most important of all, though, you can finally take a deep breath and relax after such a stressful period of time…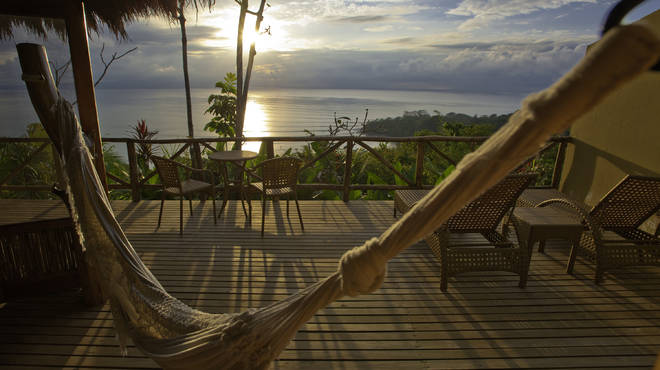 20. Because you are in the land of "pura vida," and all is well and good in your world.