Heads up! We're working hard to be accurate – but these are unusual times, so please always check before heading out.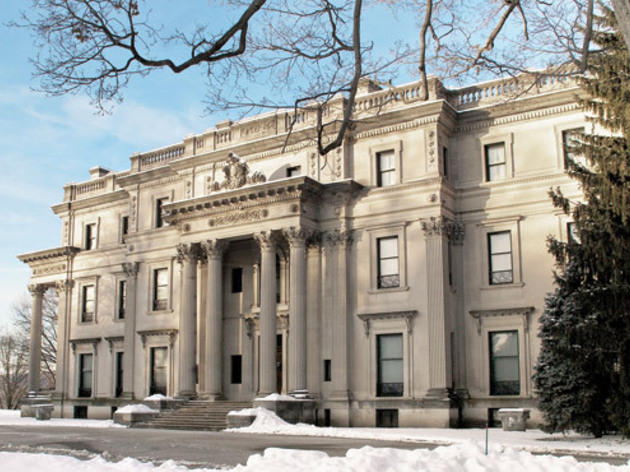 Day and weekend trips for history buffs, shoppers and foodies
Whether you enjoy art and culture, bargain hunting or craft-brewery tours, check out our itineraries for day and weekend trips in New York State
See how the Vanderbilts and Roosevelts lived
2 hours from NYC by car
Three National Historic Sites can be found in Hyde Park. First there's Vanderbilt Mansion (119 Vanderbilt Park Rd; 845-229-7770; nps.gov/vama; tours daily 9am–5pm; $8), the Gilded Age residence that hosted some of society's most famous A-listers, including former owner Frederick Vanderbilt and his wife, Louise, who insisted that her bedroom be designed in the style of Marie Antoinette's Versailles digs. Nearby is Springwood, the home of Franklin D. Roosevelt (4097 Albany Post Rd; 845-229-5320; nps.gov/hofr; tours daily 9am–5pm; $14). The 300-acre site is the birthplace and lifelong abode of the legendary four-term president, who created the world's first man-cave in 1938 when he built the Dutch Colonial–style Top Cottage to get some solitude at home. For more Roosevelt history, Val-Kill (54 Valkill Park Rd; 845-229-9422; nps.gov/elro; tours Mon, Thu–Sun 1, 3pm; $8), Eleanor's treasured cottage, is the only National Historic Site dedicated to a President's better half.
A "haunted" mansion and Hopper's house
45 minutes from NYC by car
A study in Gothic Revival architecture, Lyndhurst (635 South Broadway, Tarrytown, NY; 914-631-4481, lyndhurst.org; tours Fri–Sun 10am–3pm; $12)—a.k.a. the Jay Gould estate—was twice designed by architect Alexander Jackson Davis, first in 1838 for former New York City mayor William Paulding Jr. The second time was in 1864, when new owner George Merritt asked Davis to double its size. But this castlelike home has got some pop-culture cred, too: It starred as Collinwood, home to Barnabas the vampire, in the 1970 film House of Dark Shadows. A 15-minute drive away across the Hudson, Edward Hopper House (82 North Broadway, Nyack, NY; 845-358-0774,edwardhopperhouse.org; Thu–Sun 1–5pm; $5), the artist's childhood home, includes a gallery of Hopper's original works and memorabilia. It also shows work from emerging artists and hosts events and workshops.
Long Island's literary landmark and Gold Coast Mansions
1 hour from NYC by car
Each year more than 16,500 people make the pilgrimage to a small Long Island farmhouse. Walt Whitman's Birthplace (246 Old Walt Whitman Rd, West Hills, NY; 631-427-5240, waltwhitman.org; Wed–Fri 11am–4pm; Sat, Sun 11am–5pm; $6)contains original 19th-century furnishings and some of Whitman's manuscripts. The area's Gold Coast—which runs from Great Neck to Huntington—is a far fancier affair. A handful of the opulent dwellings built during the first three decades of the 20th century in the former high-society hub still stand. Now a full-fledged cultural center and planetarium, the Vanderbilt Museum (180 Little Neck Rd, Centerport, NY; 631-854-5579, vanderbiltmuseum.org; Tue, Sat, Sun noon–4pm; $7) is the 24-room private home of William K. Vanderbilt II, formerly known as Eagle's Nest. And the magnificent estate that Charles Foster Kane called Xanadu in Citizen Kane can be your home (for the night, $395–$1,095): The 1919 Oheka Castle (135 West Gate Dr, Huntington, NY; 631-659-1400, oheka.com) is the country's second-largest private residence, constructed on a 443-acre plot atop the highest point of Cold Spring Harbor. Tours of the estate's public areas and gardens (designed by the Olmsted Brothers) are available by appointment ($25).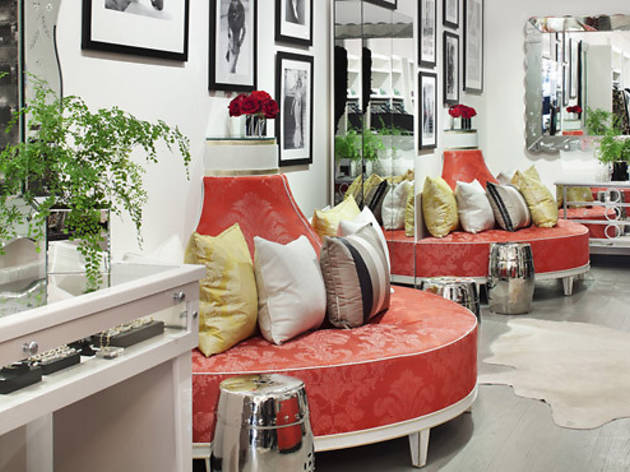 Designer bargains
1 hour from NYC by bus
Bargain addicts who've exhausted the inventory at Century 21 can catch the daily Hampton Luxury Liner ($45, hamptonluxuryliner.com) to Woodbury Common Premium Outlets (498 Red Apple Ct, Central Valley, NY; 845-928-4000,premiumoutlets.com; daily 10am–9pm). The bus trip takes about an hour, depending on your pickup point, and makes its return journey five hours later, so you'll need to think carefully about which of the 220 outlets you want to hit. Trendsetters should make a beeline for Prada, Balenciaga and the just-opened Reed Krakoff and Rag & Bone, where discounts are typically 25 to 65 percent off retail. Save even more by signing up on Woodbury's website to become a VIP Member, and get access to exclusive coupons and events.
Antiques hunting
2 hours from NYC by train
For browsing in an appealing small-town setting, head to Hudson, where more than 40 antique shops are packed into the eclectic storefronts on its main drag, Warren Street. Hit Hudson Supermarket (310 Warren St; 518-822-0028, hudsonsupermarket.com; Mon, Thu–Sun noon–5pm) for an intriguing mix of stock, including vintage grain sacks, Tibetan saddle rugs and 1960s glassware. Sculptor Nancy Shaver amasses items that appeal to her artist's eye (a hand-embroidered Indian bedspread, early-20th-century tools, ancient stuffed animals) at Henry (348 Warren St; 518-828-2354,henryinhudson.com; Fri–Sun noon–6pm). Mark McDonald (555 Warren St; 518-828-6320, markmcdonald.biz; Fri, Sat 11am–5pm; Sun noon–5pm) specializes in midcentury modern, while Historical Materialism (601 Warren St; 518-671-6151,historicalmaterialism.com; by appointment only) covers interesting furniture across a broad time span.
Beauty and boutiques
45 minutes from NYC by train
From country-club casual to rock & roll chic, Rye has a bevy of well-priced boutiques for every fashion statement. Consignment shop Rhythm in Rye Too (85 Purchase St; 914-921-1117, rirtoo.com) offers upscale duds from names like Tory Burch and Carolina Herrera. Your jaw may drop when you don't have to blow a Benjamin on purple Christian Louboutin wedges ($90) and Tod's men's loafers ($89). The purses are equally promising, with bags from Chanel, Louis Vuitton and Gucci ($30–$1,600).
The minute you walk into Blush Beauty Bar (34 Purchase St; 914-921-2980,blushinrye.com), a cozy beauty-and-accessories emporium, you'll be greeted by the scent of hundreds of different soaps, candles, diffusers and lotions. The girly spot is a beauty junkie's paradise, complete with an intimate spa in the back where aesthetician Mercedes Calderon (who has worked in the biz for more than three decades) offers waxing and facial services. The boutique feels like the antithesis of Sephora, with a carefully selected roundup of products from under-the-radar brands like Paula Dorf and Bella Il Fiore. If we ever became a Real Housewife of Rye, the grandiose Angela's (24 Purchase St; 914-481-5894, angelasinrye.com) is where we'll beg our hubby to drop some dough. Discover both foreign labels and New York designers (Joy Cioci frocks and Kara Ross jewelry) on the racks.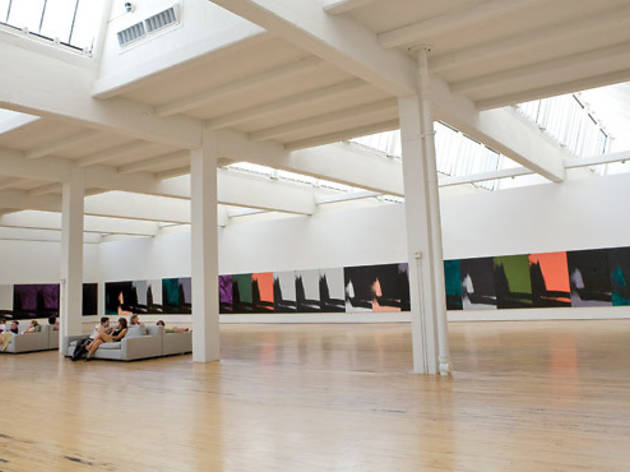 Photograph: Michael Kirby
For baseball fans
4 hours from NYC by car
A dream destination for devotees of America's favorite pastime, Cooperstown is best known for its famous hall of rawhide ephemera, old pine-tar-stained lumber and October memories. But there is more than Major League history to be found at this single-stoplight village (population 2,000) on the shores of Otsego Lake. Settled by 19th-century novelist James Fenimore Cooper, the area's wooded hills indeed look like something straight out of the Leatherstocking Tales. The National Baseball Hall of Fame and Museum (25 Main St; 888-425-5633, baseballhall.org; daily 9am–5pm; $19.50) draws approximately 300,000 visitors a year. The actual hall is exactly what it claims to be: a corridor full of plaques. So the museum is the real diamond here. A timeline—beginning with Abner Doubleday's first layout of the game in 1839—provides some context for the goods. You'll see everything from Babe Ruth's actual locker, to hate mail sent to Jackie Robinson in 1951, and the glove worn by Willie Mays when he made his 1954 World Series basket catch.
Though all this baseball may leave you wanting nothing more than a hot dog, treat yourself to an intimate dinner at Alex & Ika (149 Main St; 607-547-4070,alexandika.com), where chef Alex Webster and hostess Ika Fognell provide an international twist to your weekend of Americana, with creative dishes like tandoori roasted lamb spareribs ($14) and star-anise roasted duck ($24).
Where to stay: The four-poster beds, afternoon tea and smoldering fireplace at The Inn at Cooperstown (16 Chestnut St; 607-547-5756, innatcooperstown.com; $110–$485) form a cozy backdrop for the seemingly endless array of board games.
For an art-cation
80 minutes from NYC by train
You can easily spend a whole day exploring Dia:Beacon (3 Beekman Sts, Beacon, NY; 845-440-0100, diaart.org; Mon, Fri–Sun 11am–4pm; $12), the Dia Art Foundation's extensive, topflight art collection. In the hangarlike former Nabisco factory, you'll see large-scale works dating from the 1960s to the present by the likes of Louise Bourgeois and Richard Serra—namely his fantastical quartet of towering rolled-steel sculptures, Torqued Ellipses.
Stroll past galleries and antique shops on Beacon's quaint Main Street and grab a bite at The Hop (458 Main St; 845-440-8676, thehopbeacon.com), an unpretentious bistro that serves craft beer and artisanal small plates, such as pork rillettes ($11) and a vegan Reuben ($14).
Where to stay: The artist-run Mount Beacon B&B (829 Wolcott Ave; 845-831-0737,mtbeaconbedandbreakfast.com; $170–$220 per night) is set in a 1911 Colonial Revival home.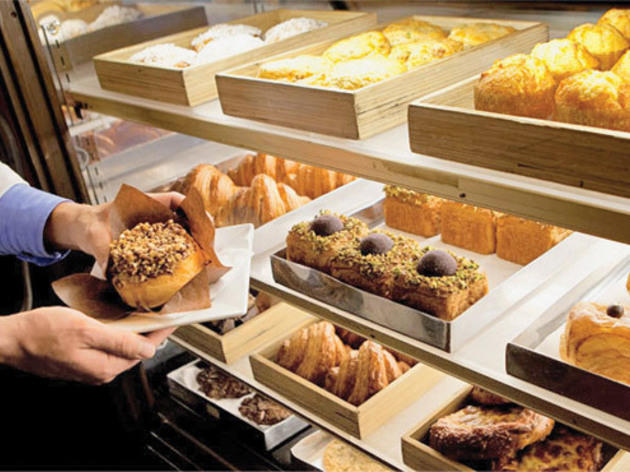 Gourmet Destinations
At Anthony Bourdain's alma mater, the Culinary Institute of America (1946 Campus Dr, Hyde Park, NY; 845-452-9600, ciachef.edu), students sharpen their skills in five on-campus restaurants, including the regionally focused American Bounty and the super-sweet Apple Pie Bakery Café. Sustainability-minded foodies should make a pilgrimage to chef Dan Barber's award-winning Blue Hill at Stone Barns (630 Bedford Rd, Pocantico Hills, NY; 914-366-9600, bluehillfarm.com; Wed–Sat 5–10pm, Sun 1–10pm).At the country sibling of Barber's NYC eatery, many of the ingredients on the menu are sourced from the surrounding 80-acre farm.
Distilleries
Taste the difference potatoes make at the sampling room of LiV Vodka (2182 Sound Ave, Baiting Hollow, NY; 631-630-9322, lispirits.com), Long Island's sole vodka distillery, where small batches are crafted exclusively from homegrown L.I. taters. Mere steps from the field that hosted Woodstock, the Catskill Distilling Company (2037 State Route 17B, Bethel, NY; 845-583-8569, catskilldistillingcompany.com) mixes traditional methods with state-of-the-art technology to concoct fun spirits like Wicked White whiskey and Most Righteous bourbon, which can be sampled, along with live music, in the tasting room. "One batch at a time" is the motto of John Curtin and Matthew Jager, owners of Albany Distilling Company (78 Montgomery St, Albany, NY; 518-621-7191, albanydistilling.com); the duo offer twice-a-week tours of their whiskey- and rum-making facilities.
Wineries
Tour the country's oldest winery— at Brotherhood Winery (100 Brotherhood Plaza Dr, Washingtonville, NY; 845-496-3661, brotherhood-winery.com) you can amble through an enormous network of underground cellars to see where the vintners produce top-notch riesling, pinot noir, burgundy and other wines. Listed on the National Register of Historic Places, the Winery at St. George (1715 E Main St, Mohegan Lake, NY; 914-455-4272, thewineryatstgeorge.com) is housed in a historic church and produces limited-edition, locally grown wines; it also offers a host of classes that will help you fine-tune your palate. Millbrook Vineyards & Winery (26 Wing Rd, Millbrook, NY; 800-662-9463, millbrookwine.com) cultivates Hudson Valley chardonnay, pinot noir and more on its 130-acre estate. Get a taste of six wines and Villa Pillo olive oil, plus a commemorative glass, with the Portfolio Sampler ($10).
Craft breweries
Nestled in the foothills of the Adirondacks, the Saranac Lake Brewery (830 Varick St, Utica, NY; 315-732-0022, saranac.com) has been perfecting the art of regional beer-making since 1888. Get in on the secret with an aromatic tour of the brewery (Fri, Sat 1, 3pm ) and a tasting in the 1888 Tavern. Set in a Belgian-style farmhouse, Brewery Ommegang (656 County Hwy 33, Cooperstown, NY; 607-544-1800, ommegang.com)makes five award-winning Belgian ales ranging from the light and citrusy Witte to the unusually strong and chocolaty Three Philosophers. At Captain Lawrence Brewing Company (444 Saw Mill River Rd, Elmsford, NY; 914-741-2337,captainlawrencebrewing.com), get two free three-ounce pours of each of six tap offerings in the small tasting room.
Set off on a beer and wine crawl
Quench your thirst from the Hudson Valley to the Berkshire Mountains on the Hudson-Berkshire Beverage Trail (hudsonberkshireexperience.com), a unique conglomeration of award-winning beverage producers including Brookview Station Winery (1297 Brookview Station Rd, Castleton, NY; 518-732-7317,brookviewstationwinery.com), a near-century-old family farm that produces award-winning wines from its own fruit; Harvest Spirits (Golden Harvest Farm, 3074 US Rte 9, Valatie, NY; harvestspirits.com), producers of the Hudson Valley apple-distilled Core vodka; Chatham Brewing (30 Main St, suite 2, Chatham, NY; 518-697-0202,chathambrewing.com), which nanobrews innovative batches of beer weekly; andHudson-Chatham Winery (1900 Rte 66, Ghent, NY; 518-392-9463, hudson-chathamwinery.com), a renovated dairy farm turned winery that also offers an enormous selection of Hudson Valley cheeses.