Heads up! We're working hard to be accurate – but these are unusual times, so please always check before heading out.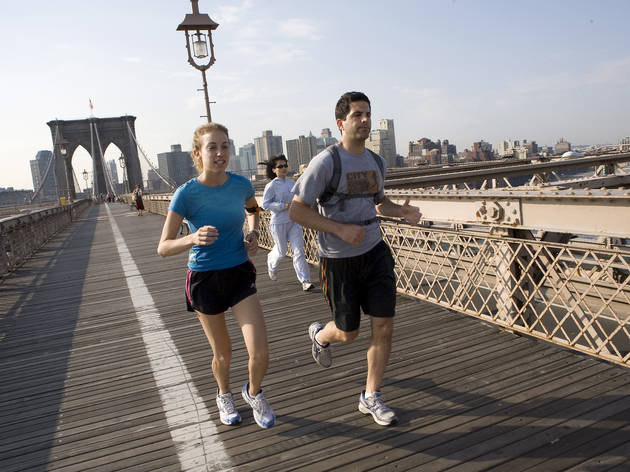 Walking tours in NYC
Big Apple GreeterSet up in 1992, this independent nonprofit scheme offers visitors an alternative to the organized tour format. Sign up through the website...
Big Apple Greeter
Set up in 1992, this independent nonprofit scheme offers visitors an alternative to the organized tour format. Sign up through the website at least four to six weeks ahead and you'll be paired with a volunteer "greeter," who'll give you an informal, personal two- to four-hour introduction to one of the city's neighborhoods (your choice or theirs). All meet-ups are free, though donations are appreciated. 212-669-8159, bigapplegreeter.org
Big Onion Walking Tours
New York was known as the Big Onion before it became the Big Apple. The tour guides will explain why, and they should know—all guides hold advanced degrees in history (or a related field). Among the walks is one devoted to the "Official Gangs of New York" and a weekly "Multi-Ethnic Eating Tour" that explores the history of the Lower East Side, Chinatown, and Little Italy with a few samples of cultural cuisine along the way. New to the list is the "Satan's Seat" tour, based on established documentarian Ken Burns's film Prohibition, which visits infamous locations from this volatile period in American history. Private tours are also available. 888-606-9255, bigonion.com. $15–$18; cash only
City Running Tours
Jogging junkies can get their daily endorphin fix while seeing the sights on Michael Gazaleh's personalized routes, including the New York run, which starts in Brooklyn Heights, traverses the Brooklyn Bridge, then proceeds through the Financial District, Tribeca, Chinatown, Soho, the Village, Gramercy and Times Square before ending at Central Park. Groups are kept small—just two or three people, on average—so Gazaleh and the 18 guides he employs are able to customize each tour to fit the participants' athletic abilities and cultural interests. 877-415-0058, cityrunningtours.com. From $60
Harlem Heritage Tours
Now operating more than ten bus and walking tours led by lifelong residents of the neighborhood, Harlem Heritage aims to show visitors the soul of the borough. The "Harlem Civil Rights Multimedia" tour takes tourists, by bus and by foot, to landmarks associated with Malcolm X, James Baldwin and Martin Luther King, and uses historical video clips to make sites come alive. The "Harlem Renaissance" tour walks you to the sites of Prohibition-era speakeasies, clubs and one-time residences of artists, writers and musicians. The company also offers a "Harlem TV and Movie" tour, which highlights numerous film locations in the neighborhood. 212-280-7888, harlemheritage.com. $25–$55.
Justin Ferate
This venerated historian wrote the book on Gotham walking tours. No, really—the city commissioned him to write the NYC tour-guide licensing exam, which he designed to educate and assess would-be guides. In addition to a regular roster of tours covering everything from midtown murals to the quaint attractions of the Bronx's City Island, Ferate leads specialty tours—such as one exploring the artwork of historic subway stations around the city—and offers a free 90-minute trek through Grand Central Terminal and its environs every Friday at 12:30pm. 212-223-2777, justinsnewyork.com. $20–$25; cash only
Municipal Art Society Tours
The Municipal Art Society (MAS) organizes bus and walking tours in New York and further afield. Many—such as "42nd Street Deco"—are led by architects, designers and writers, and reflect the society's focus on contemporary architecture, urban planning and historic preservation. There's also a guided walk through Grand Central Terminal on Wednesdays at 12:30pm (suggested donation $10). Private tours are available by appointment. 212-935-3960, recorded information 212-439-1049; mas.org/tours. From $15
NoshWalks
Each culinary outing is led by company founder Myra Alperson, who's been writing about New York's food scene for more than ten years. Taking you to corners of the city you'd never visit on your own, Alperson fills you in on the neighborhood's culinary and cultural history, introducing you to chefs and shopkeepers, street food and snacks along the way. Trips have included South Asian cuisine in Jackson Heights, Queens, and the kosher-Caribbean combo tour in Crown Heights, Brooklyn. 212 222 2243, noshwalks.com. $49–$54
Urban Oyster
Brooklyn-based Urban Oyster partners with local businesses and the Brooklyn Historical Society to give tour-goers insight into the individuals that make the city tick, such as food vendors and brew-masters. On the "Food Cart" tour ($40), you might meet Fatima, the 23-year owner of a popular Midtown halal cart, or visit a third-generation Brooklyn coffee shop on the "Eat Like a Local" tour ($49). Beer lovers will savor the "Brewed in Brooklyn" tour ($55), which illuminates the borough's suds-making legacy with tastings along the way. 347-618-8687, urbanoyster.com. $24–$60.