Heads up! We're working hard to be accurate – but these are unusual times, so please always check before heading out.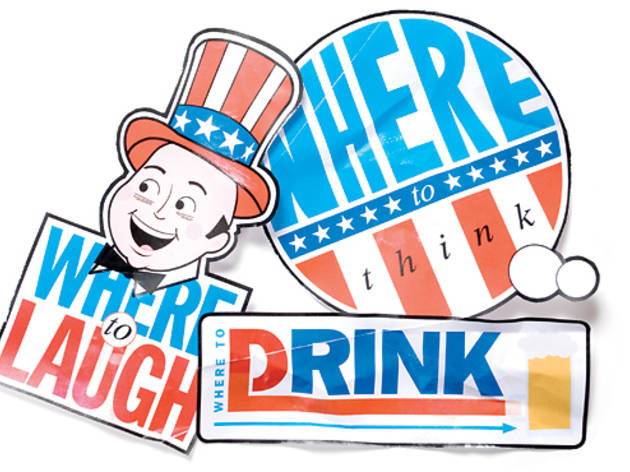 Playing politics
As election campaigns rev up, so does an entertainment frenzy based on their maneuvering.
On Tuesday 24, New Yorkers—well, the registered Republicans among us—get to file their first ballots in the 2012 presidential campaign during the state primary. However, there are more than six months of mudslinging and foul play before we decide the next POTUS. How best, then, to spark your passion for political thought and speech? With booze, of course—and laughter. Check out these places to discuss and guffaw about the lengths aspiring world leaders will go to get your vote as we head into the full swing of election season.
Where to drink:
On the night of the primary, left-leaning lushes can meet up with the Williamsburg chapter of Drinking Liberally (drinkingliberally.org) at its monthly event at the Commodore (366 Metropolitan Ave at Havemeyer Ave, Williamsburg, Brooklyn; 7:30pm). Or if you need time to digest the results (our money's on Mitt Romney), the original chapter of Drinking Liberally meets Thursdays at Rudy's Bar & Grill (627 Ninth Avenue at 44th St, 7:30pm).
If your pendulum swings in the other direction, you and your elephant-shaped lapel pin can join the Knickerbocker Republican Club at Session 73 (1359 First Ave at 73rd St, 212-642-5258; 7pm; $15) for its election-night social. Rally around Romney, now that Rick Santorum has dropped out of the race—and taken all suspense from the nomination process with him.
Where to laugh:
For primary-night-eve levity, check out the rotating cast of Laughing Liberally's show Electile Dysfunction (tagline: "Don't let E.D. ruin your country") (The Playroom Theater, 151 W 46th St between Sixth and Seventh Aves; 212-967-8278, laughingliberallynyc.com; 8pm; $20). The slightly left-of-center show runs every Monday, and features outspoken progressives (and prolific tweeters) John Fugelsang, Jamie Kilstein, Baratunde Thurston and Elon James White.
If you like your satire scored to music, head to the comedic cabaret show Political Subversities (Peoples Improv Theatre, 123 E 24th St between Lexington and Park Aves; 212-563-7488, politicalsubversities.com; Sat 9:30pm; $15). Every week these equal-opportunity roasters skewer government figures based on the week's news.
Where to think:
A prickly political insider with an Ivy League résumé matches up against a young Machiavellian senator for a party's presidential nomination in Gore Vidal's The Best Man (Gerald Schoenfeld Theatre, 236 W 45th St between Broadway and Eighth Ave; 212-329-6200, thebestmanonbroadway.com; $66.50–$226.50; through July 1). James Earl Jones, John Larroquette, Eric McCormack and Angela Lansbury make up a starry cast playing political wheelers and dealers.
Forward-thinking leaders from politics, the media and academia will join over three days for This Is How We Do It: A Festival of Dialogues About Another World Under Construction (Cooper Union Great Hall, 7 E 7th St at Third Ave; thefoundrytheatre.org; Fri 20–Sun 22, times vary; $5–$40). The progressive Foundry Theatre has programmed five forums looking at the future practices in fields such as politics, and has gathered luminaries including Democracy Now!'s Amy Goodman and the 96-year-old philosopher and activist Grace Lee Boggs.