Best day trips from Paris
Take a trip out of town and sample the best of France with one of these brilliant day trips from Paris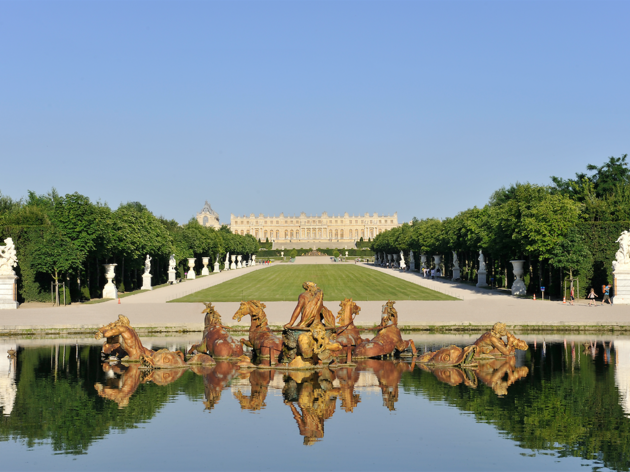 If city life or your travelling schedule suggests a day trip out of Paris, a surprising number of great breaks can be found just beyond the city's périphérique. First off, there are the grand suburbs of Vincennes and Boulogne to explore, famed for their parks, as well as a big handful of museums and monuments to see, too. Or you could hop on the RER for Disneyland, Parc Astérix, the Château de Versailles or Giverny, site of Monet's former country house. Impressive, right?
But to really escape the city, you need to get out of town; and thanks to a reliable high-speed train service, this is more than achievable from Paris. Day-trippers and families, adventurers and wine-lovers should all find something to get excited about in our selection of great day trips from Paris destinations below.
The best Paris day trips
150 minutes from Paris
If you've got a day to spare, we suggest heading out west to Normandy. This historical coastal region is probably best known for its involvement in World War II, with much of the war's legacy left behind. Explore the Caen Memorial museum while you're there, as well as the D-Day landing beaches and breath-taking American cemetery, with its poignant rows of white crosses.
120 minutes from Paris
Like castles? You'll love the Louire Valley. A day-trip out to this central French region will lead you to not one, not two, but three outrageously grand fortresses. See the most exceptional example of French Renaissance architecture in Chateau de Chambord (pictured), marvel at the river-straddling Château de Chenonceau and explore the sprawling Château de Cheverny.
60 minutes from Paris
Here in the sleepy Pays d'Eure life moves at a more tranquil pace, much as it did when Monet lived and painted here from 1883 until his death in 1926. It was at his family home that he produced some of his most famous works, including his celebrated water lily series, Les Nymphéas. Today, his magical gardens and the nearby Musée des Impressionnismes are one of the most enjoyable day trips from Paris, drawing around half a million visitors each year.
60 minutes from Paris
Experience some classic French gothic architecture with a visit to Chartres Cathedral. This twelfth-century wonder, which sits to the southwest of the capital, has been granted World Heritage Site status by UNESCO due to its astounding level of preservation (many of its stained-glass windows are original thanks to their removal during World War II). There's also much more to see around the medieval city.
60 minutes from Paris
'Seriously beautiful' is how Vincent Van Gogh described Auvers-sur-Oise in a letter to his brother Théo. This small town is a peaceful and charming hamlet of greenery, located only thirty kilometres from Paris. This picturesque destination has seduced other painters, mainly impressionists: van Gogh of course, but also Charles-François Daubigny, Paul Cézanne and Camille Pissarro who came to draw inspiration from it.
39 minutes from Paris
Considering that France is practically synonymous with Champagne, it'd be remiss to avoid the very heart of the stuff. Drink in the history and secrets of the region with visits to a vineyard, the Moet and Chandon cellars, and the royal city of Reims (the unofficial capital of Champagne) where many French kings were crowned back in the day.
40 minutes from Paris
Royal France isn't all about Versailles, you know. Before that was built, the medieval Palace of Fontainebleau served as a home to Napolean III (nephew of the famous one) and Louis VII, and was known as 'Second Rome' due to its suite of rooms decorated specially by Napolean I for Pope Pius VII. While you're in the area, you may as well take a look at Château de Vaux-le-Vicomte, which was extravagantly landscaped by the same architect who worked on the Palace of Versaille.
37 minutes from Paris
Versailles has to be one of the most impressive royal residences in Europe. Transformed from hunting lodge to palace by Louis XIV in 1682, with the help of more than 36,000 craftsmen and labourers, its scale and grandeur are unmatched. Here's how to get the most from your day trip, whether you want to tick off the estate's headline attractions or discover little-visited corners in the grounds and beyond. Prepare to lose yourself in the gilded stucco wonder that is the hall of mirrors. And prance around the orange trees in the garden as if you're Marie Antoinette yourself.
25 minutes from Paris
The Domaine de Chantilly is one of the most enjoyable day trips north of Paris. The estate was the home of Henri d'Orléans, the Duke of Aumale, who amassed one of France's greatest collections of precious books, paintings and decorative arts. Today, as well as admiring the château's galleries, you can visit the impressive suites, stroll the gardens and stop by the stables, which are now an equestrian museum. Top tip? Dive into a Chantilly cream-based dessert after a hard day's exploring.
11 minutes from Paris
The northern departement of Seine St-Denis, aka 'Le 9.3', used to be the one that best fulfilled the negative image of the banlieue (suburbs), with colossal housing estates like La Corneuve, Aulnay-sous-Bois and Sarcelles – some of the poorest communes in France. There are still pockets of no-go zones, and the estates are still poor, but serious urban renewal projects have immensely improved things. Top tip? Head for a tour of the Basilica Cathedral of Saint-Denis – home to the largest collection of funerary sculpture from the 12th to the 16th centuries.
Show more
Or spend a weekend in the underrated city of Lille
With its gabled brick houses, tall belfries, beer culture and mussels and chips, Lille is a fascinating blend of French and Flemish. But it is also a dynamic city with a young student population, an adventurous year-round cultural scene and plenty of lively bars and estaminets (a bistro-pub crossover).