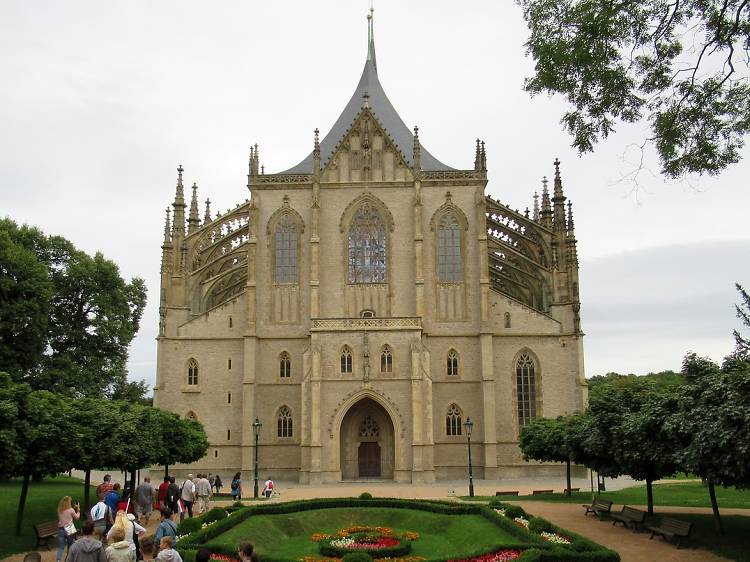 Jump on an eastbound train to Kutna Hora for easy access to a different side of Central European style in roughly an hour. While silver used to draw the crowds to this former mining town, the Sedlec Ossuary (commonly known as the "bone church") is what earns its place on traveler's itineraries these days. The UNESCO-protected city center also holds lesser-known, but still impressive architectural sights to keep your eyes entertained.
DO:
Explore the church scene, from the human-bone chandelier at the Sedlec Ossuary, to the Gothic beauty of the Church of St. Barbara, to the sunlight-filled arches in the Cathedral of the Assumption of Our Lady and St. John the Baptist. One all-access ticket gets you into all three places for under $10.
EAT:
Grab a seat on the patio at V Ruthardce for a view of St. Barbara's beauty paired with traditional Czech cuisine. Start with some kulajda soup as a starter before trying a traditional pork knuckle or roast duck with dumplings.
DRINK:
Kutna Hora isn't necessarily known for its lively nightlife, but you can take in a mellow night of music in the intimate, living-room atmosphere of the Blues Café.
STAY:
Honestly, an evening train back to Prague is the most common way to end a day trip to Kutna Hora. Those who do prefer to make a night of it can enjoy a comfortable bed and central location at Hotel Mědínek.
If you do just one thing…
Plan your route before arrival. Wear your walking shoes to get from the train station to the Ossuary, then jump on a tourist shuttle from the Ossuary to St. Barbora for easy access to the city center.