The best events in Rome
A rundown of Rome's packed events calendar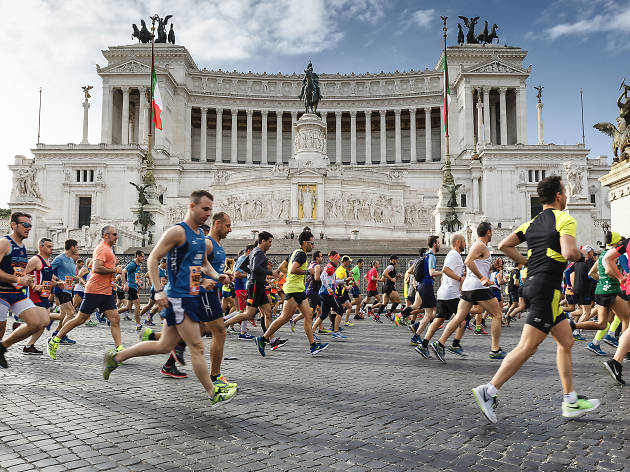 The Romans, perennial fun-seekers, have never needed much of an excuse to enjoy the best things to do, restaurants and bars in their city; in ancient times a whopping 150 days were set aside every year for R&R. Though modern-day Romans must make do with a paltry ten annual public holidays, the final total is usually quite a bit more: any holiday that falls midweek is invariably taken as an invitation to take an extra day or two off between the official holiday and the nearest weekend.
Important religious holidays have different effects on the city (the Assumption on 15 August shuts it down; Easter brings hordes of pilgrims). Districts of Rome hold smaller-scale celebrations of their own patron saints in their own way, from calorific blowouts to extravagant firework displays. Occasional large-scale city-run events make ample use of Rome's endless supply of photogenic venues.
Spring events in Rome
Various venues. Date: Sat/Sun in Mar/Apr.
For one weekend each year, the Fondo per l'Ambiente Italiano (FAI) persuades institutional and private owners of historic properties to reveal their spectacular interiors, usually off-limits to the public.
Various venues. Date: 8 Mar.
Rome celebrates International Women's Day by offering women free entry to state-run museums and attractions. Bright yellow mimosa fowers, a traditional gift, are on sale throughout town.
Festa di Santa Francesca Romana
Basilica di Santa Francesca Romana, Piazza Santa Francesca Romana 4, Capitoline. Metro Colosseo/bus 51, 75, 85, 87, 118/tram 3. Date: 9 Mar.
In 1433 Santa Francesca Romana founded the Oblate di Maria, an order of nuns who never took final vows. She was believed to possess the gift of dislocation (being in different places at once), a quality that so endeared her to Italy's pioneer motorists that they made her their patron saint. Devout Roman drivers get their motors blessed at her church in the Foro Romano on 9 March.
Palazzo Massimo alle Colonne
Corso Vittorio Emanuele II 141, Piazza Navona. Bus 30, 40, 46, 62, 64, 70, 81, 130, 190, 492, 628, 916. Date: 16 Mar (7am-1pm).
San Filippo Neri performed one of his most famous miracles in the palazzo of the Massimo family. Called to give last rites to Paolo Massimo, the saint found the boy already dead; undaunted, he revived Paolo, chatted for a while, then – when the boy was ready to meet his maker – commended him to God. On the anniversary, a procession of family, servants and altar boys escorts the cardinal or archbishop to a private room for a slap-up buffet. Turn up near 11.30am to witness the spectacle in all its Felliniesque glory.
Basilica di San Giuseppe al Trionfale, via Bernadino Telesio 4b, Suburbs: Trionfale. Bus 23, 31, 33, 70, 495. Date: 19 Mar.
Also known as Father's Day in Italy, the feast of St Joseph is no longer a public holiday but festivities still take place near the basilica di San Giuseppe al Trionfale, north of the Vatican. In the run-up to the feast, the city's pasticcerie are piled high with deep-fried, custard-filled batter-balls called bignè di San Giuseppe, a traditional Father's Day gift.
Festa di Primavera – Mostra delle Azalee
Piazza di Spagna. Date: late Mar/early Apr.
Spring arrives early in Rome, bringing masses of blooms. When the azaleas come out, some 3,000 vases of them are arranged on the Spanish Steps.
Settimana Santa & Pasqua (Holy Week & Easter)
Vatican, Colosseo. Date: Mar/Apr.
Tourists and pilgrims flood into the city on the Saturday before Palm Sunday, cramming inside St Peter's square for the open-air Mass. The non-stop services of Holy Week peak in the pope's Stations of the Cross (Via Crucis) and Mass at the Colosseum late on the evening of Good Friday. On Pasquetta (Easter Monday), tradition coaxes Romans fuori porta (outside the city gates) to feast upon lavish picnics of such specialities as torta pasqualina (cheesy bread, with salami and hard-boiled eggs) and fave e pecorino (broad beans and cheese).
Various venues. Date: one week in Apr/May.
For Cultural Heritage Week, state-owned museums and monuments open to the public without charge.
Various venues. Date: 21 Apr.
Not all cities celebrate their birthday... but Rome, 'born' in 753 BC, is no ordinary city. The bulk of the festivities take place around the ancient sites with costumed processions, gladiator fighting, historical re-enactments and enormous amounts of fireworks.
Date: 25 Apr.
This public holiday commemorates the liberation of Italy by Allied forces at the end of World War II.
San Giovanni in Laterano. Date: 1 May.
On May Day, trade unions organise a huge, free rock concert, which is traditionally held in front of the basilica of San Giovanni in Laterano. Performers – mainly Italian, with a smattering of international has-beens – belt out crowd-pleasers from mid-afternoon into the small hours.
Campionato Internazionale di Tennis
Foro Italico. Date: two weeks early May.
Every May, Rome hosts the Italian Open tennis tournament, one of the most important European clay-court challenges outside the Grand Slam, and a warm-up event for the French Open. Matches take place at the Foro Italico, next-door to the Olympic Stadium.
Concorso Ippico Internazionale di Piazza di Siena
Piazza di Siena, Villa Borghese. Date: second half of May.
Rome's jetset flock to see this glamorous international show-jumping event in leafy Villa Borghese.
Pantheon. Date: Sun in mid May/early June.
Exactly 50 days after Easter, the Pentecost mass at the Pantheon spectacularly concludes with tens of thousands of red rose petals scattered through the oculus in the dome upon the heads of attendees.
Various venues. Date: late May-Sept.
A circuit of events to promote art, architecture, performing arts and literature in three of the most fascinating and photographed buildings of Rome: Palazzo Venezia, Castel Sant'Angelo, and Vittoriano. Ballet, theatre, jazz and classical music concerts take place in their courtyards or terraces, with breathtaking panoramas. Guided tours allow you to discover the ancient underground layer at Vittoriano or the chemin de ronde and belvedere at Palazzo Venezia.
Summer events in Rome
Various venues. Date: June-Sept.
During the event-packed Estate Romana (Roman Summer) festival, piazze, palazzi, parks and courtyards come alive with music from local bands, films are shown on outdoor screens late into the night, and cultural events such as readings and gastronomic events take place in venues around town. Many events are free.
Various venues. Date: July-Sept.
The Associazione Il Tempietto organises year-round concerts under the Festival Musicale delle Nazioni banner in various venues, mainly the Sala Baldini (piazza Campitelli 9), in the archaeological site around the Teatro di Marcello in summer. It's not top quality, musically speaking, but there's a concert almost every evening and the venues are enchanting. You can book online.
Festival delle Letterature
Basilica di Massenzio, Foro Romano. Metro Colosseo/bus 51, 75, 85, 87, 118 or tram 3. Date: June/July.
The floodlit basilica of Maxentius in the Roman Forum provides a theatrical backdrop to readings by some of the most important names in contemporary literature; past guests have included Paul Auster, Hanif Kureishi and Zadie Smith.
Stagione Estiva del Teatro dell'Opera
Terme di Caracalla. Date: June-Aug.
The venue for the Opera di Roma's summer season is a breathtaking archaeological site. Set designers usually exploit the backdrop of majestic Roman ruins with few props and dramatic lighting. Back-row seats are very far from the stage – so bring binoculars. Box office at Teatro dell'Opera or online at www.ticketone.it.
Via dei Fori Imperiali, Capitoline. Date: 2 June.
The date on which Italy became a republic in 1946 is celebrated with appropriate pomp and circumstance by a military parade along via dei Fori Imperiali and culminates with a patriotic green, white and red fly-by from the national aerobatic team, the Frecce Tricolori.
Venue varies. Date: early June-early Sept.
A ten-week open-air bonanza that makes summer the pinkest season of the Roman year: bars, restaurants, live acts, discos, cinema – a great event for boys and girls alike. Venue and contact details change from year to year.
Ippodromo delle Capannelle, via Appia Nuova 1245, Suburbs: Capannelle. Bus 654 from Cinecittà metro station/664 from Colli Albani metro station/train Fm4 from Termini to Capannelle. Date: mid June-early Sept.
If there is a big name from the international rock firmament playing in Rome in summer it is likely to be here. Since its inception in 2008, RinR has hosted Radiohead, the Killers, Snoop Dogg, Placebo, Bruce Springsteen and many others. Transport and traffic can be a nightmare so arrive early.
Various venues. Date: mid June-early Sept.
Started in 2015, and already a smash due to A-list headliners such as Björk, Massive Attack, Public Enemy, Burt Bacharach, Pet Shop Boys, and Fatboy Slim.
Basilica di San Pietro; San Paolo fuori le Mura. Date: 29 June.
The two founders of Catholicism are, naturally, also the twin patron saints of Rome, and each of them is honoured in his own basilica on this Roman public holiday. At St Peter's, a solemn mass is the highlight of the festivities; celebrations at San Paolo fuori le Mura focus around an all-night street fair on via Ostiense.
Villa Ada, Via di Ponte Salrio 28, Suburbs: Parioli. Bus 56,
57, 92, 135, 168, 235, 319, 342, 351, 391. Date: July-Aug.
The international summer music and theatre festival at picturesque Villa Ada gets bigger and better every year and features artists and performers from all over the globe.
Trastevere. Date: two weeks mid-end July.
Though few traces of Trastevere's working-class roots remain today, the area's residents celebrate its humble origins with gusto during the Festa de' Noantri. Festivities kick off with a procession held in honour of the Madonna del Carmine, to whom the whole shebang is theoretically dedicated. Two weeks of arts events and street performances follow, and fireworks round off the closing night.
International Chamber Ensemble
Sant'Ivo alla Sapienza. Bus 30, 40, 46, 62, 64, 70, 81, 87, 130, 628, 916. Date: mid July-mid Aug.
Chamber and symphonic music, as well as opera, takes place in a splendid example of Renaissance architecture: the courtyard of Sant'Ivo alla Sapienza, the hallowed 15th-century seat of Rome university.
Festa della Madonna della Neve
Santa Maria Maggiore. Date: 5 Aug.
There was an unseasonal snowfall on the Esquiline hill on 5 August 352, an event that is still remembered at the basilica of Santa Maria Maggiore. The day is marked with a special Mass, culminating in a blizzard of white rose petals, which flutter down from the roof on to the congregation.
Date: 10 Aug.
On the night of 10 August, Roman eyes turn towards the heavens, hoping to catch a glimpse of one of the night's shooting stars. Some explain the phenomenon as the fall-out of a meteor entering orbit, while the more poetic attribute the falling stars to the tears shed by St Lawrence, martyred in Rome on this day in 258.
Date: 15 Aug.
Those who haven't scarpered to the coast for the whole of August take a long weekend for the Feast of the Assumption, and most of the city closes down.
Autumn events in Rome
Various venues. Date: Sept-Nov.
Rome's cutting-edge performing arts festival offers music, dance and theatre, with an eclectic mix of international acts and emerging young local talent. You can buy tickets at the venues themselves, by phone or online; book well in advance for big-name acts.
Auditorium Parco della Musica. Date: one weekend in Sept.
The city's top chefs unite in the gardens of the Auditorium for this gastronomic festival where visitors can taste a selection of dishes as well as participate in courses and demos by Rome's culinary stars.
Festival Internazionale del Film di Roma
Auditorium Parco della Musica. Date: 10 days Oct-Nov.
Rome's new-ish film festival is firmly in the serie B of international movie meets, but generous allocations of tickets for the cinema-loving Roman public and all the usual red-carpet glamour ensure plenty of non-professional audience participation and a great atmosphere.
Ognissanti/Giornata dei Defunti
Cimitero del Verano, piazzale del Verano, San Lorenzo. Bus 71, 163, 448, 492, 542, 545/tram 3, 19. Date: 1-2 Nov.
Otherwise known as Tutti santi, All Saints' Day (Ognissanti) is followed by La commemorazioni dei defunti (or Tutti i morti), when the pope celebrates Mass at Verano Cemetery in the San Lorenzo district. Romans travel en masse to visit family graves.
Winter events in Rome
Piazza di Spagna. Date: 8 Dec.
The statue of the Madonna in piazza di Spagna is the focus of the Feast of the Immaculate Conception. With the pope looking on, the fire brigade runs a ladder up Mary's column and one lucky fireman gets to place a wreath over her outstretched arm. At the base of the column, the locals deposit their own elaborate floral tributes.
Natale & Santo Stefano (Christmas & Boxing Day)
Date: 25-26 Dec.
Tickets for the papal midnight Mass at St Peter's can be obtained from the Prefettura; you'll have to put your request in months in advance. Nativity scenes can be found in most churches, but the most impressive are halfway up the Spanish Steps and in piazza San Pietro. The Roman Christmas Day is a gluttonous affair: locals feast upon fritti (calorific fried offerings), followed by panettone (sponge with dried and candied fruit) and torrone (slabs of nutty chocolate or nougat). The pope says a special Mass and gives his 'Urbi et orbis' blessing at St Peter's.
San Silvestro & Capodanno (New Year's Eve & New Year's Day)
Date: 31 Dec-1 Jan.
Hordes of Romans flock to the city's piazzas to see in the new year. There are usually free concerts and a fireworks display; check the city council website (www.comune.roma.it) for a full list of events. Some people add to the fun with home-grown pyrotechnics and flying spumante corks, turning the centro storico into something resembling a war zone.
Epifania – La Befana (Epiphany)
Date: 6 Jan.
Tradition has it that on the eve of Epiphany Italian children receive a visit from an old witch (la befana). The well-behaved wake up to a stocking filled with sweets and chocolate while the naughty will be left lumps of coal (usually a sugary, edible version sold in cake shops).
Festa di Sant'Antonio Abate
Sant'Eusebio, piazza Vittorio Emanuele II 12A, Esquilino. Metro Vittorio Emanuele/bus 50, 105, 150/tram 5, 14. Date: 17 Jan.
Romans commemorate the feast of the protector of animals, Sant'Antonio Abate, in the church of Sant'Eusebio. Anyone who is keen to ensure their pet gets a place in heaven can bring it along to the church for a blessing.
Date: two weeks Feb/early Mar.
The final fling before Lent used to be a much more riotous affair in Rome; in the Middle Ages wild parties were held on Monte Testaccio. Nowadays, for the two weeks leading up to Ash Wednesday, the most fun is had by children who dress up in costume to play in the city's piazzas. Pasticcerie sell special carnival treats including castagnole (fried dough-balls rolled in sugar) and frappe (thin strips of pastry doused in icing sugar).
Stadio Olimpico. Date: Feb-Mar.
Italy's national rugby team have proudly competed in the Six Nations Championship since 2000 and now even occasionally win a match. Home games are played at the Olympic Stadium. Tickets can be purchased online at www.ticketone.it.
Know when to visit but not what to do?
This is a city steeped in rich history, boasting beautiful buildings and awe-inspiring ruins. No matter how you choose to spend your time here, you'll be treated to stunning views, world-class attractions, friendly locals and many a history lesson.