Seoul's best restaurants for fine dining
For a taste of Seoul's cuisine scene at its finest, try these high-end dining destinations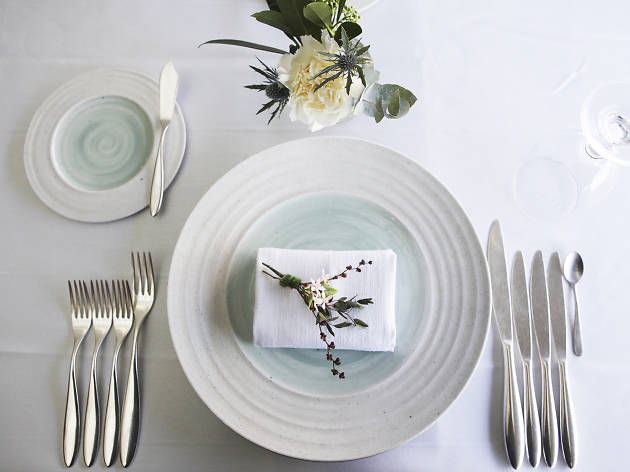 Looking for a good restaurant to take a fancy date? Trying to impress the parents? At our editors' recommended fine-dining restaurants the service is spectacular, the food is superb and the chefs are some of the world's best…
Recommended high-end restaurants
Unlike other fine-dining restaurants, Ryunique offers one menu for dinner with no options for the customer to choose from. With the dinner course priced at 180,000 won, the problem of finding a friend to accompany you to the meal is as problematic as the cost (especially if you have yet to visit and can't exactly guarantee them about the taste). Fortunately for myself, I was able to find such a friend for the special occasion of my birthday. At the restaurant, we were greeted with a quality selection of outstanding dishes throughout the 11-course meal. Although I had not planned on asking about the wine, by the time I had finished the amuse-bouche, I was enjoying the meal so much – I had to get it. The wines paired with the dishes maximized the taste of the cuisine. Equally pleased, my friend remarked that she hadn't enjoyed this kind of high-end food for such a long time.   The tasting menu entitled "hybrid cuisine" starts out with five kinds of amuse-bouche. Straight away, you'll notice the aesthetics of the meal – the dragonfly-shape dish whose wing is made of dried kimchi and tail made of potato puree draws particular attention. Memorable also are the Konbuzime Red Snapper and Cucumber Foam as well as the Foie Gras. Ryunique's signature dish is the Quail "Nostalgia," which comes served in a covered bowl. Upon opening the bowl, you'll be tickled with the scent of burnt hay rose. Inside, there's a quail egg wrapped in bacon and garnished with beet sauce. While this might
This French restaurant sits on the top floor of the famous In Space building located near Changdeokgung Palace. The view up at Dining in Space surrounded by 3 full-wall windows is, accordingly, magnificent: on the right, you'll see the prominent architect Kim Swoo-geun's private space (which now is known as Arario Museum), and the beautiful palace on the left side. The food served here is modern French based on the classic. Having worked at Cheongdam's Palais de Gaumont and La Saison of Sinsa, chef No Jin-seong elegantly puts out a single, focused course comprised of seasonal ingredients. The presentation, along with delicate tastes, are exquisite. With its reservation-only policy, patrons at Dining in Space also enjoy individualized choices for ingredients that accommodate their needs and preferences. * Fully booked on Feb. 14th
Mingles is undoubtedly one of the most interesting modern Korean restaurants in Gangnam. As its name suggests, Mingles utilizes Japanese, Spanish and French styles of cooking with Korean cuisine as its backbone. By undertaking the serious work of studying the ingredients as well as well as demanding an exacting selection, the chefs at Mingles have been successfully demonstrating creative ways to expand and further existing concepts of Korean cooking. Utilizing seasonal ingredients and recipes that have been passed down through palace kitchens over the hundreds of years, they create impressive combinations of the traditional and popular. Their nutty, citrus yuja danja (citron pot), once offered to the kings of old, and their jangajji (pickled vegetables) that have been fermented for an extended period of time are just some of the innovative efforts that enable patrons to get a taste of the past and present. The crème brûlée trio made with Korean traditional sauces is another such recipe that defies existing concepts and offers to your palate flavors unlike any before. Having received one star from Michelin in 2017 and ranked 15 on Asia's 50 Best Restaurants in the same year, Mingles has proved its strength in innovation and their influence in the local food scene.
Jung Sikdang is a groundbreaking, iconic Korean restaurant for a variety of reasons. Opening in Sinsa-dong in 2009 and New York in 2011, it has received two Michelin stars and is ranked the 10th best restaurant in Asia. These awards are certainly deserved, but they are especially significant to Koreans: With the Korean obsession over international rankings (whether in education, sports or economic measures), this restaurant's international acclaim has restored some level of pride around hansik, or traditional cuisine.
The word brasserie conjures up worn but polished counters, nonchalant mustachioed servers and delicious, simple French cuisine served unpretentiously at reasonable prices. Maison de la Catégorie gets almost all of these right (maybe not the mustaches, but we'll be reasonable). Unlike many of the fine dining establishments that fill Cheongdam, they focus on simple, filling dishes and familiar dessert favorites.
If you're ever in the mood for a sumptuous French feast, with your meal enhanced by a view of tranquil Anguk-dong during your meal, there's "bien-être" (stylized without capital letters). The kitchen is headed by Chef Park Min-jae, who studied at Le Cordon Bleu and worked at Pierre Gagnaire in Paris.
OKitchen 3, or OK3 as it is nicknamed, is the third in a line of beloved restaurants from owner and chef Yonaguni Susumu, who has become a local celebrity in his own right. At age 22, enamored of John Lennon, he left Japan for England, where he happened to get a job washing dishes at a French restaurant.
Congdu is a self-proclaimed "modern hansik" fine dining restaurant. The name "Congu" represents the restaurant's aspiration to serve creative dishes that incorporate as their main ingredients "cong" (beans) and jang (fermented paste)—two foods that highlight the science of fermentation in Korean cuisine. Signature dishes include the grilled beef sirloin steak with 15-year seed soy sauce and black garlic purée made with Uiseong garlic, and crab marinated in a master soy sauce using a special technique said to have been passed down from an aristocratic Joseon-era family.