47 things to do after dark – Part 2
From middle-of-the-night desserts or dumplings in Little India to beer-in-hand prawning or cocktails on the roof, Singapore has enough to keep visitors and locals alike busy far into the night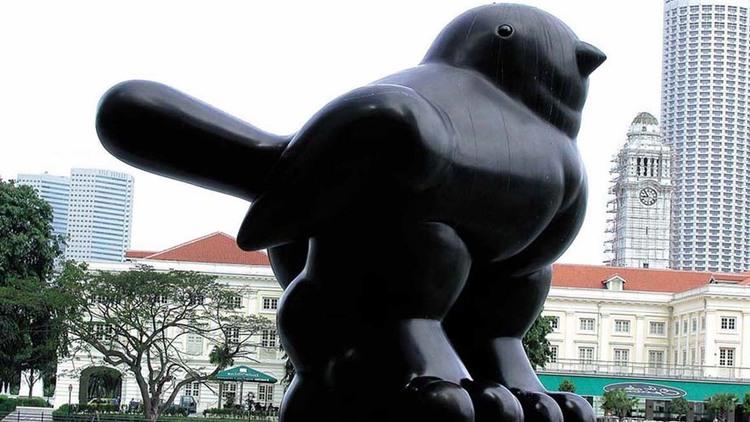 Take in public art
Art is everywhere in Singapore, and some of the best work around can be enjoyed at any time of the day. We pick out eight notable pieces of public art around the city.
The Merlion by Lim Nang Sen, 1972
There are several sculptures of Singapore's iconic mascot around the island, but by far the most frequently visited is the original by Singaporean sculptor Lim Nang Sen, which, after a move in 2002, has a place of honour in its own Merlion Park along Marina Bay (beside One Fullerton). The statue's image is so ubiquitous – it's certainly one of the most photographed sights in the country, and often pictured as part of the city's skyline – that the name has even been integrated into local slang: 'to Merlion' means to vomit after drinking too much, in reference to the continuous stream of water that sprays from its mouth. Merlion Park, next to One Fullerton, Marina Bay. Nearest MRT: Raffles Place.
Sir Stamford Raffles statue by Thomas Woolner, 1887 (replica, 1972)
Another Singapore landmark, this marble statue of Singapore's founder marks the spot where he stepped onto the land and is also one of the city's most photographed points. What most people don't know, however, is that the white statue along the river is a replica erected on the 150th anniversary of Singapore's founding. The original, cast in a dark bronze and now blackened with age, was originally at the Padang for Queen Victoria's Golden Jubilee Day, but later moved to the front of the old Victoria Theatre after getting struck by flying footballs during competitions at the Padang. Raffles Landing Site, Old Parliament Lane, North Boat Quay, Singapore River. Nearest MRT: City Hall.
Contentment by Ng Eng Teng, 1974
Known as the 'grandfather of Singapore sculpture', the late Ng has contributed several figurative public sculptures around the country, as well as special commissions around the region (including for the 1988 Seoul Olympics), and in 1981 became only the second artist to receive Singapore's Cultural Medallion. 'Contentment' is one of his earlier works, done after his return to Singapore from Ireland in the late '60s, and features the common motif of a reclining woman. Originally commissioned by DBS Land for Plaza Singapura, it's now part of the NUS Museum collection, located in a pretty garden in front of the University Cultural Centre, along with its companion piece 'Wealth' (also depicting a female figure). There is no clear view of them from the main road, so you'll have to peer in from the lobby of the UCC. University Cultural Centre, National University of Singapore, 50 Kent Ridge Crescent. Nearest MRT: Kent Ridge.
Reclining Figure by Henry Moore, 1983
This is one of British sculptor Moore's largest pieces; he completed more than 850 sculptures before his death in 1986, most focusing on his signature form of an abstract reclining figure. It was commissioned by Chinese-born American architect IM Pei, a winner of the Pritzker Prize, the world's top architecture award, to complement the pond and plaza at the OCBC Bank, which Pei also designed. OCBC Centre, 65 Chulia St. Nearest MRT: Raffles Place.
Bird by Fernando Botero, 1990
This is one of several Botero bird sculptures around the world, meant to symbolise peace and serenity. Typical of the Colombian artist's trademark style, this 'Bird' is constructed with exaggerated features and disproportionate weight (such as the chunky legs and human-like mid-section). UOB Plaza, Boat Quay, Singapore River. Nearest MRT: Clarke Quay.
Singapore Brushstrokes by Roy Lichtenstein, 1997
Known for his prolific output from Tel Aviv to New York, this was the American pop artist's last major outdoor installation. The series of cutout brushstrokes was conceived as part of a redevelopment project for downtown Singapore. Pontiac Marina, 9 Raffles Blvd, between Millenia Walk and Centennial Tower. Nearest MRT: Promenade.
Pedas, Pedas by Kumari Nahappan, 2006
This locally based conceptual artist has won awards for her paintings, but most people know her pieces rather than the artist who created them. Her most famous works are her giant peppers and fruits – a number of which are now displayed prominently around the island, including a giant nutmeg (often mistaken as an avocado) in front of ION Orchard. 'Pedas, Pedas', meaning 'hot' in Malay, is the piece that kicked off the trend, commissioned by theNational Museum of Singapore in 2006, and is still the most popular, perhaps due to the park setting and museum-minded visitors (rather than the concrete shopping areas of Orchard). Feel free to climb on it, rest your feet on the stem or give the chilli a hug. Fort Canning entrance of the National Museum of Singapore. Nearest MRT: City Hall or Dhoby Ghaut.
Notes towards a Museum of Cooking Pot Bay by Michael Lee, 2012
Part of the MRT's Art in Transit programme, which was implemented with the completion of the North-East Line in 1993 to feature public art in each of the line's stations, this piece was commissioned this year for the opening of the Telok Blangah station on the Circle Line and is our favourite along the line. Award-winning local artist Lee is at his best here, indulging his trademark fixation with urban spaces through this absorbing flowchart diagram that connects various landmarks and events. Also worth checking out along the Circle Line include :phunk studio's giant, melting disco ball-like 'Dreams in a Social Cosmic Odyssey' at Promenade (CC4) and Hazel Lim's 'The Cartography of Memories', which creates a map out of the anecdotes of local residents, at Caldecott (CC17).Platform of Telok Blangah MRT station (CC28).
Continue onto Part 3
Part 1 | Part 2 | Part 3 | Part 4 | Part 5