47 things to do after dark – Part 4
From middle-of-the-night desserts or dumplings in Little India to beer-in-hand prawning or cocktails on the roof, Singapore has enough to keep visitors and locals alike busy far into the night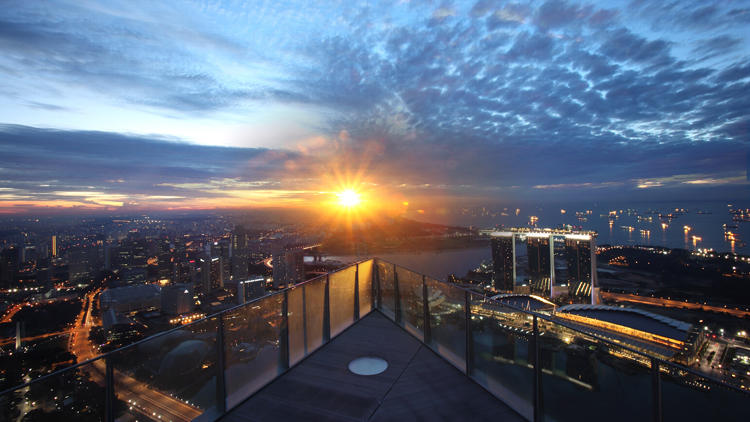 Party on
Party the night away and soak up the city view from these bars and clubs.
1-Altitude. At 282m above ground, the triangular-shaped outdoor bar at this self-proclaimed 'highest alfresco bar in the world' is indeed a magnificent vantage point, with unobstructed views of the city lights. Bordered securely by glass and furnished with wood flooring and lounging cabana beds, this rooftop bar is one with not just altitude but attitude – it even has a lowered dance floor in the centre for partygoers to show off their moves under palm trees.Level 63, One Raffles Place, 1 Raffles Pl (6438 0410, www.1-altitude.com). Nearest MRT: Raffles Place. Mon-Thu 6pm-2am; Fri, Sat & eve of public holiday 6pm-4am; Sun 6pm-1am.
Fabrika. When you gaze over the rails and spot suits working overtime in their office, raise your drink and carouse in the knowledge that you're not spending this night boxed up in a cubicle. While you're on the fun side, sink into the seating of choice – cabana beds, chairs or sofas – and bask in the lights of the colourful mosaic lamps and shimmering candles scattered around the terrace. It's okay to gloat a little – others would most likely do the same when you're the one clocking the extra hours. Level 17 Sky Terrace, klapsons The Boutique Hotel, 15 Hoe Chiang Rd (6521 9030, www.klapsons.com). Nearest MRT: Tanjong Pagar. Mon-Tue 5pm-midnight; Wed-Fri & Eve of PH 5pm-1am; closed on Sat-Sun, PH.
Kinki Rooftop Bar. This open-air bar on the top floor of Customs House makes us feel a little like we're in some gritty side street of Tokyo, but in a good way. The illusion is perfected if you keep your back to Marina Bay Sands – we like to sit perched on barstools that look straight onto weather-beaten walls spunked up with graffiti, 'Godzilla crossing' road signs and a corridor lit by red Asakusa-type lanterns. The trellis-lined bar and Japanese writing on bamboo add to the underground, home-run feel of this place, even if the menu strikes a different chord: a little less than half the drinks menu is Japanese, while the cocktails have Western elements shaken in. The house special Spicy Hachimitshu ($16) is a refreshingly spicy martini glass of vodka, honey umeshu, a tinge of wasabi gomme, fresh lemon and Japanese cucumber. The nachos at Kinki are not quite nachos; rather, they're tempura seaweed sheets topped with guacamole, sour cream and a choice of either black-pepper beef or spicy pork. Rooftop, Customs House, 70 Collyer Quay (6533 3471, www.kinki.com.sg). Nearest MRT: Raffles Place. Mon-Thur 5pm-midnight; Fri-Sat 5pm-2am.
Cé La Vi. Located within the SkyPark at Marina Bay Sands, Cé La Vi is a classy club, bar and restaurant. Panoramic views and an uninterrupted musical backdrop are the draws at this 40,000 sq ft destination. As you pop that champagne cork, immerse yourself in the picturesque surroundings and admire the view from 257m above sea level. The sunset is beautiful up here, and it's a highly recommended time to hit the establishment. Marina Bay Sands SkyPark, 1 Bayfront Ave (6688 7688, sg.celavi.com). Nearest MRT: Marina Bay or Promenade. Restaurant noon-3pm, 6-11pm; SkyBar noon-late; Club Lounge 6pm-late; SkyDeck 11am-late.
Lantern. The Fullerton Bay Hotel's prime location among the skyscrapers of the CBD makes Lantern a prime target for anyone peeking out of their office window. The 25m pool, border of whirlpool niches, faux-rattan cabanas and 5m-wide lantern-inspired bar certainly catch the eye. The atmosphere at this site formerly occupied by Clifford Pier is vibrant without being intrusive; it's not difficult to have a conversation while listening to the smooth vocals of the lively Latin house band. While you won't be able to take a swim in the pool (it's for hotel guests only), we're sure you can sneak in a quick foot dip. Rooftop, The Fullerton Bay Hotel, 1 Fullerton Rd (6597 5299,www.fullertonbayhotel.com). Nearest MRT: Raffles Place. Sun-Thu 8am-1am; Fri-Sat, PH 8am-2am.
La Terraza Rooftop Bar. Perched on the rooftop of The Screening Room, this is an intimate and welcoming venue where you can cosy up and catch classic, engaging movies in laidback surroundings. The film and menu pairing is an interesting concept for those looking for a unique dining experience. The Screening Room, 2 Ann Siang Rd (6221 1694, www.screeningroom.com.sg). Nearest MRT: Chinatown or Tanjong Pagar. Mon-Thu 6pm-1am; Fri & Sat 6pm-3am.
Loof. Odeon Towers' newly revamped alfresco space bills itself as Singapore's first standalone rooftop bar, but the draw equally comes from its South-East Asian-driven food and cocktails. Have the Lamb Rack Lollipops with Sarawak peppercorn sauce and a glass of Penang Padi (vanilla vodka, lime juice, soya sauce, raw brown sugar, fresh chilli) on hand. #03-07 Odeon Towers, 331 North Bridge Rd (6338 8035, www.loof.com.sg). Nearest MRT: Bras Basah or City Hall. Sun-Thu 5pm-1am; Fri & Sat 5pm-3am.
Orgo. A few people are still unaware that the Esplanade's roof is open to the public; even fewer realise what a stunning view you get from the top. Having celebrated its third anniversary recently, this is definitely one of Orgo's huge draws – for teetotallers, that is. Those who relish a quality drop will wholly embrace the extensive drinks menu by renowned Japanese mixologist Tomoyuki Kitazoe. Martinis are the speciality of choice, mixing up unusual combinations of pomelo with basil and dragonfruit with vanilla. Roof Terrace, Esplanade-Theatres on the Bay, 8 Raffles Ave (6336 9366, www.orgo.sg). Nearest MRT: Raffles Place. Daily 6pm-2am.
Continue onto Part 5
Part 1 | Part 2 | Part 3 | Part 4 | Part 5