The vibrant streets of Little India are about to get even more colourful with the return of Artwalk Little India, as part of Singapore Art Week. From January 22 to February 6, LASALLE College of the Arts teams up with the Singapore Tourism Board once again – with the support of Little India Shopkeepers and Heritage Association – to paint the culturally rich precinct in vivid hues while demonstrating how art continues to fuel and inspire even in challenging times.
For the very first time, the annual multidisciplinary public arts event is rolled out in a hybrid format, featuring both digital and on-site programmes. Based on the theme 'In Spite Of', the multisensory art experience brings the history and traditions of Little India to life through workshops, storytelling sessions, virtual walks, and music and dance performances which are available to watch via Facebook and Zoom. It kickstarts with a special opening by pioneering Bhangra company Jigri Yaar Bhangra.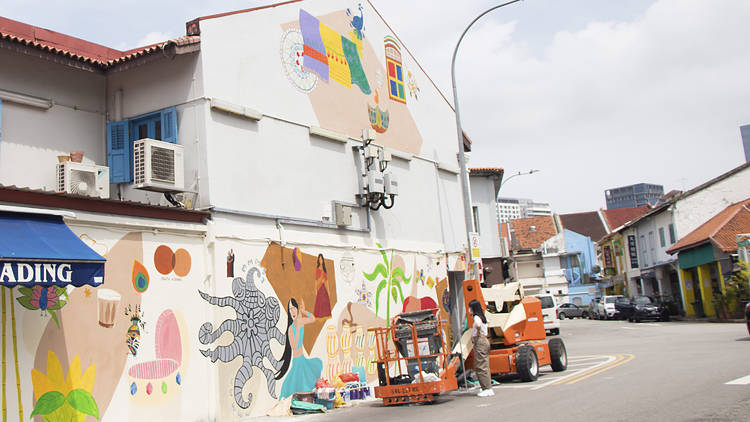 The main star of the festival, however, are the wall murals and art installations peppered around Little India. There are a total of four murals and two installations to check out this year. Start your wall crawl from Rochor MRT station, and make your way to 50 Dunlop Street where you'll spot Mithra Jeevananthan's whimsical artwork Vilakku bb, which features the Indian oil lamp as the focal point.
A stone's throw away at 48 Upper Dickson Road is a Little India mood board Warp & Weft by Khairulddin Wahab, and at Poli @ Clive Street is a standalone metal installation by Milenko Prvački where you can strike a pose with the fam while engaging with the socially distanced frames.
Over at 34 and 50 Buffalo Road, you'll find Dipali Gupta's Navras in Peril, a collaborative project depicting Indian classical dance. As you pass by Broadway Hotel at 195 Serangoon Road, be sure to look up and marvel at the stunning – and really tall – nature-inspired artwork Dancing in Unison on its facade. The masterpiece is a collaborative effort by Indian artist Bhajju Shyam and local artist Sam Lo.
Further up at 130 Syed Alwi Road, you'll see Eunice Hannah Lim's Folding Dreams. The vibrant mural reveals the humble beginnings of Mustafa Centre – which happens to be about three minutes away – as a handkerchief seller. It depicts a makeshift stall where the handkerchiefs are folded into massive cranes.
If you're a lover of arts and culture, let Artwalk Little India help you rediscover the cultural enclave with the best of both worlds. For more information, visit artwalklittleindia.sg.