Heads up! We're working hard to be accurate – but these are unusual times, so please always check before heading out.
Best public art in Singapore
We introduce the artists who are decking out our land-starved city with public art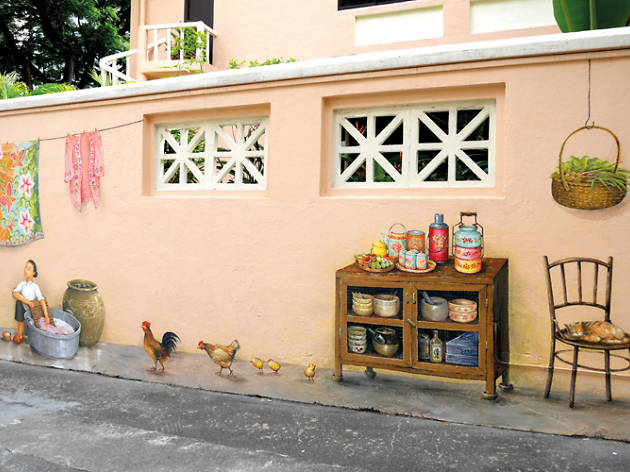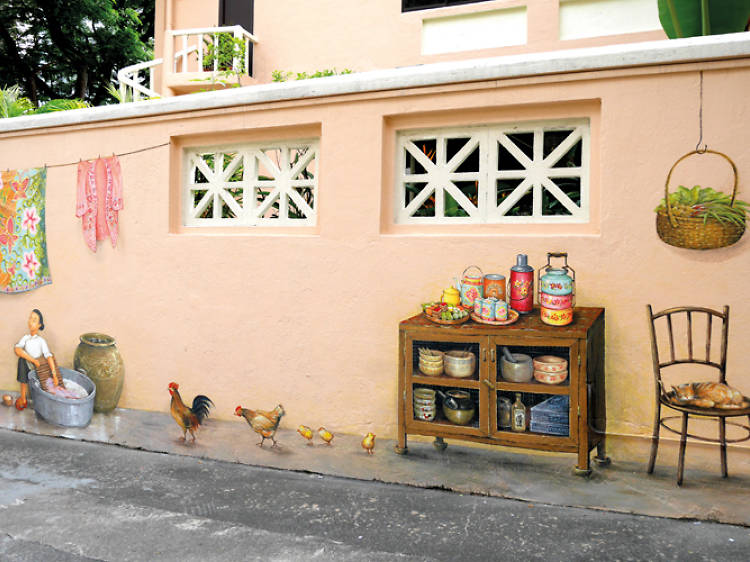 Where
Seven locations, including 42 Everton Road (pictured)
What
A provision shop cluttered with Khong Guan biscuit tins and salted fish, a lady on a stool scrubbing laundry with a wooden washboard and a sudsy pail of water, and roosters ambling in a kampong – these slices of life are depicted over three of seven wall murals by Yip, who drew inspiration from growing up on Sago Street. His first piece,
Amah
, adorns a shophouse wall along Everton Road and was completed in August 2015. Each mural takes the artist between two to 14 days to complete, and they completely fade after about three years – so you've still got time to admire them in person. And you won't have trouble locating these murals: Yip's website has (very specific) directions to get to them.
www.yipyc.com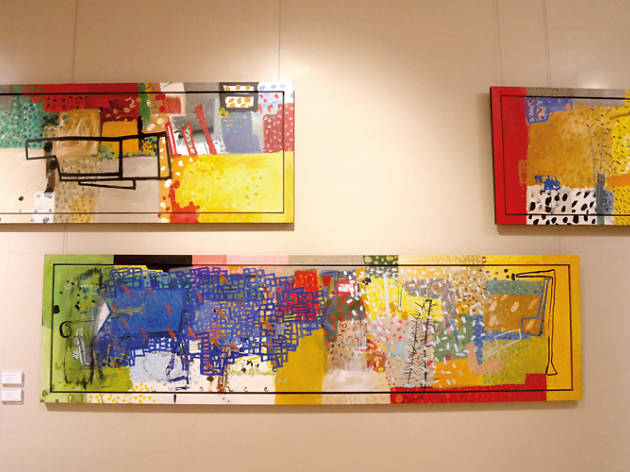 Where Third level of Scotts Square

What Lashings of mustard yellow, teal, burgundy and charcoal greet you as you exit the lift on the top floor of the mall – but bright colours don't necessarily represent happiness, says Lee, whose works have been featured in 15 exhibitions. These four 2.5-metre-long canvas panels are part of the artist's City Colours series, which was completed in 1998 and commissioned for Art Forum Gallery. The abstract pieces depict the highs and lows we all experience in the span of a day, and deviates from the distinct monochromatic palette used in Lee's other paintings – one of which won him the UOB Painting of the Year in 2003.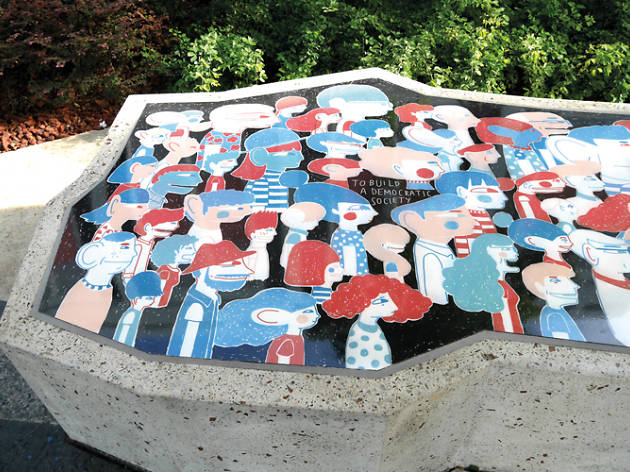 Tan Zi Xi (who goes by the moniker 'MessyMsxi')
Where The Art Connector

What The next time you're at City Hall MRT, take Exit B and follow the sheltered walkway leading to the National Gallery for a prelude to yet more art. Called The Art Connector, it features 'benches' (that are sadly not for sitting) bearing works from four artists including MessyMsxi. Hers is a vibrant tribute to the nation, and features whimsical characters and a line from our pledge. Fun fact: MessyMsxi's a moniker Tan dreamt up when she was completing her graphic design degree in London (her friends had struggled to pronounce her name). Find more of her works at the Newton Downtown Line station and Capitol Piazza.

www.messymsxi.com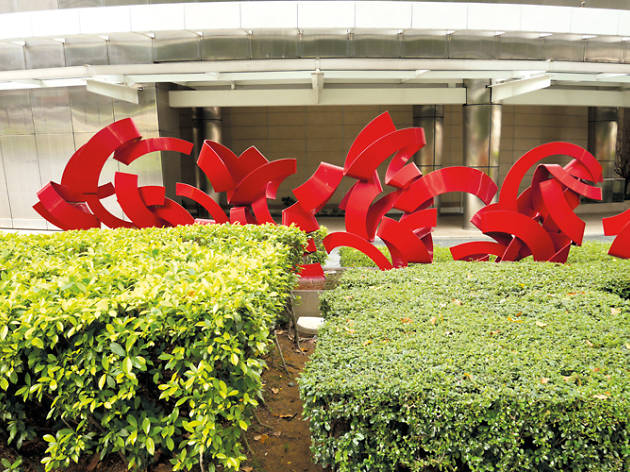 Where The entrance of St Regis Singapore
What Fronting the manicured hedges at the entrance of the hotel is Sense Surround, a group of four sculptures by renowned abstract artist and sculptor Anthony Poon. They're impossible to miss – these wave-like sculptures comprise bold, fluid arcs pressed from red ribbons of aluminum – and are reminiscent of Poon's Wave series as they both share his signature motif of geometric shapes and clean lines. In 1991, the Cultural Medallion winner famously declared, 'I'd like to end my life with a paintbrush in my hand.'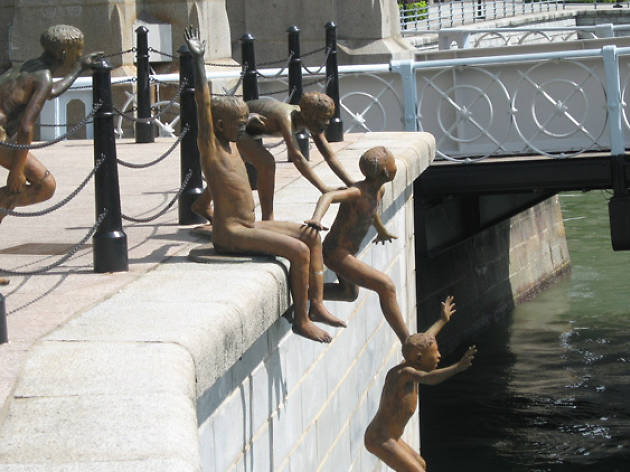 Where Next to Cavenagh bridge, behind Fullerton Hotel
What There are a number of trite commemorative bronze sculptures dotting the city, particularly along the Singapore River, several of which local self-taught artist Chong was commissioned to execute. This piece, however – depicting a group of young boys stripping down and jumping into the river – is so joyous and innocent that it has instant appeal. In a clever bit of welding, the last boy is suspended mid-jump just above the water. It's also a homage to days past, when kids from the nearby kampongs would still swim in the river.
Where Outside UOB Plaza
What Affectionately known by some as the 'Big Fat Bird', artist Fernando Botero's chubby Bird (1990) at Boat Quay is one special chick. Designed with a tasteful exit-hole in its derrière, this stout brass sculpture has a musical secret. Blowing into its 'mouth-piece' resonates inside the hollow birdie and produces a high-pitched whistle. Get a friend to prop you up and experience bird-calling of a different kind.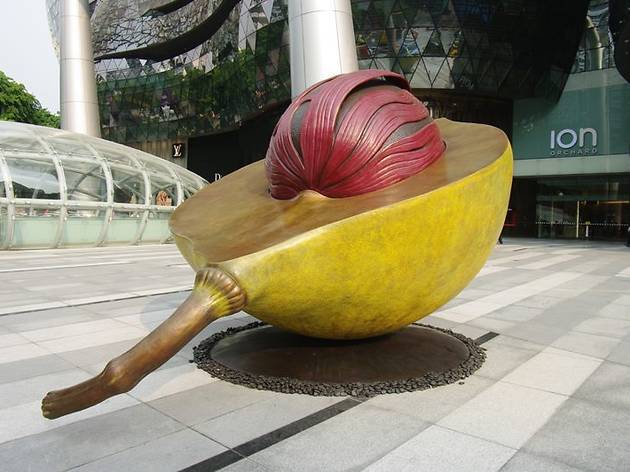 Where Outside ION Orchard
What This locally based conceptual artist has won awards for her paintings, but most people know her pieces rather than the artist who created them. Her most famous works are her giant peppers and fruits, a number of which are now displayed prominently around the island. Quite comically, the giant nutmeg is often mistaken for an avocado!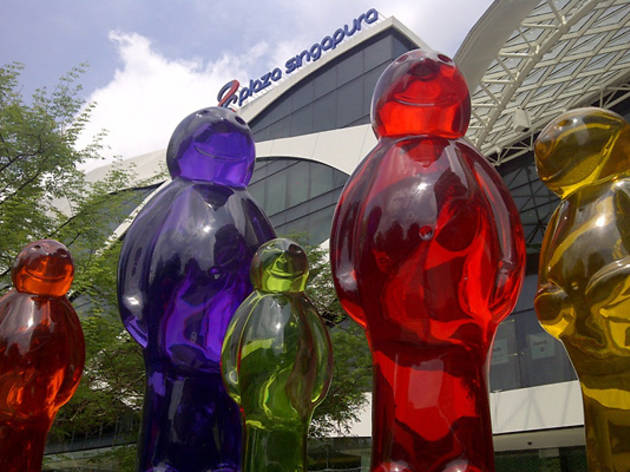 Where Outside Plaza Singapura
What Very well-travelled, this colourful family has toured the world's major art cities like London, Rome, and Paris before landing in front of Plaza Singapura. A deft hand in working with resin sculptures, Mauro Perucchetti mixes pop art with a dash of social critique. Although they may seem cute and quirky at first glance, these Jelly Babies were actually conceptualised to question the impersonality of cloning, and to reflect Perucchetti's mixed feelings of fascination and horror with this polarising issue. Take a closer look, and you might find their smiles a touch sinister.