Hafiz Osman's tall bicycle sculpture
We drop by Hafiz Osman's residency in Joo Chiat where he's building his tall bike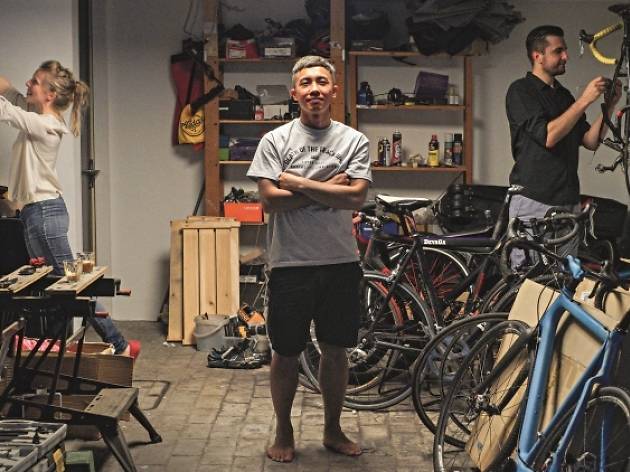 It was a match made in heaven. Artist Hafiz Osman and the hosts of his residency, Andrzej and Evie Pyrka bonded immediately over their love of cycling. Hafiz first got into it around six years ago, when he started to make a little bit of money and decided to buy a bike. Evie is an avid cyclist, and her husband goes one step further – he builds his own sets of wheels in the workshop he created in the carpark of their bright, modern shophouse condo.
'At one point, when we were still in Belgium, we had… How many bikes did we have?' Andrzej asks. Seventeen, Evie replies with a wry smile. 'Seventeen,' Andrzej nods. 'We had bikes everywhere in the house, except the bedroom because Evie wouldn't allow it.' But even that's nothing, he says, because there's a guy who currently lives down the road from them who has around 150 vintage bikes in perfect condition.
And as it turns out, Joo Chiat is a hotspot for cyclists, which serves as the perfect starting point for the piece Hafiz plans on creating. 'I want to make a tall bicycle,' he tells us on the first afternoon of his three-day residency at the Pyrkas' home. What's that, you ask? It's essentially a bike that's literally twice the height of a normal one. 'Joo Chiat has a very diverse population. You get expats [like the Pyrkas], the locals, and the migrant workers whose dormitories are also here. And I feel like the bike is something that can bring all these groups together. While I've been on a tall bike in Paris, there isn't one in Singapore as far as I know. So I thought it'd be fun to get everyone together and build one.'
His works have always been very community-centred – the last project he did with The Art Incubator, for instance, involved getting his neighbours together when his home in Hillview went en bloc – so he's looking to continue developing that theme through his current work. 'For me, this residency is more about getting to know the people rather than the space,' Hafiz says, adding that he'll be going to a barbecue with the Pyrkas' fellow bike enthusiasts later that evening. 'I want to be able to relate to and work with my hosts.'
He plans on showcasing both the tall bike and a documentation of the process of its creation at OH! Open House.
See Hafiz Osman's work at Sandalwood Condo, 162 Tembeling Rd.