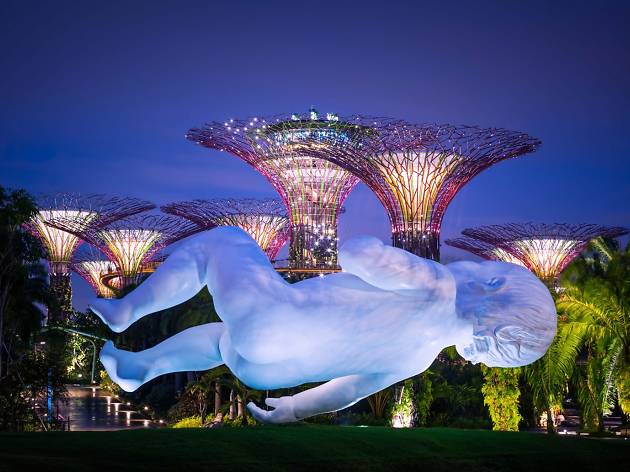 The most iconic public sculptures in Singapore
Get schooled on the public sculptures around town and the story behind each piece
Besides high-rise skyscrapers, stunning murals, and heritage buildings, another common sight in Singapore's CBD is public sculptures. You've probably seen bronze works by local sculptor Chong Fah Cheong along the Singapore River, or the iconic chubby bird outside the UOB Plaza. But did you also know that we have a few of Salvador Dali's masterpieces around?
The next time you're taking a walk around the city, pay attention to these public sculptures and the story behind each piece. You'll probably learn a new thing or two about art and some of the region's best sculptors.
RECOMMENDED: The best urban art trails in Singapore and the history behind Singapore's heritage museums and concert halls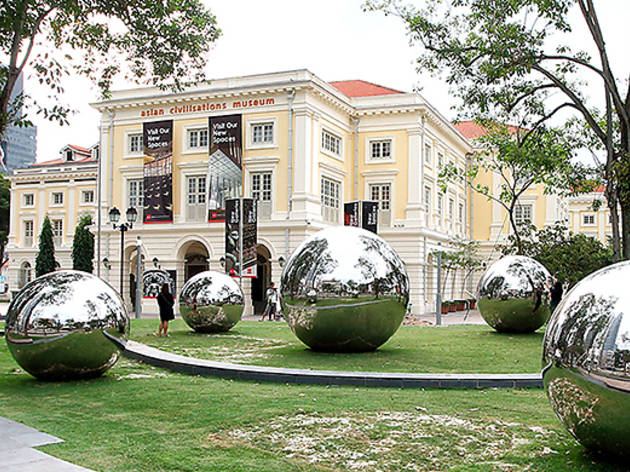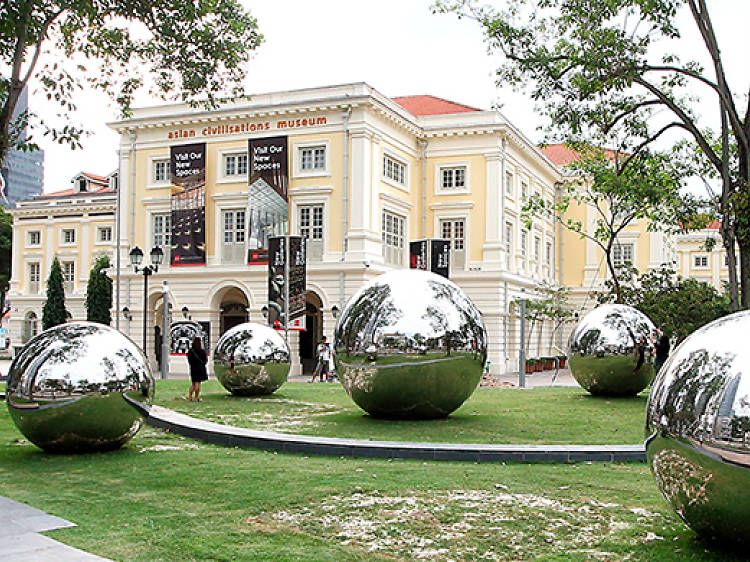 Photo: Public Art Trust
24 Hours in Singapore, Baet Yeok Kuan
Where: Outside Asian Civilisations Museum
If you've ever taken a photo of yourself on these reflective spheres on the lawn outside the Asian Civilisations Museum, you're not alone. They're a unique addition to the lush greenery. But did you know that they are more than just your Instagram prop? These sculptures by Baet Yeok Kuan are interactive installations that act as an audio time capsule, capturing the sounds of Singapore.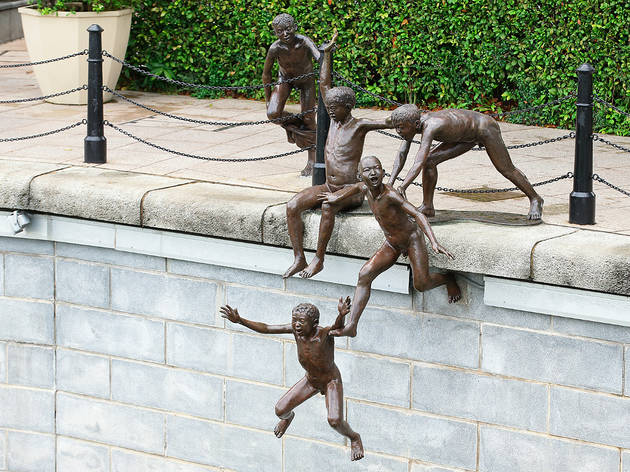 Photo: Public Art Trust
First Generation, Chong Fah Cheong
Where: Outside Fullerton Hotel
You can find a number of Singapore sculptor Chong Fah Cheong's pieces around the city. The pioneering sculptor works mostly with wood, bronze, and stone. One of his finest (and most popular) works is First Generation, which depicts five boys jumping into the Singapore River. This is a tribute to Singapore's past when coolies formed the backbone of the country's labour force.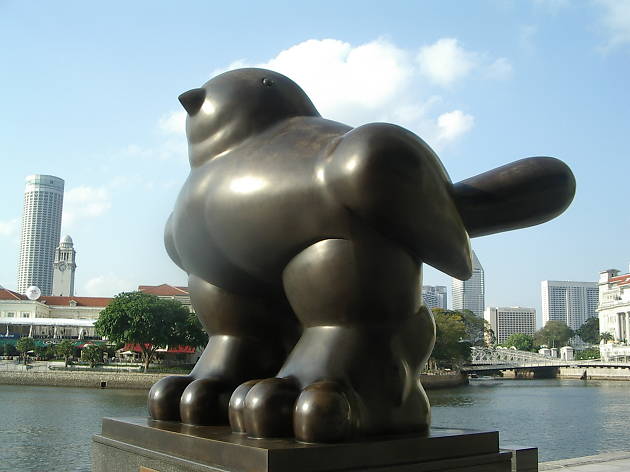 Photo: Wikimedia Commons
Where: Outside UOB Plaza

It's a bird, it's a plane, no, it's Fernando Botero's sculpture. Made entirely of bronze, this sculpture by the renowned Colombian artist has been a permanent presence along the Singapore River since its inauguration in 1990. According to the artist, the sculpture represents peace, serenity and joy – which is exactly what we need in the middle of the CBD. Bird isn't Botero's only masterpiece in Singapore, though. You can find another one at the St Regis Hotel, as well as Parkview Square.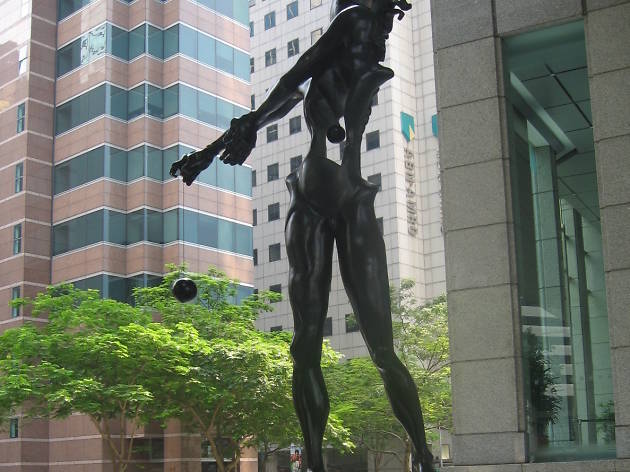 Photo: Wikimedia Commons
Homage to Newton, Salvador Dali
Where: UOB Plaza Courtyard

Just a few steps away from Botero's Bird, you'll find another piece by one of art's most prominent names: Salvador Dali. The unique sculpture is an artsy tribute to 17th century English physicist Sir Isaac Newton. Cast in bronze with dark patina, it was created to showcase Newton's decipherment of gravity. The ball at the centre, which is suspended off the right-hand side of the statue, represents a falling apple.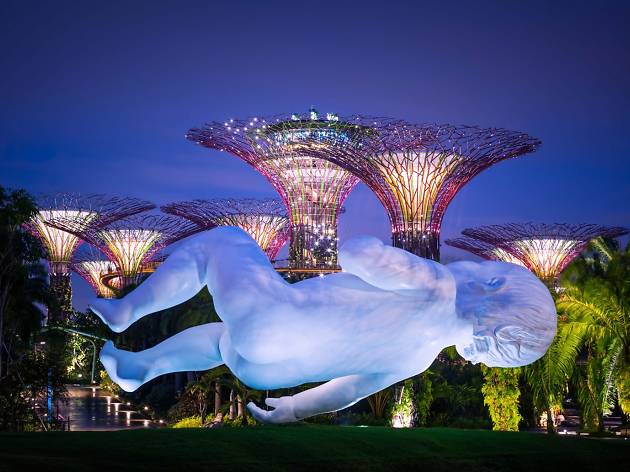 Photo: Marc Quinn
Where: The Meadows at Gardens By The Bay
It's hard to miss this sculpture whenever you're at Gardens By The Bay. Seemingly suspended above the ground, the impressive bronze sculpture weighs a hefty 7 tonnes and is 9metres long and 3 metres tall. It was actually inspired by Quinn's own son, Lucas, as a baby. It was created in 2008 and commissioned for the Chatsworth House, before making a debut in Musee Oceanographique in Monaco, before finally settling into its new home at Gardens By The Bay.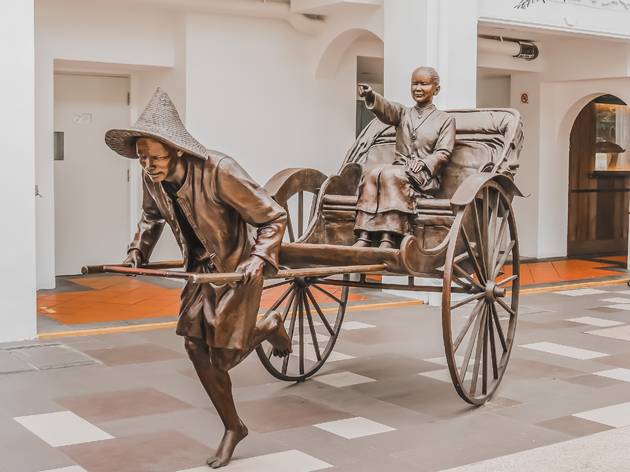 Photograph: Shutterstock
Heading Home, Lim Leong Seng
Where: China Square Central
Just outside China Square Central, you'll find this bronze statue by acclaimed Singapore sculptor Lim Leong Seng. It depicts an immigrant pulling a rickshaw, a common form of transportation in the early days of Singapore's development. The sculpture depicts a wealthy Peranakan lady setting off from home towards Jinriksha Station, portraying the divide between the rich and poor in Singapore's early days.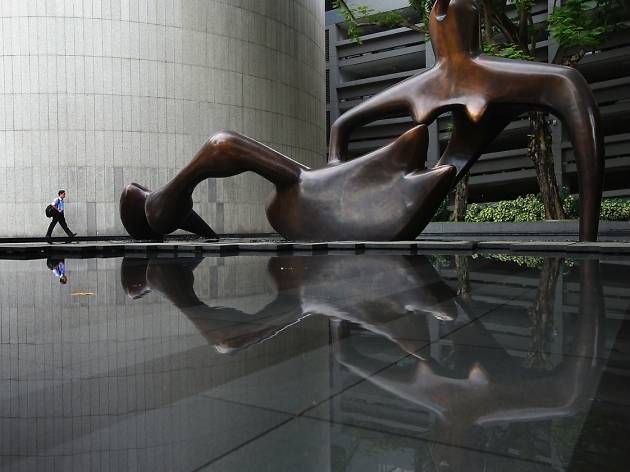 Photo: Public Art Trust
Where: OCBC Centre
One of the famous sculptor Henry Moore's largest works ever created, Recline blurs the line between abstraction and figuration. It utilises the play between positive and negative space, distorting what looks to be a female figure, reducing it to a fluid form that reclines in quiet contemplation by the water.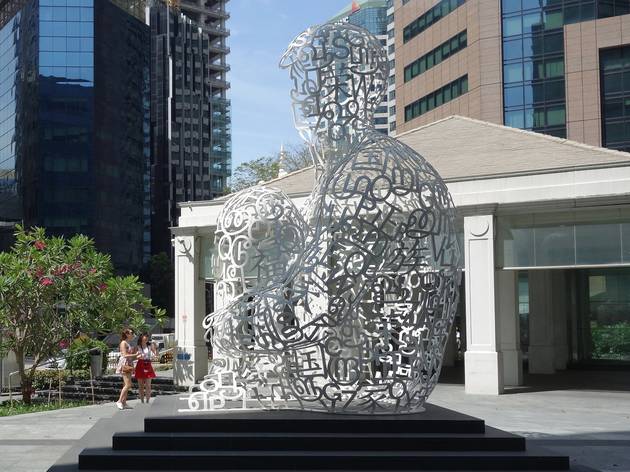 Photo: Jaume Plensa
Singapore Soul, Jaume Plensa
Where: Ocean Financial Centre
If you've been outside Raffles Place MRT station, chances are that you've seen this piece by Spanish artist Jaume Plensa. It symbolically represents the cultural unity and harmony of different ethnicities in Singapore: such as the Chinese, Indians, Malays, and Eurasians.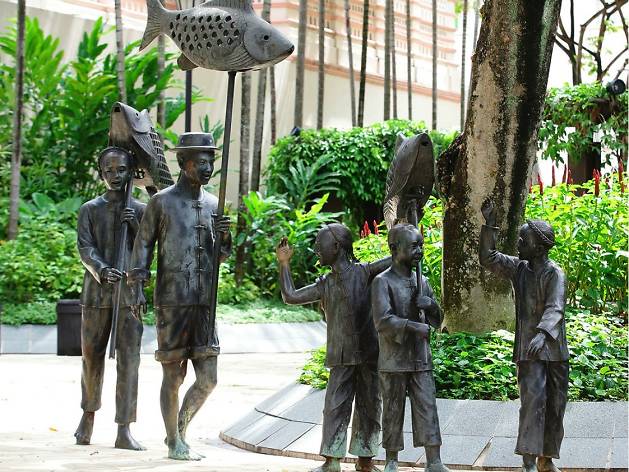 Photo: Public Art Trust
Chinese Procession, Lim Leong Seng
Where: Telok Ayer Green
From a 75cm-tall bronze sculpture inspired by the late Lee Kuan Yew to one of a realistic Peranakan lady on a rickshaw, Lim Leong Seng's work can be found all over Singapore. One of which is Chinese Procession at Telok Ayer Green, which depicts immigrants who lived around the area in the 19th century. Five figures are portrayed carrying decorative flags and banners in a lively street procession for Mid-Autumn Lantern Festival.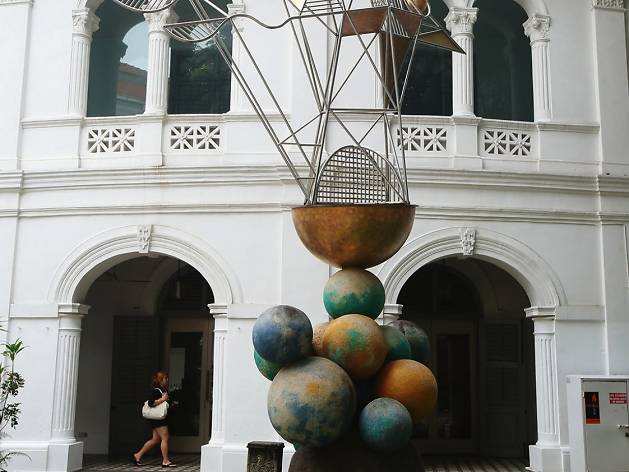 Photo: Public Art Trust
The Explorer, Ng Eng Teng
Where: Outside Singapore Art Museum
Standing tall outside the Singapore Art Museum is The Explorer by Cultural Medallion recipient Ng Eng Teng. One of Singapore's most prolific artists, his iconic artworks deal with aspirational humanist themes. The Explorer, made out of numerous globes stacked on top of one another, was commissioned at the beginning of the millennium in 1999, and ambitiously represents a desire for intergalactic exploration.
Photograph: Shutterstock
The River Merchants, Aw Tee Hong
Where: Singapore River, in front of Maybank Tower
The bronze sculpture depicts the daily routines of merchants and labourers conducting business around the Singapore River in the 19th Century. Comprising two sets of figures, it features prominent merchant Alexander Laurie Johnston mediating between a Malay chief and a Chinese trader on one side, and coolies loading sacks onto a bullock cart on the other – a common sight around the river as trade expanded over two centuries ago.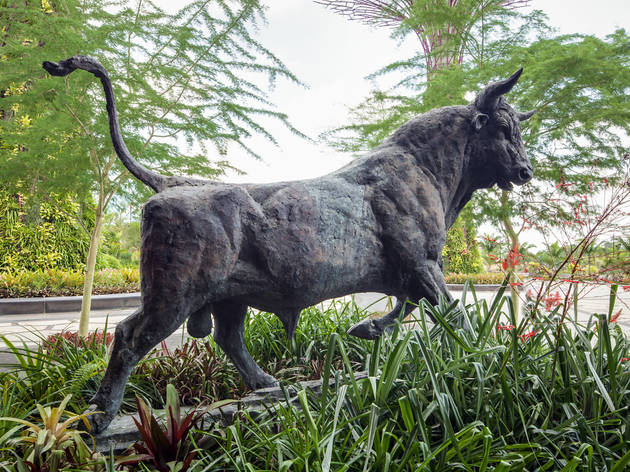 Photograph: Public Art Trust
Where: Golden Garden at Gardens by the Bay
This bronze-cast bull sculpture by renowned American sculptor can be found at the Golden Garden. Donated by Bank of America Merrill Lynch, The Magnificent Bull is a symbol of strength and vigour, representing Singapore's bullish economy.