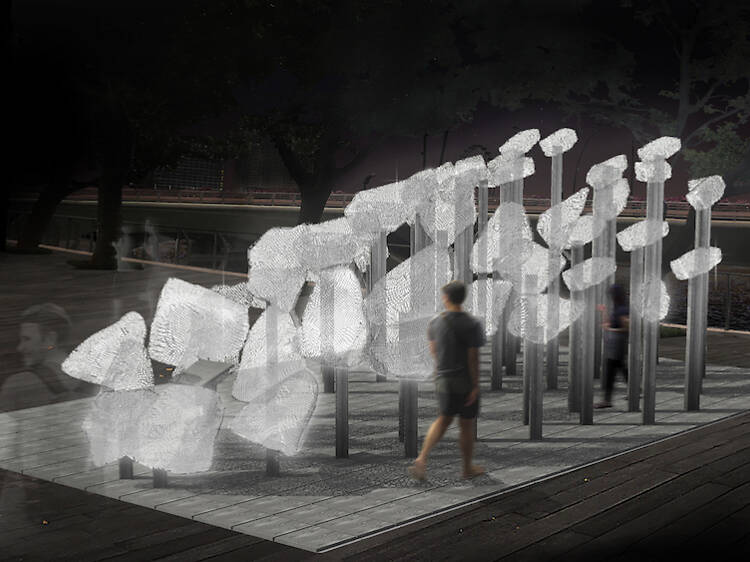 Key artworks
Jan 28-Feb 24
Based on the theme 'Bridges of Time', the kaleidoscopic event features 32 sustainable light art installations and a spectacular multimedia show, by both local and international artists. Guaranteed to turn your creative lightbulb on, these thought-provoking pieces delve into the topic of connectivity while reflecting on Singapore's past, its meteoric growth and international relationships over the last 700 years. Artworks can even be found on six iconic bridges around Singapore River and Marina Bay including Elgin Bridge, Cavenagh Bridge, Anderson Bridge, Esplanade Bridge, Jubilee Bridge and The Helix bridge.
Over at the Civic District, marvel at the reinterpretation of the Singapore stone, Cenotaph for a Stone, by students from the National University of Singapore, and meander through the garden illuminated by HALO by the UK's Michael Davis. Continue towards Anderson Bridge for a masterpiece that's not just pleasing for the eyes but for the ears as well. Time Rhythm by Xavi Bové and Onionlab showcases visual patterns moving in sync to musical rhythms.
Take a stroll down the Singapore River and immerse yourself in a multimedia show, Bridges of Time by Belgium's ACTLD, showcasing the journey of a universal traveller who sails through time and space to reach a mythical island in the East. Complete your experience by the Singapore River with Run Beyond by Italy's Angelo Bonello where the lights take shape of a man jumping over the Elgin Bridge.
Make your way to Raffles Terrace at Fort Canning Park and join in the fun at the modular interactive piano installation, Keys of Light by The Netherlands' Mr. Beam. Play the piano to see the visuals inspired by Singapore's flora and fauna revealed on the Lighthouse at Raffles Terrace.
Various locations. General admission is free.