Alternative sports bars in Singapore
Watching sports in a bar shouldn't mean downing cloudy mugs of beer in grimy pubs. Celine Asril rounds up a few convivial watering holes sporting comfort, cuisine and great drinks to complement the big game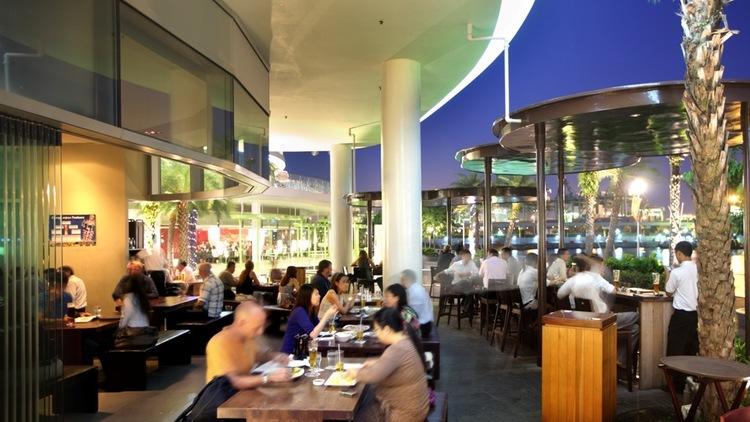 One of Singapore's few microbreweries, Brewerkz offers beers concocted on site by a Canadian brewmaster. Sit outside along the river or in the airy atrium, done up like a factory with exposed copper pipes, as you watch sporting events such as soccer, tennis, basketball and rugby. Choose from 12 handcrafted ales, lagers and stouts. The American-slanted food throws up grub like pizzas, burgers, and steaks. Other branches: Brewerkz @ Indoor Stadium and Brewerkz @ Dempsey.
We are glad District 10's come out into the open field. The new pad's much more accessible – an expansive, warmly lit indoor and outdoor space under the shelter of UE Square. Gone are the wicker chairs, replaced by black, iron-legged seats with wooden-planked backs. It may not look as comfortable, but you'll appreciate its upright qualities when shilly-shallying between your favourite EPL teams on the 52-inch screen and the parmesan foie gras croquettes ($16) and braised Wagyu beef cheek ($29) on the table. Make sure you feign injury when caught intercepting the last slice of cheek – it worked well for us.
The Premier League is pretty much staple at any venue screening sports, but Brotzeit stays true to its German side by showing Bundesliga as well. Our favourites include grilled garlic pork sausages resting on a mound of perfectly sautéed potato discs and subtly tart sauerkraut, and the thick slabs of beef that were slow-boiled till they turned tender and sweet. Desserts are especially a treat: the apple strudel is a huge roll of fruit with whispery sheets of pastry and a crunch of almonds, while the shredded pancake with custard and strawberry confit is heaven on a plate. Come in hungry – the servings here are huge.