The time is 6pm.
History has it that during this 'violet' hour – a period when day transitions to dusk – the team at Astor Bar will partake in a time-honoured ritual; a nightly performance where the namesake Violet Hour Martini is prepped tableside, and shared with all to enjoy.
Known as The Violet Hour, this tradition has long been a part of the Astor Bar's history. Its pretty libation, shaken with gin, aromatised wine, orange and violet liqueur, offers a delightfully smooth, floral creation to kickstart a night at The St Regis. Rest easy on the polished leather seats, take in the sights of artwork from Picasso, or groove to smooth jazz playing from the speakers – they all help set the stage for a glamorous, sophisticated scene.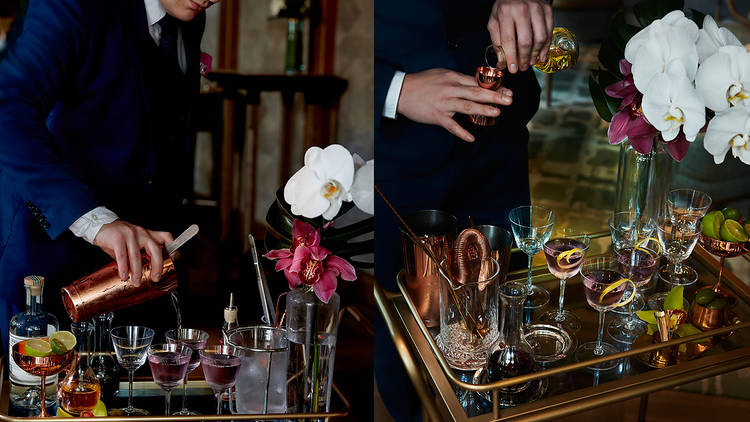 The updated drinks menu, too, is a blast from the past. New York New York features concoctions that are inspired by five neighbourhoods from the Big Apple of yesteryears. Tong Wars ($24), from the Lower Manhattan section, seeks to capture the fiery disputes of factions in Chinatown. This spice bomb comes made with salted plum-infused vodka, and ginger beer, then topped off with a dash of chilli bitters for an explosive burst of flavours.
Head to Upper Manhattan to sample A Sip of Gilded Age ($26) – cognac, manzanilla sherry, and blackberry liqueur make for a bold, sweet aperitif. Or travel Midtown and raise a toast with Captain's Cure ($26), a take on the usual gimlet where vodka is used in place of gin to underscore the crisp notes from the mint-lime cordial.
The drama is amped up at the West Side, a neighbourhood that is home to Broadway. Sip on Calle Catorce ($24), a fun drink that uses manchego-infused gin as base. Adding the cheese helps lend creaminess and complexity to this novel take on gin and tonic.
But not everything comes rooted in age-old classics. Take the Bloody Mary, the signature cocktail of St Regis, for example. Here, Chilli Padi Mary ($24) comes spiced with bird's eye chilli and ginger for a bolder kick of heat. And to pair with these drinks, snack on crispy sticks of onion pakora ($18), prawn Frites dressed with wasabi mayonnaise ($20), and skewers of satay ($24) – scrumptious, locally inspired bar bites that will be finished in no time.