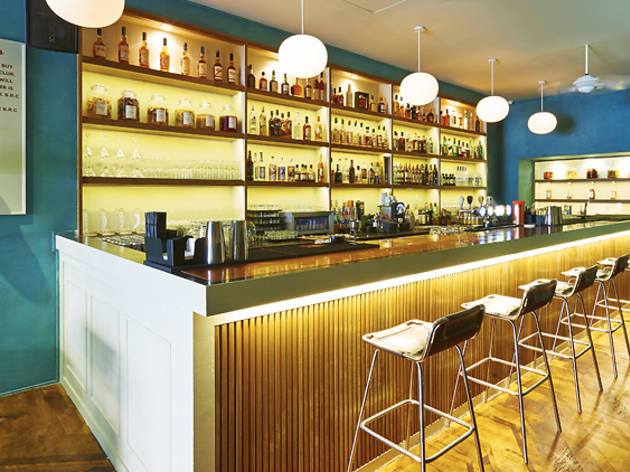 1/2
Photo: Bumbo Rum Club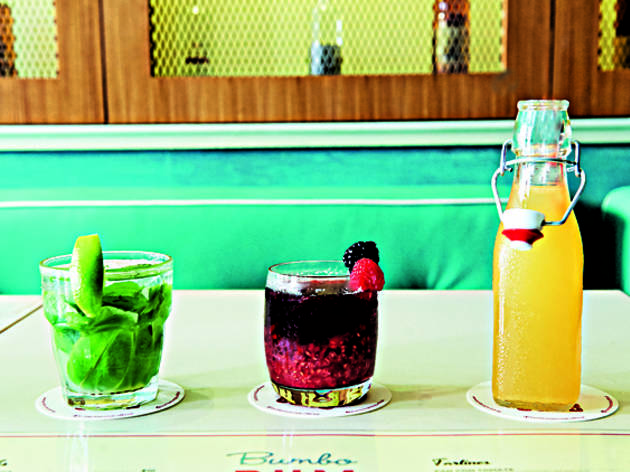 2/2
Photo: Bumbo Rum Club
Time Out says
Confusion mars a rummy good time
Change is the constant on Club Street's bar and restaurant row, and the Deliciae Group follows suit by giving its longstanding hip 83 lounge a new, friendlier face.
Bumbo Rum Club, as the deliberately distressed paint on weathered pastel walls reads, offers the Friday night post-work bar-hopper a spot of casual Havana to revel in. The worn wood floor tessellations hold up a long bar at the back and a row of banquettes and multicoloured seats on one flank of the long shophouse unit. One wall lends a painted insight into the bar's curious name, but the rum education for this ambitious bar pretty much ends there.
With grand claims of stocking one of the city's biggest rum collections – 76 from over 20 countries – the clipboard menu rattles off its procured agricoles, barrel-aged, light and dark rums ($16-$48), but offers no description of their distinctive flavours. The servers are just as clueless, and while their recommendation of a meagre pour of El Dorado 15 years ($20/30ml) met our preferences, it certainly took a leap of faith on our part to order it. No one should end up ordering a drink because the server says, 'I don't know, but when my customers come in, they always tell me that this is the best rum to try.'
The 14 rum cocktails ($18-$24) follow through on the bar's theme, with options such as Bumbo Rum Club Cocktail with citrus, coconut, ginger spice backed by dark rum ($18), and your rum bar standards like Dark & Stormy ($18), Caipirinha ($18) and Planter's Punch ($18). Bumbo ambitiously flavours its own rums on its back shelf, but at $18 a watery shot (still a whopping $8 if you're balling and want to buy shots for the whole club), you're better off taking a stab at one of the more premium pours.
Ultimately, what saves Bumbo is its Club Street locale. The bar's key clientele will stumble in after a wine-addled dinner elsewhere on the street, none too concerned about learning more about the drink. But for a bar that's a self-proclaimed Rum Club, we only wished it'd fully commit to the name's promise with more knowledgeable service.
Details
Address:
83
Club Street
Singapore


Contact:
Opening hours:
Mon & Tue 5pm-midnight; Wed & Thu 5pm-2am; Fri 5pm-3am; Sat 5pm-3am
Do you own this business?
Users say