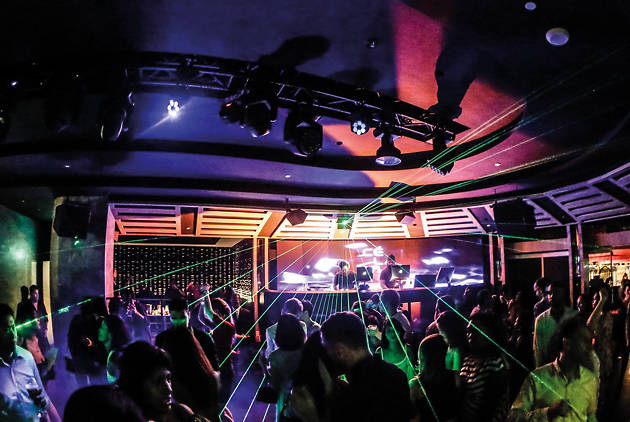 1/9
2/9
3/9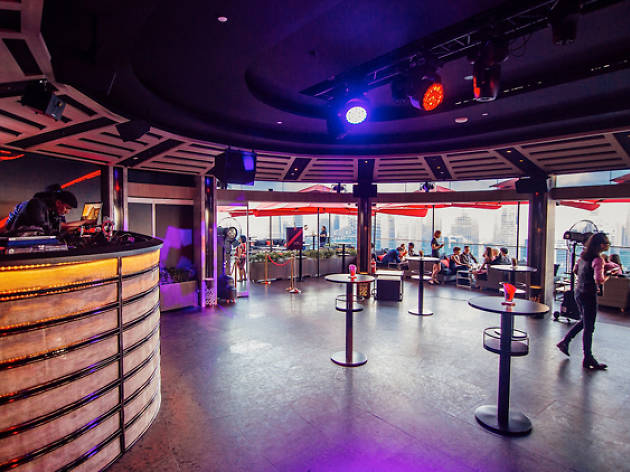 4/9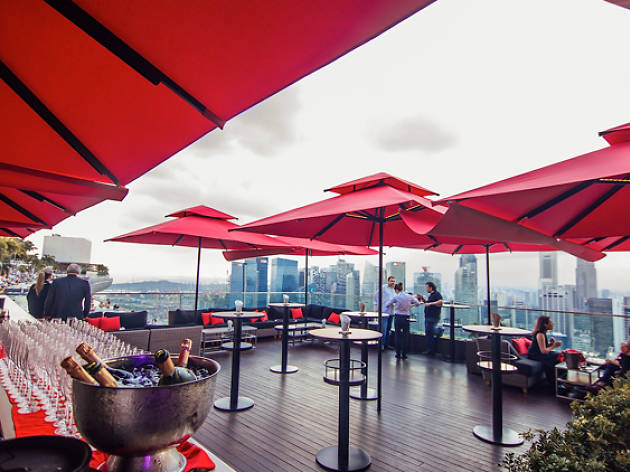 5/9
6/9
Photo: Michel Lim
Australian wagyu beef
7/9
Photo: Michel Lim
Marinated angel hair
8/9
Photo: Michel Lim
Slow-cooked Norwegian salmon
9/9
Photo: Michel Lim
Piña Colada deconstructed
Time Out says
Of all the rooftop bars in all the towns in all the world, CÉ LA VI's one of the top (geddit?) ones – its inclusion in DJMag's Top 100 Clubs of 2016 list is testament to that. And the Marina Bay Sands institution just relaunched with brand new digs and entertainment programme that'll perch it even higher above the other cloud-infused upstarts. Here's what you can expect.
The decor
CÉ LA VI's revamp pays homage to our South-East Asian heritage. Its architecture and interior design takes inspiration from, the club breathlessly tells us, 'the wonders of Asian civilisation' – so expect tributes to 16th-century Javanese poetry and prints, 18th-century Balinese woodwork, and the architecture of the lost 9th-century Khmer empire. Vertical gardens, stencil-etched timber and other rainforest-inspired elements turn the club/lounge into a lush, sky-high oasis amid a concrete jungle.
The music
On to the soul of the night: the entertainment. The club already has a reputation for incredible parties, but in the coming months there will be seismic shifts as a result of the overhaul. 'A lot of clubs have a certain style of genre,' says entertainment manager Joshua Pillai, 'but we have a very versatile sound.'
Find evidence of that in CÉ LA VI's programme for every night of the week. Mondays are devoted to nu-disco, Tuesdays four-to-the-floor house, Wednesdays the fairer sex, Thursday tech-house and Fridays R&B. Saturdays turn to Top 40 hits, while Sundays cap the week off with boogie-friendly Afro-Latin funk 'n' soul.
The food
Grabbing the trend by the scruff of its neck, CÉ LA VI's menu hops on the modern Asian bandwagon, marrying Western techniques with flavours from the region. Think angel hair pasta topped with tobiko and spring onion ($22), 8-hour sous vide salmon basted in miso teriyaki sauce ($42) and beef carpaccio loaded with fried shallots ($28) – because those crispy kernels make everything taste better.
Ladies night
The clue is in the name: Diamond Life. Yes, it smacks of 'the high life', but which lady doesn't want to walk away with a piece of jewellery, designer bag, spas, holidays and other luxe pursuits? Every #humpday, one partygoer gets to bag a prize – and this month, it'll be pearl and gold bracelets from Trollbeads. The only question is, how long before everyone else cottons on?
BY: KRIS LYNCH
Details
Address:
Marina Bay Sands
1 Bayfront Avenue
Singapore
018971

Contact:
Opening hours:
Daily noon-late
Do you own this business?
What's On
Pick a date
Please select two valid dates
The first date can't be after the second date
No events found for the selected dates
¡Conmigo! Feat. Havana Social Club

Meaning "with me" in Spanish, ¡Conmigo! brings out the infectious, fiery vibrancy of the Latin soul, with Latin house music and Cuban beats from the talented members of the Havana Social Club alongside CÉ LA VI resident DJ Ramesh K. Gather your amigos...

Saturday April 18 2020

Free
Rating Breakdown
5 star:

0

4 star:

0

3 star:

0

2 star:

0

1 star:

1
I've lived in Singapore for several years and I frequent this establishment often. The view is beautiful and the atmosphere is generally good. Nevertheless what happened to us tonight was unforgivable.

We go here more or less every Friday night however what befell us tonight will stop me (and hopefully you) in my tracks.

There was a group of 10 of us (mixed) in the VIP/ Members area and we were minding our own business. The table next to us was causing a bit of a ruckus but as it didn't affect us we didn't really mind. until one of the boys walked over starred us down and then knocked our bottle off the table intentionally he was clearly a drunken idiot gunning for a fight. Though this was inexcusable we let it slide. However the management's reaction I cannot let get away.

They just let him get away and go back to his table. There was a bouncer standing right next to us and saw the whole event unfold and yet nothing, no repercussions at all whatsoever.

Not only did they allow him to stay in the establishment, they defended him and permitted him to carry on being boisterous and unruly while he threatened us from afar.

It was the last thing I expected from an international brand in a country where I once perceived behavior to be fair and justly managed.

The bouncers response was that " They spent money and you spent money so I have given them a warning".

Don't be fooled for all its glitz and glamour that might seduce an unwitting and well paying patron, they run by some rule that money counts for everything.

I (and my friends) felt threatened and unsafe at such an unruly establishment where they allow "Money to talk" in such a way that such behavior is acceptable. The guests where allowed to stay on and continue gesturing and threatening us for the rest of the night when we were just trying to enjoy an innocent Friday night out with friends.

I therefore beseech you to not patronage them with your support when they run such a unprofessional and unruly management of their clientele. As an international brand they should regulate and manage their crowd so that the majority of their patrons establish a safe and light hearted environment not an environment that festers animosity and un-comfortableness.

For the premium they dictate that's the least they can do.

Unfortunately they have lost themselves numerous well paying regulars ( to the VP) that have held them in high regard until now. In a city that offers so much variety and options this has now become one that I would negatively endorse as there are so many more options that would not allow this kind of behavior to occur.

Thank you.