Celebrate in style this Oktoberfest with Erdinger
In this whole month of October, go forth and eat, drink and be merry in true Oktoberfest style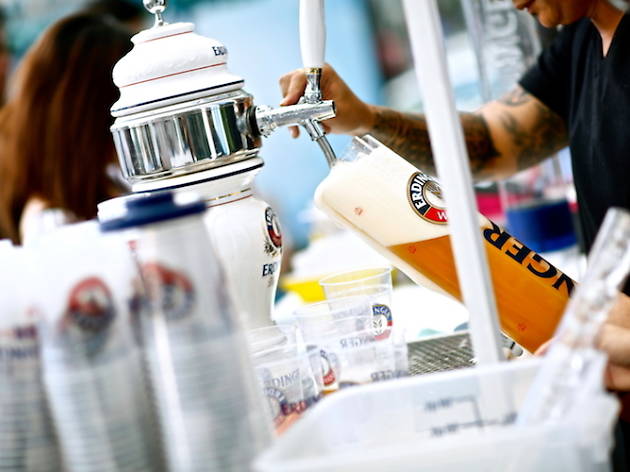 If there's a month that affords you the occasion to get together with your mates for some good food, booze and exciting entertainment, it's October – marked by the signature 207-year-old German beer festival Oktoberfest.
To celebrate the Bavarian traditions, Erdinger Weissbrau brings out kegs of its German wheat beer – Weissbier and Dunkel, whatever your choice is – in various locations across Singapore.
Put on your dancing shoes and head to Timbre+ where a live band will get you singing, dancing and partying all night long. Let's not forget about the food, too – indulge in an Oktoberfest feast at one of seven participating stores where each package comes with a set of 5 Erdinger of your choice. Rest assured Timbre+ will chope seats for you and your group.
Prefer a quieter setting? Chill out at the Erdinger Beer Garden in the backyard of Timbre+ and join in some games – psst, there are prizes to be won!
Try your hand at some classic German games such as Gelande Quaffing, where you slide a stein mug across the counter and make sure it lands on the demarcated line; Stein Hoisting, where you challenge your friends to find out who can last longest in holding up two stein mugs in your hands; and Nageln, a traditional Oktoberfest game where you attempt to hit a nail into a log using the thin side of the hammer. Think you can do better? Join in a round of Rasenski, a traditional game where you'll have to synchronise with your friends and walk with two ski boards across the carpark lot – side note: lots of chemistry needed.
Over on the Northeastern side of the island, the carnival spirit is just as festive at the idyllic setting of Summerhouse. Have a merry good time and tuck into a spread of pretzels, pork belly roast and weisswurst as the five-piece Oompah band Die Dorf Fest Kapelle brings the groovy tunes to get you dancing on your feet all night. Ladies, remember to keep an eye out for the roaming hair stylist who'll braid your hair in traditional German styles.
Additionally, hop on the Erdinger barcycle – it'll be in operation from 3 to 9pm – and peddle your ride around The Oval while enjoying your Erdinger.
Even if you can't make it down to either locations, you can still join in the fun! Just purchase any three pints of Erdinger and receive two complimentary pints of Dunkel online and redeem your pints at any of the participating outlets – talk 'bout a good deal. Partial redemption allowed. Promotion runs 'till October 31.
Erdinger Oktoberfest is happening at Timbre+ every Thursday to Saturday from now till October 14 and at Summerhouse on October 21. For more information, click here.