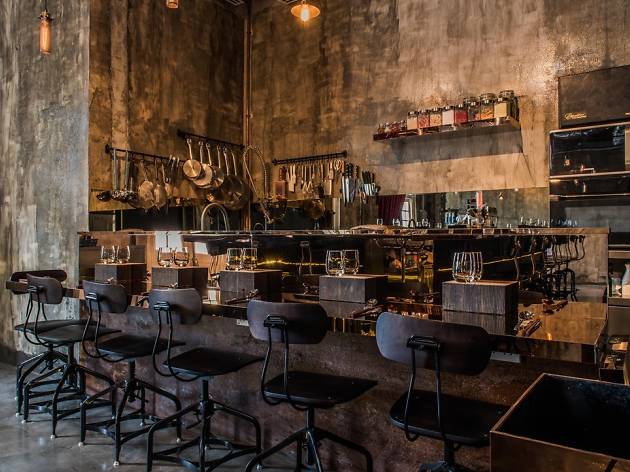 Overpriced, secluded bar in Fort Canning
The building's spotlit, its innards filled with glossy cafés, bars and restaurants. Yet the new Fort Canning Arts Centre is still dead air, shutters down and security marking our every turn in the space with an 'Excuse me ma'am, where are you going?'
It turns out that getting into Maison Ikkoku's hillside outpost, spearheaded by local scene veteran Ethan Leslie Leong, is indeed like breaking into a fort. Leong is said to have designed the space (the concrete, wood and hovering Edison bulbs used are more crutches than craft), played executive chef by developing the menu of Japanese tapas, and flexed his 'senior master mixologist' – his words, not ours – skills to come up with the drinks.
One bungled bespoke cocktail order later, and we're convinced it isn't worth the top dollar you'll end up shelling out. Our request for a smoky mezcal or Islay whisky-based drink shows up as a coupe of vodka, Lillet and grapefruit ($30), and an explanation from an apprentice only after we're served: 'I don't make cocktails with mezcal.'
Infused spirits seem to be the selling point. A rotovap distilling contraption spins herbs and fruits into Stolichnaya vodka on the worktop while lending an air of serious business to the work. In the house G&T ($25), though, that extra effort is made futile by an overpowering of grapefruit against Earl Grey-perfumed gin. The Anti-Biotic ($30) whisky sour with oak chip smoke is the winning order on the night, but again, we've had better – and cheaper – versions of a smoked cocktail elsewhere.
The food isn't any more forgiving on the wallet. Surely $18 can net us more than just four slices of overly spicy, raw tuna maki, and $25 a dish more substantial than a slender Japanese omelette filled with cooked tuna. Nope, no can do.
With the stubbornly out-of-touch prices and cold service, hitting up FORT feels like an evening squandered. Using a fancy gizmo to distil flavours into cheap vodka, then applying such mark-ups is baffling. Or punishment for going out of your way to discover something fresh at this remote location.
Venue name:
FORT by Maison Ikkoku
Contact:
Address:
#01-02/03 Fort Canning Arts Centre
5 Cox Terrace
Singapore
179620

Opening hours:
Daily noon-midnight
Do you own this business?