Level33 might be the world's highest microbrewery, but there's more to this sky-high bar than just cold pints with a view. Level33 is also a restaurant and a bar – with prime views that overlook the scenic Marina Bay Area.
Most come here for its brews. Fruity lagers and banana-scented wheat beers help keep the on-site copper kettles busy. Some five brews are available on the menu: an IPA, a stout, a wheat beer, a house porter, and a winning blond lager that is refreshingly fruity and easy to drink.
The food served is just as impressive. Brews and its by-products find their way from the bar, and into the kitchen. With executive chef ArChan Chan at the helm, Level33 doles out a beer-inspired menu that is far from the typical grub of wings and fries.
During weekdays, take advantage of Level33's executive set lunch ($42) that features a plated buffet selection of appetisers and fruits. The rotating selection might come with beetroot salad, seafood on ice, cold cuts of spicy salami and Black Forest ham, brie, rosemary-coated cream cheese, and more. Tempting as it may, go easy on the free-flowing plates – you'll want to save space for slices of sourdough bread, served with a side of moreish roasted yeast butter. Choice of mains includes beer-battered fish and chips, a fillet of halibut poached in pilsner butter, and a classic burger made using brioche topped with crispy beer malt. It's worth considering topping $3 for the duck confit; the crispy leg sits atop an addictive bed of smoked corn puree, then finished with brandy jus.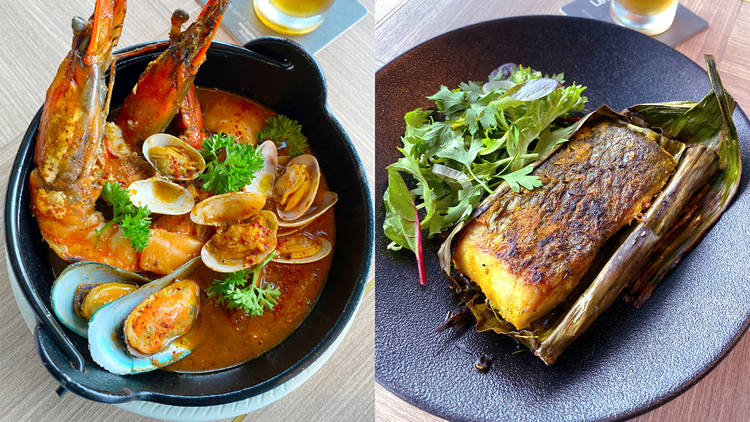 As the sun sets, the a la carte menu transitions to feature skewers grilled over bincho-tan and heartier mains. Begin the meal with Ah Hua Kelong seafood bouillabaisse ($28), a comforting concoction made using fresh local fish and shellfish. This idea of seeking local inspiration carries into other dishes too, with the barramundi ($36), a playful take on sambal stingray that comes stained with an aromatic blend of turmeric, lemongrass, chilli, and fish sauce; and crisp French beans ($8) dusted with cumin and chilli salt to replicate the flavours of mala.
On weekends, enjoy a lazy afternoon filled with Sunday roasts – and a beer in hand. This all-day dining destination lets you sip and savour, all while taking in panoramic views of the city.