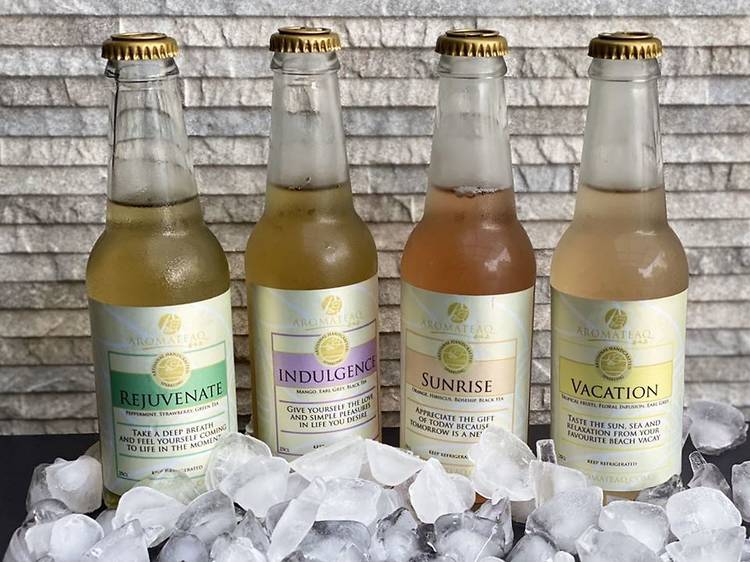 Photograph: Aromateaq
Aromateaq
When Lee Anne and Wang Hongjun were abstaining from alcohol, they quickly realised that there weren't a lot of other options at local bars. They noted that most sober alternatives were limited to overpriced soda and sugar-filled juices. "I could find these drinks at my local supermarket," says Hongjun. "And at a much cheaper price."
It sparked an idea: the pair could fill a gap in the nightlife scene with a guilt-free drink; a non-alcoholic creation that's still suitable to imbibe at social gatherings and celebratory occasions.
"If we are going to hydrate ourselves, why not make it enjoyable and guilt-free at the same time?" asks Hongjun. To make a healthier, sugar-free substitute, the pair took inspiration from their favourite drink – flavoured sparkling water. They distilled its key elements – light, fizzy, refreshing – and landed on the idea of carbonating cold brew tea.
"We've always wondered if there are other ways to enjoy tea other than the traditional hot brew, because the weather is already so warm," adds Anne.
They began experimenting with different blends – and founded Aromateaq. Each step, from brewing to bottling, is done manually by the duo. "As a small-batch business, we have to produce everything by hand because automation requires a sizable upfront investment," shares Hongjun.
Each batch, which yields around 30 bottles, takes anywhere from 48 to 72 hours. Tea is first brewed for over 24 hours, filtered, then kegged and carbonated by hand – a step that feels like "a HIIT workout". The keg, which weighs some 10kg, needs to be shaken vigorously while it's hooked up to a carbon dioxide tank. To finish, labels are stuck to each bottle, by hand, then filled and capped individually.
"It's a labour-intensive process and our manpower is currently limited to just the both of us, shares Hongjun on Aromateaq's two-person operation. "We are trying to take it one step at a time because there is a physical limit to how much we can do in a day."
"But some things like cold-brewing just cannot be rushed."