Café in the front, cocktail bar at the back. Stay Gold Flamingo is a dual-concept space that serves up a different experience depending on where you choose to be seated. Step into the sun-drenched Flamingo, and look forward to a cheery spread of citron tart ($8), pistachio macaroon ($8), and shiso chicken sandwich ($12).
And as dusk settles, venture to the back of the room, past velvet drapes, and enter Stay Gold – a sleek, neon-lit drinking lounge. Duo Jerrold Khoo, formerly from Jigger and Pony; and Bai Jiawei from Employees Only are responsible for this dynamic drinking hole. Here, they merge their respective bartending styles – of Jerrold's precise Japan cocktail-making with high-energy American-influenced mixology from Jiawei – to provide an interesting line-up of crafted tipples ($23).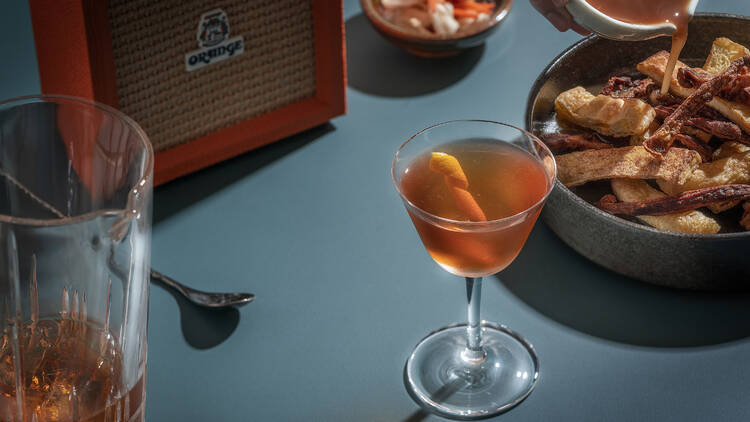 In the spirit of duality, the drinks menu spotlights classic libations and their updated alter egos. Intro to Absinthe flips the recipe of spirit-forward Sazerac, and uses Absinthe as a base spirit instead. The result: a highly refreshing highball-style number with notes of anise enhanced by sparkling coconut water. Punchy, spicy flavours from the Moscow Mule are replaced with an earthy, herbaceous body from the green juice used in Conscious Mule. Also worth a try: Twiggy, where Brass Lion Gin is sweetened with blackberry umeshu for a fun, fruity sip.
Even the bar bites are cranked up a notch, to put a playful spin on familiar dishes. Deep-fried wings ($18) come glazed with nahm prik, or Thai-style chilli sauce made with fermented shrimp for funk; and Not So Stinky Tofu ($16) delivers the umami profile of fermented beancurd without any of its acrid smell, complete with a shower of crispy pig ears that makes for an addictive snack. Get the taco for heartier mains, where soft corn tortilla comes topped with a massive chunk of crispy local snapper ($16), slick with sambal matah slaw. And between its fun plates and well-crafted drinks, this double-billed location strikes gold.