"Are we scheduled for a fitting today," asks the staff.
The answer is yes. Then, step through to the fitting room, behind velvet curtains, and say the magic words "open sesame" out loud. A wall of mirrors slides ajar to reveal a hidden, intimate speakeasy.
That is how to get to Taylor Adam, a covert cocktail bar concealed behind the storefront of a bespoke tailor. Grab a seat by the counter, or snuggle up at a cosy nook, and sip on an inspired menu based on trade and travel around countries within the Commonwealth.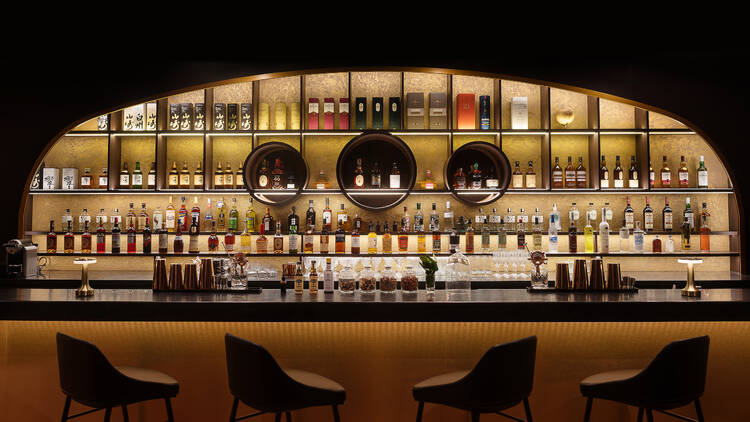 From the 12 signature creations ($22.80), start from the light and breezy, locally inspired Pulau Sentosa, which reimagines the Singapore Sling into a refreshing spritz with Roku gin, Aperol, coconut syrup, and sparkling wine. Or raise a toast with Escape, bursting with tropical sweetness thanks to its combination of Black Tears spiced rum and pineapple juice.
Lung and Dangerous pay homage to the Hong Kong triad movie by Andy Lau, and distils herbaceous notes from traditional Chinese medicine in a base of Perfume Tree gin. The result: a highly aromatic, well-rounded elixir worth sipping on. Also interesting is the playful Time Traveller's Wife, which augments the palate when alternating between sips of the smoky whiskey-based drink and sweet Turkish Delight.
In the mood for something special? Taylor Adam – much like suit-making – is also committed to providing a bespoke experience. And should you actually be in the market for some new threads, the bar has ties with Meiko Tailor, a local family-run suit atelier.