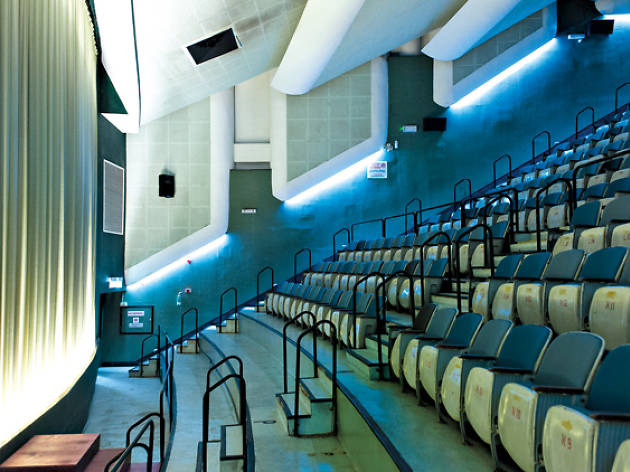 Occupying the former site of the historic Golden Theatre is The Projector, a refurbished cinema that's home to an eclectic selection of films (it also selectively screens mainstream ones). Weekends are the best time to hit it up – that's when programmes such as Japanese Cinema Sundays and Sundays with French Cinema take over the two halls. Besides arthouse flicks, The Projector also shows local and cult classics such as 2001: A Space Odyssey.
Venue name:
The Projector
Contact:
Address:
Level 5 Golden Mile Tower
6001 Beach Rd
Singapore
199589

Do you own this business?
According to Hollywood legend, the Oscars banned animals from being eligible for Best Actor after German shepherd Rin Tin Tin won most votes in 1929. That won't sound so ridiculous if you watch this powerful Hungarian drama featuring the Al Pacino...

Read more

In little over three years and three features, American writer-director JC Chandor has launched himself into the rare company of uncompromising filmmakers with more than superheroes on the brain. 'Margin Call' (2011), filled with gloriously terse ...

Read more

Part mystery, part visual experiment, 'Loving Vincent' is a reverent ode to the 19th century painter Vincent van Gogh. 'The world's first fully painted film', it's a beautifully animated affair inspired by his greatest works of art, from Starry Ni...

Read more

If you've been pining for the fiery, political Spike Lee of 'Do The Right Thing' and 'Malcolm X', good news: 'BlacKkKlansman' has the director back to his energised best. Maybe the optimism of the Obama era robbed him of some of that righteous fur...

Read more

Telemarketers aren't really sorry to bother you and rapper-turned-writer/director Boots Riley surely isn't sorry if anything in his debut feature rubs you up the wrong way. It's an unabashed provocation, rife with the ambition and tonal messiness ...

Read more

Loose-limbed and rascally, 'The Old Man & the Gun' is a throwback to an era when making beautifully understated crime comedies was the peak of Hollywood's ambition (before all the spandex took over). The movie's weathered star, Robert Redford, sho...

Read more