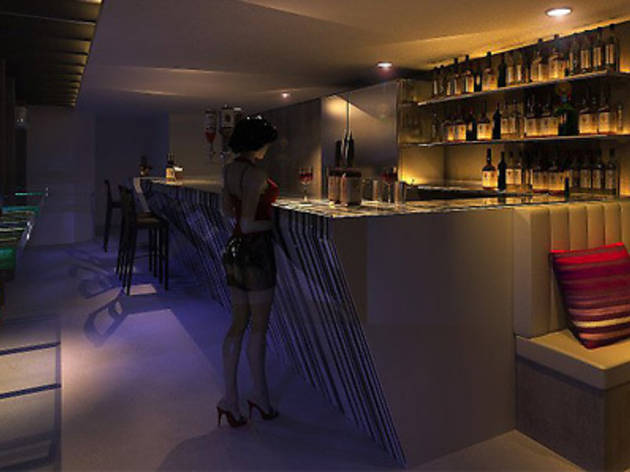 Time Out says
Invitations had long been sent out for the swill-ups that were to go down at Dunlop Street's youngest tenant, Barkode. An ambitious picture of a buzzy revolution was painted, with well-priced, high-quality innovative tipples that were to be the base of a cocktail industry shakedown. Imagine our surprise, then, when we arrived to a narrow, grey, ground-floor space that looked like it was still being tweaked.
Doing the scan as we walked in, we noticed the unfinished surface of the DJ console built right into the space under the stairs as well as the deliberately brush-textured concrete walls, which still bore scribblings from its construction days. At one point ladies were having to perform toilet duties while blocking the door in the one-stall washroom that was still missing its lock.
Top 40 tunes blared out of the speakers positioned directly at our table. The acoustics were rough, as were the cold, high, steel-backed bar seats. Even as the long-legged models popped by to exchange pleasantries (operations manager Diego Cedeño is a freelance model himself, for Gucci among others), the vibe of this cramped barshop – made more restricted by the disproportionately oversized bar area – veered more towards industrial than chic. By comparison, the presentation of the menu itself came off slightly more polished.
Mounted as stickers on shiny metal boards, the two-sided drink menu had us hopeful – 15 cocktails, including nine at $20 or under, and an impressive list of spirits bounced off the sheets. Clearly, Barkode's got the range: among the offerings are Patrón Silver tequila, Flor de Caña rums, and bottles like the Dominican Republic's 'limited addition' [sic] Atlantico Rum which, we are told, is 'only available in Barkode (and South-East Asia) while stocks last'. A pity, then, that the cocktails lacked spark.
The Pisco Passion ($18) looked the most promising of the concoctions we tried. Its mix of pisco (grape brandy), egg white, freshly squeezed lime, lemon and passionfruit juice came served in futuristic style, in a margarita glass resting on a tumbler of ice, with a garnish of half a passionfruit floating on fine foam. Unfortunately the strong alcohol was lost in the sugars of the mixed juice, and the brûléed passionfruit was a tough chew.
Equally perplexing was the brûléed mango with its skin still on, sitting solitarily atop the Popping Fandango (mango and lime juice, Ketel One vodka and vanilla, $18). It's a cloudy, light drink enhanced by warm vanillin notes – lively but hardly funky, like factory candy.
There was, thankfully, a winner: U'Luv Me (U'Luvka vodka, strawberry and champagne, $28), a strong, bubbly grapefruit-pink drink that is sharp on the tongue, with drops of absinthe that make for a pleasant olfactory tease. If only this gutsy tipple was served with more flair – the plain oversized shot glass it came in (officially a 'short-stemmed flute') fizzled out the glamour. At this point we were ready to pick up the Estrella Damm Inedit beer (750ml, $36) – a Ferran Adrià-crafted beer created to pair with food – but at the time of our visit, the bar snacks menu was not yet ready.
Surveying the evidence, this Barkode's merely a symbol that holds within it a lot of information and ideals. Cedeño's start-up is falling behind on the follow-through, so we hope they'll figure it out soon. We're not suggesting momentous changes; just, please, a latch on the ladies' washroom, and similarly effective baby steps. Innovation can come when the essentials are in place. Celine Asril
Cocktails $16-$28; spirits $12.50-$25. E-mail info@barkode-singapore.com for more details.

See our list of Hot Tables in Singapore
Find a restaurant and book online
Details
Address:
66 Dunlop St
Singapore
209394

Contact:
Opening hours:
Tue-Thu & Sun 8am-2pm, 5pm-midnight, Fri & Sat 8am-2pm, 5pm-2am
Do you own this business?
Users say