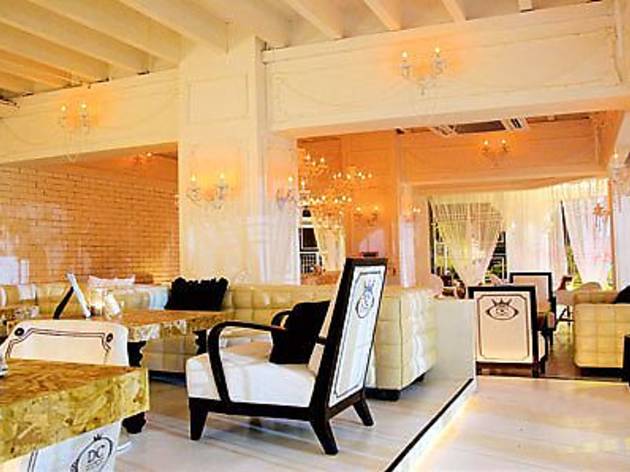 Skirting Chinatown's northernmost fringes, Keong Saik Road was once a rum old affair teeming with lurid KTV joints and once-tasted-twice-shy hawker stalls. Then 'respectable' tenants like TOS Towers and the imperious Pinnacle moved in, nearby Bukit Pasoh Road got the New Majestic Hotel, and this debauched artery rapidly underwent the 'Duxton effect'. Pastel-hued boutique hotels graced shophouses, flashpackers patronised chi-chi bistros; sleaze faded fast. Ethan Leong was watching closely, and poised handsomely on the Tanjong Pagar flank, his two-month-old Drink Culture – a shoebox-shaped startup superficially resembling a St Kilda beachside eatery – throws down the gauntlet to entrepreneurs citywide.
What hits you first is the colour – or more accurately, the lack of it. The entire 40-capacity interior bedazzles in cream-white, set off sumptuously by chandeliers whose orange filaments flicker to a smooth funk, disco and R&B soundtrack. The silver-framed menu hardly aspires to Néktar-esque experimentation – it's familiar cocktails, bottled beer and pizza, essentially – so after brisk perusal over the cork-effect bar I requested the more adventurous Sakae, or a 'B.F. Mojito'. It was a fruitless plea in more ways than one. 'Sir, we have no berries,' smiled mixologist Abel.
Instead he indulged my citrus-y peccadillos with a clean-swillin' Campari, cranberry and orange mojito which, though somewhat pizzazz-sapped, alleviated my jalapeño pizza's pore-drenching spiceload (and $27 price tag) – a deceptively soft dish whose perfect thin crust fair melted in the mouth. (Or was that the chilli melting my mouth?)
A sweat-fest of this magnitude screams 'Refill!', so I sucked on crushed ice before plunging into what Abel calls a 'condensed' cocktail, the Dawa ('magic potion' in Swahili). Almost dessert wine-like in its sweetness, this chick-drink's bold mélange (honey, lime, vodka in excelsis) trampled my tastebuds into instant submission. Brain cells blitzed, it was time to enjoy the view from the white-leather sofa. Speakeasy had better up its game; DC's monochrome motif is immaculately executed, right down to bartenders' threads and medieval chair-back portraits. Swish, for sure, yet winningly informal – even toilet washbasins are chatup-inducingly unisex.
Leong's got this area licked. In our ultra-critical city, the fact that moneyed hedonists are queuing up to sing its praises tells its own story (just check our website). Canoodling couples, office ravers, hen-nighters, preening fashionistas: if you know a cooler, friendlier venue than this, we've not been. Jonathan Evans
See our list of Hot Tables in Singapore
Find a restaurant and book online
Venue name:
Drink Culture
Contact:
Address:
49-51 Kreta Ayer Road
Singapore
089007

Opening hours:
Mon & Tue, Thu 6pm-1am, Wed, Fri & Sat 6pm-2am
Do you own this business?