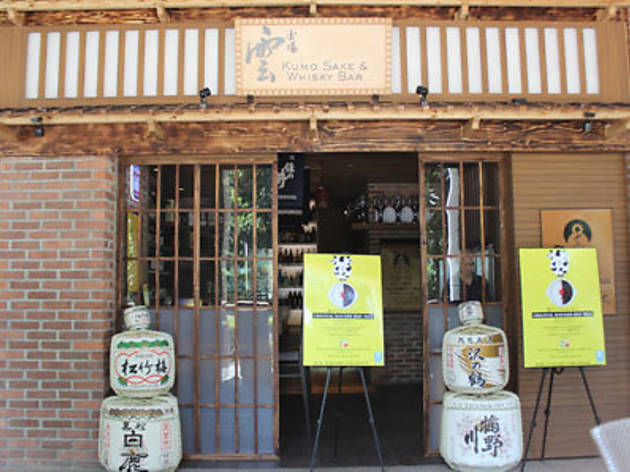 Though it's opened by Far East Organization's F&B arm, Kitchen Language (KL), Kumo Sake & Whisky Bar doesn't suffer the trappings of being a cog in a large corporate structure. The Singlish-speaking head chef of Kumo Kaiseki, Hirohashi Nobuaki, and bar manager Melissa Chen, for example, both have quite a lot of sway on what gets featured in the Japanese izakaya's four fridges and shelves in the woody interior space. As a result, drinkers visiting get a very passionate manager in Chen, who also has the knowledge to decipher terms like tokubetsu (it refers to sakes that contain a special rice or have received special attention from the brewer during its fermentation process) and can help pick out bottles if you're not sure where to start.

Located in Tanjong Pagar's Icon Village (where KL has also brought in Quizno's and Argentinian restaurant Salta, among others; they're also behind artisan grocer Dean & Deluca), Kumo is perfectly placed for a postwork drink. If you're planning to do izakaya the Japanese way, your session here will probably start with a beer to open up the palate – Asahi Super Dry's ($8) on tap, or Japanese cans like Sapporo ($8), Asahi Black ($8), Kirin Ichiban ($8) and Suntory Premium Malt ($12).

Unique to the beer list here is the Suntory All-Free Beer ($12), a beer substitute that's becoming more popular in Japan. If that doesn't appeal, there's the Kakubin option – a jarring Suntory Kakubin whiskey, made drinkable when served in a 1:1.5 ratio with soda water in a highball glass.

Despite the bar's name, the whiskey selection here is pretty limited to well-known Japanese Nikka and Yamakazi blended malts, but they're quite reasonably priced – the Nikka Yoichi 10 and Taketsuru 12 start at $178 each. The bulk of the drinks menu is mainly sake (rice wine), umeshu (plum wine) and shochu (Japanese liquor), with about 90 labels on offer.

On a balmy evening, definitely try the sparkling and refreshingly sweet Ume No Yado Tsukiusagi Sparkling Sake ($21 for 300ml) – we tasted flavours of pineapple, apple cider and pear. Also, don't miss the umeshu on the far rack of the tiny bar – Chen tells us they've opted to stock artisan labels, rather than the more commercial bottles one might find elsewhere.

The daring choice is the Tougarashi Umeshu, a chilli-infused plum wine ($68) that contrasts its fruity foretaste with the bite of capsaicin. We also particularly enjoyed the sweet, citrusy Remon To Jin Jya Umeshu ($69), a plum liqueur infused with lemon & ginger flavour that when drunk cold, tastes so right.

Unless you're coming in a big group, we suggest staking out a seat at the bar for the fuller experience. Perched on the bar stool, you'll get a good whiff of the dashi soup stock, simmering under the wooden cover of the oden cooker. This convenience store staple in Japan adds in ingredients like barbecued fish cake, daikon, konnyaku and boiled eggs to a fragrant dashi broth that makes for a more diet-sensible version of bar bites. But for something a little simpler, there are also edamame ($5), boiled right behind the bar counter.

Lunchtime at Kumo is when Nobuaki's food presence is felt even more with the recommended east-meets-west Hayashi rice ($9) – a hearty minced beef bolognaise-like sauce juxtaposed with Japanese rice, prepared over 24 hours at the adjoining kitchen space.

Also try the recently added Nippon-style Monster Burger ($10), made with pork and beef seasoned with dashi, if you can – it tends to sell out quickly during lunch. With reasonably-priced bottles and a good balance of beverages to cater to drinkers (Japanese and otherwise), makes Kumo Sake & Whisky Bar makes the solid choice for mixed groups to pop by and drink out the stresses after a long day. We'll be back for the flavoured umeshu and bowls of oden.
See Time Out Singapore's Hot Tables
Find a restaurant and book online
Venue name:
Kumo Sake & Whisky Bar
Contact:
Address:
#01-47 Icon Village
12 Gopeng Street
Singapore
078877

Opening hours:
Mon-Sat noon-2pm, 5pm-late
Do you own this business?