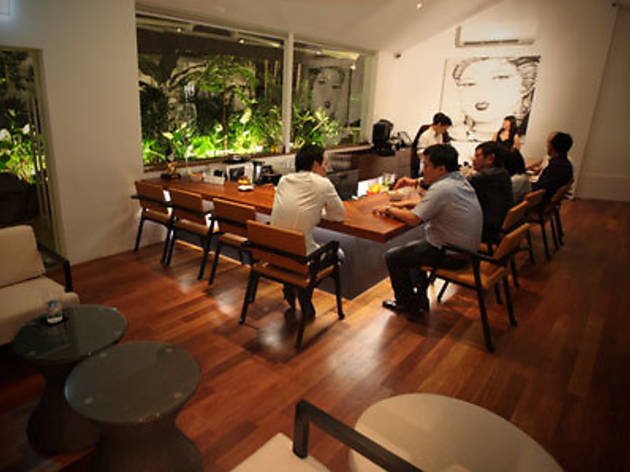 Honestly, as if the term 'mixologist' wasn't hammy enough, Néktar go and call their craftsmen 'bar chefs'. Overblown nomenclature forgiven, it will at least hint at just how seriously this new Scotts Road glam-spot takes its cocktails. The idea, they tell us, is to trace a bold, foot-forward frontier in the local shake-and-stir scene. And, while they're at it, educate Singapore in the art of couture cocktails, thus realigning the city as a more serious global concern when it comes to haute drinking. High aspirations indeed: but wait, what's this? A standard mojito? A cosmopolitan?
Sadly – except where prices are concerned, at least – Néktar has played it relatively safe. It's fine to honour the classics, of course, but they're hardly the kindling to the status quo's bonfire, especially when they're only middling renditions anyway. The mojito ($24++), although studiously muddled, was shy of rum and only so-so. The Néktar Island ($24++), a tinker with the New York fave textured with egg white, lacked wallop, and wasn't boozy enough to satisfy. Even their recommended signature, the Néktar Club (a brave, extravagant and scarcely justified $28++), was only a slight riff on the 1920s classic from colonial Rangoon, the Pegu Club. Only here, the accent turns into a lisp: the woody spices of gin have been replaced with Sagathiba Velha, a Brazilian cachaça, which is a weird stand-in, as it's derived from sugar cane, and as such knocks the sweet-bitter balance bang off-kilter, creating only a likeable but flatly one-note sip.


Another puzzler is the Chocolate Martini ($28++). Globally, vodka is widely despised by craft bartenders who decry its lack of flavour and ho-hum neutrality. And, although the spirit has seen something of a comeback of late, it's rarely asked to do the business on its own. Using only vodka, crème de cacao and Valrhona chocolate, these martinis offer ample reason why: the vodka is totally anonymous throughout, and only gently wipes its feet on the tongue at the final sip. Again, it's a pleasing concoction, but no heat, and hardly a show-stopper.
At this point, Néktar might feel a bit hard done by, and they might have a case. The bar itself is a deeply attractive space. Well lit and intimate, it's a kind of modern do-over of an Edward Hopper setting. There are flourishes: deluxe nuts, Cointreau-glazed strawberries, carbonised grape halves. The service is intelligent and engaging. But it ain't cheap. And coming to town at these prices, best believe the critics' pencil is going to be extra sharp. Because ultimately, so will everyone else's. Not that it's a lost cause, or one to avoid, far from it; but Néktar needs a rethink, sooner rather than later. Alexander Barlow

Venue name:
Néktar
Contact:
Address:
31 Scotts Road
Singapore
228225

Opening hours:
Mon-Fri 5pm-1am, Sat 5pm-2am
Do you own this business?