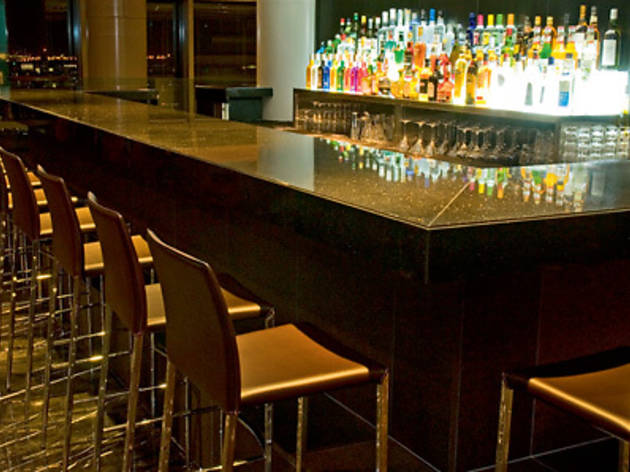 Enveloped in near-total darkness, we're ushered into a 22nd-century elevator, ambient sonics and gleaming-black Bose-showroom futurism all around. Within seconds we glide to ION's 55th storey and spill out 218 metres over Orchard, lapping up surround-vision cityscapes, barely able to believe such effortlessly achieved altitude. Friendly faces guide us through Luke Mangan's penthouse eatery, decked out invitingly like an upscale sitting room.
A walk round Salt grill's perimeter leads you to the top floor, but the Sky bar isn't so well named: that suggestion of expansive airiness rather flatters the tiny nightclub lounge that awaits, all chrome surfaces and minimalist monochrome. To the rear a cordoned off area yawns, empty and bored, awaiting a suitably minted tenant. But park yourself at one of the handful of tables, and discover that less is more. Creative flair has been mixed with a seasoned barista's skills and plain good taste: there can't be a more imaginative, reasonably priced drinks menu this side of Sydney Harbour.
The heady and tall Long Black is sharper and cleaner than its close relly, Long Island ice tea; The Samantha's syrupy walnut tang delights, a perfectly aggregated blend of Cointreau, voddy, crème de cacao, pineapple and lime. We're getting cosy now; let's order up a Sweet Kiss and Pink Flirtini. True to its moniker, the former bursts over the tongue with ripe lychee juices, its delicate lime and gin notes lingering awhile; its polar opposite, the Flirtini's cheeky raspberry vodka fuses with Cointreau and a fruity smorgasbord for that naughty-but-nice, is-it-really-booze? inhibition loosener. Non-alcoholic cleansers, shooters and original martinis abound, and nibbles are a snip: a substantial bread tray with olive oil and dukkah for $3? Fries for $7? We're not making this up.
Sure, it's a seductive snare: by dinnertime you're so mellow you can't imagine schlepping elsewhere to eat. And Salt grill's food and drink are immaculate, but by stark contrast, cost the Earth. Eat out light'n'early, hit ION, fly up to Sky for super-swish bevvies: that's your cocktail for a seriously stylish, intimate night out. Jonathan Evans

Related post
Salt grill
See Time Out Singapore's Hot Tables
Find a restaurant and book online
Venue name:
Sky bar
Contact:
Address:
ION Orchard 56/L
2 Orchard Turn
Singapore
238801

Opening hours:
11.30am-10pm
Do you own this business?