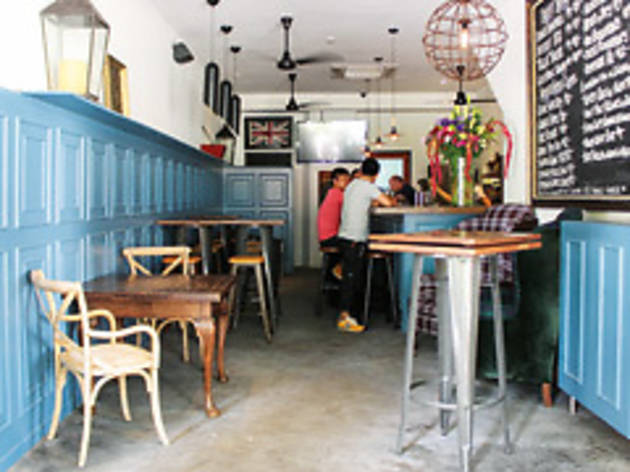 It wasn't quite long after the paint dried at Katong's Rabbit Carrot Gun did its Brit-turned Singaporean owner, Richard Huggins, summon the troops to the construction of The Burrow, previously known as The Trenchard Arms. Placed just next door to RCG as a standalone space, this British army-inspired pub looks to plant some more British flair (in true pub style) to the traditionally Peranakan side of town. Everything from the décor to the beer here takes reference from an aspect of military culture – though you'd have to be a bit of a Brit history buff to detect it. The tubular hanging lamps, for example, are supposed to resemble torpedo case shells, and the two armchairs in the front, cockpit seats for the World War II Supermarine Spitfighter jets. The pub's name, however, comes from Lord Trenchard – Huggins himself, who acquired the title after purchasing a piece of land in the UK.

Whether or not you're into beer, the craft pours here are a must-try. Opting to commission a local contract brewer to create his English-style beers, as opposed to importing them as the nearby Cider Pit is doing, there are three permanent taps ($13 a pint) – the Digger, Blonde Bombshell and RCG's Buckshot – will each please different tastes. We particularly like the Digger porter, a coffee-like, dark brew that had a hint of fruits with each sip, though the wheat (Bombshell), with its banana and light carbonation will engender itself more to Singapore's scorching weather. For something a little more medium in its body and flavour, the Buckshot Indian Pale Ale's a proven winner – Huggins reveals that the malty, bitter (in a good way) beer now outsells the more recognised Asahi after making its debut over at RCG. And if you're looking for even more variety, come back regularly to sample the liquid in the rotational guest tap – at press time, this was a bright Shandy, also made by Huggins' contract brewer.

Otherwise look to the back wall for a selection of cocktails, and try the Dam-Qt ($17), a mixture of premium Q tonic water, and a solid 40ml pour of French aged Damoiseau Rhum, or the Flirt ($16 for two servings) – Trenchard's version of the Venezuelan El Ritual where you and a friend skull 20ml of Blanc Agricole Rum each, then suck on lime wedges dipped in raw sugar and crushed coffee beans.

Menu items change every week or so. The pub grub here's no slop. While we would have preferred our Scotch egg ($8.50) arrive warm (the right serving temperature is still a matter of debate even back in old Blighty), there is a generousness to the amount of sausage encasing the boiled egg we really can't fault. Following that, we can't quite hold back our praise for the potted duck with crisp bread ($14.50) – a craveable umami bomb of fatty, shredded duck that we'll keep going back for more and more of.

Located in an area where there's really no lack of great flavours, Huggins's Rabbit Carrot Gun and The Burrow might have to contend with other more established joints for the dollars, but the way we see it, it looks like this is going to a battle pretty easily won. Natasha Hong

Cost: Drinks from $12, light bites from $8.50
Venue name:
The Burrow
Contact:
Address:
49 East Coast Road
Singapore
428768

Opening hours:
Tue-Thu 3.30pm-midnight, Fri & Sat 11am-midnight, Sun 10am-midnight
Do you own this business?