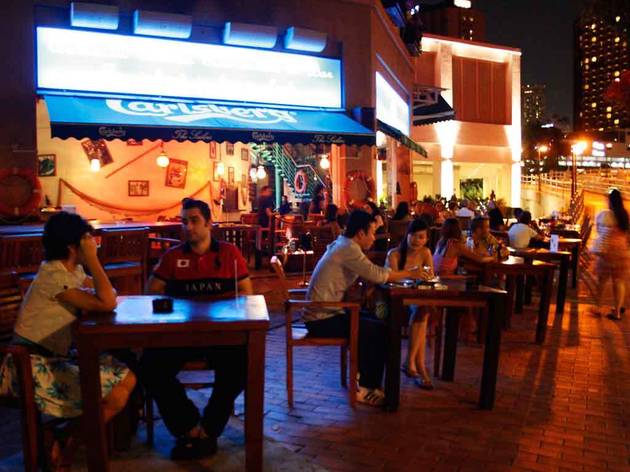 Any Europhile tired of faltering takes on Western hospitality will find their pot of gold here: a speciality restaurant and alfresco bar co-managed by a Sicilian and a Neapolitan. If you think the seafood menu's impressive, wait till you see the cocktail list. The 41 choices seemed daunting, but we got diligently to work on this tough journalistic assignment, uncovering a host of deceptively strong doozies in varying shades of pink. Sailors don't do a happy hour, but 'happy day' – that's the kind of bar we frequent.
At the milder end, the margarita felt a tad mixer-like; the Cranberry Cooler resembles an experiment with bubble bath, and tastes less like amaretto than kids' cough medicine. Speaking of cranberries, the rum-laden Zombie has a lovely lemony aftertaste; but if you're after a real quick fix, sip on a near-perfect Long Island iced tea, or the Boston Beach Party: a gin-, Cointreau-, vodka and rum-enhanced humdinger that unsurprisingly packs a major punch. They're all sweet, sometimes cloyingly so, but you won't need to stay long before you find your tongue loosening: in fact only our innate sense of modesty prevented us from requesting a Quick Screw.
The wait-staff are an accommodating bunch, and attentive almost to a fault. Downers? We're not all Toto and James Blunt fans, thanks – and is it really necessary to broadcast footie on TV at every riverside bar? But you won't get a more congenial setting than this – and considering the swanky 'hood, the drinks' price tags are as generous as their alcohol content. Jonathan Evans 
Cocktails $7-$12; house wine by the glass $7.
See our Hot Tables listing
Find a restaurant and book online
Venue name:
The Sailors
Address:
Robertson Quay Hotel
15 Merbau Road
Singapore


Opening hours:
Daily 6pm-1am
Price:
FREE
Do you own this business?