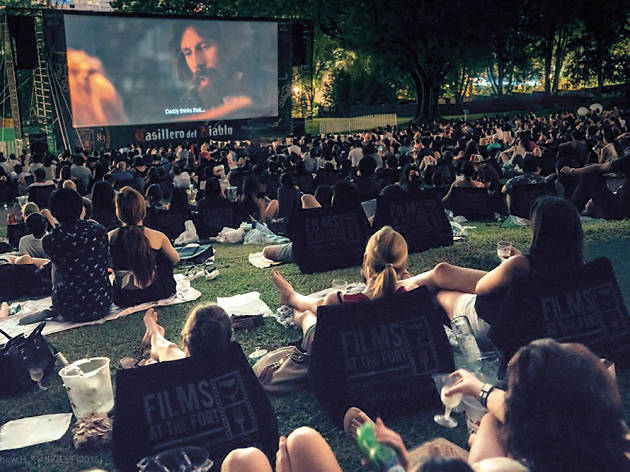 1/2
2/2
There's something about open-air cinemas that we're drawn to. Maybe it's the romance of watching a film under the canopy of night, or perhaps it's about sprawling on a picnic mat while the stars of the screen and sky gleam over you. Whatever the case, Films at the Fort is the perfect antidote to our sub-zero cinemas.
You also won't find stale popcorn and 'nachos' here – The Providore is whipping up lobster rolls, burgers and pizzas. And get suitably boozed with a selection of wines and pair them with a platter of cheese, charcuterie and antipasti (from $24.50). Pro tip: go for weekday screenings to score 10 percent off, or get 20 percent off when you purchase five or more tickets for the same film. Here's what's on.
The Nice Guys (Sold Out)
It's the '70s in LA, and Holland March (Ryan Gosling) – a down-on-his-luck private eye – is paired with enforcer Jackson Healy (Russell Crowe) to solve the case of a missing porn star whose colleague, Misty Mountains (Murielle Telio), has just passed away. But their investigation soon uncovers a conspiracy entrenched in the highest echelons of power.
Me and Earl and the Dying Girl (Sold Out)
Alfonso Gomez-Rejon delivers a coming-of-age film in the vein of The Fault in Our Stars, only this one drips with the pastiche of a Wes Anderson flick: Greg (Thomas Mann) is a socially awkward high school senior who, together with his only friend Earl (RJ Cyler), shoots parodies of classic movies. When Greg's well-meaning mum encourages him to befriend Rachel, a classmate who's been diagnosed with leukemia, the pair forms an unlikely friendship as he attempts to fulfil her last wish.
The Man Who Knew Infinity (Sold Out)
This biopic traces the genius of self-taught mathematician Srinivasa Ramanujan (Dev Patel). It's 1914, and Srinivasa, who works as a bookkeeper in Tamil Nadu, is invited to the UK after writing to Cambridge professor GH Hardy (Jeremy Irons). Our hero is quickly delivered the ugly realities of racism, but in the throes of this struggle, he collaborates with Hardy to produce new theorems that continue to be used in the fields of maths and science today.
Brooklyn (Sold Out)
Loosely based on Colm Tóibín's award-winning novel, Brooklyn follows Eilis (Saoirse Ronan) as she leaves Ireland circa 1950 for the namesake New York borough, at the time lit with grandeur and promise. The consuming homesickness she experiences quickly dissipates when she meets Italian-American plumber Tony (Emory Cohen), whose dreams of moving them to Long Island are stalled as Eilis grapples with another love interest, Jim (Domhnall Fleeson), a well-off bachelor she meets on a trip back to the Old World. Caught in a love triangle, she has to choose between the two countries she calls home, and the lives that exist within.