Interview: Diablo Cody on 'Ricki and the Flash'
Oscar-winning screenwriter Diablo Cody goes behind the page to chat with Joshua Rothkopf about her latest flick, 'Ricki and the Flash'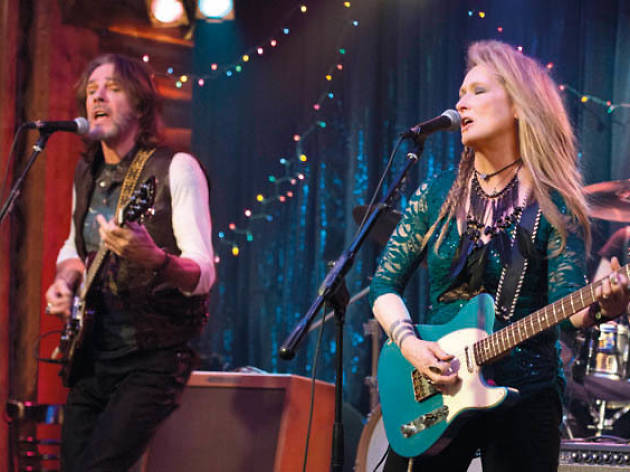 Ever since she made her name with her debut script, Juno, Diablo Cody has represented a special voice in the movie industry: tough, poised, brutally honest and, sure, a little sarcastic at times. Cody's recent effort, Ricki and the Flash, is a significant pivot into serious matters of parental abandonment and career regret. It also rocks – Meryl Streep stars as bar band survivor and frontwoman Ricki Randazzo, while Jonathan Demme directs. Cody calls us from Los Angeles.
'Music is obviously something I'm drawn to, and I'm fortunate that it makes it to the screen.'
Working with Demme was a dream come true.
I'm still basking in the afterglow that he agreed to do this movie. I love Stop Making Sense. I just showed it to my five-year-old. That may have been premature. But Jonathan is somebody I've wanted to work with for a long time.
Everything about him was perfect for this, from his musical sensibility to his films' dysfunctional families, even to the fact that he had worked with Meryl Streep before [on 2004's The Manchurian Candidate].
Putting 'Bad Romance' in the film was her idea.
I love the idea of the Flash being this classic rock band but one that had forced themselves to adapt to the changing culture and learn a Lady Gaga song or a Pink song [they also play "Get the Party Started"] just to please this drunken audience in Tarzana.
I've seen real bar bands that have the same kind of shtick. So many of the other songs were things that Jonathan or Meryl had chosen, so it was a true collaboration.

She breaks cardinal rules.
Music is obviously something I'm drawn to, and I'm fortunate that it makes it to the screen. Because a lot of times, they'll just kill it. It's a cardinal rule for screenwriters: don't put songs in your scripts. Because you're crazy if you think the director is just going to go along with your instincts. But I just got lucky!
For a personal scene with Ricki's family, Streep chose the song.

In the script, Ricki originally played a Wilco song: "Passenger Side." The moment was intended to capture the true soul of Ricki, this kind of world-weary mood. But I believe it was Meryl who said, "That should be a moment when she plays an original song for her family."
And I said, "You could not be more right." Something truly personal to her, not a cover. Usually you're on a film set, it feels very alien. But that day, I really felt like I was sitting in the living room with that family, eavesdropping.
Originally, the Flash was a hair metal band.
There are certain songs in the film I wouldn't have thought of, like "Wooly Bully" [laughs]. And I love that moment. I think my initial vision of the Flash was that they were a little more rough around the edges, a little more dirty '70s, '80s hair metal.
Originally, the script opened with [Billy Squier's] "The Stroke", because I was thinking about how Ricki had been screwed by the record industry. She would be singing that song with so much anger. The Flash ended up having more of a warmer classic rock sound – which I love.

Cody has a real Ricki in her family.
My husband's mum is a Ricki-esque lead singer in a band. She is a real character. They're called Silk and Steel [laughs]. I know, seriously? I've admired her for so long. Since I've met her, I've asked her family members, "Do you realise how cool this is?" And I don't think they do.

Joining the family as an outsider and seeing her perform, I just thought: Oh my God, this is so cinematic. Where is this character in the movies?
The script is her future apology to her kids for working too hard.

Screenwriting is a form of therapy for me. It's definitely a lot of my own preoccupations playing out on the screen all the time.
My interest in Ricki for me comes from the idea that, someday, I'm going to have to sit down with my kids and ask them if they resent me for having been so passionate about my career. Because I truly love writing and I've never stopped doing it. I didn't take a break after my kids were born. And I like to think that I'm a very present and attentive mother. But at the same time, there's always been this other love in my life. And I hope that they don't hate me for it!