We chat with John Boyega on Star Wars, being a ballet kid and what's next for him
Ahead of the release of the final Star Wars film, the British actor finds a window in his busy diary for a chat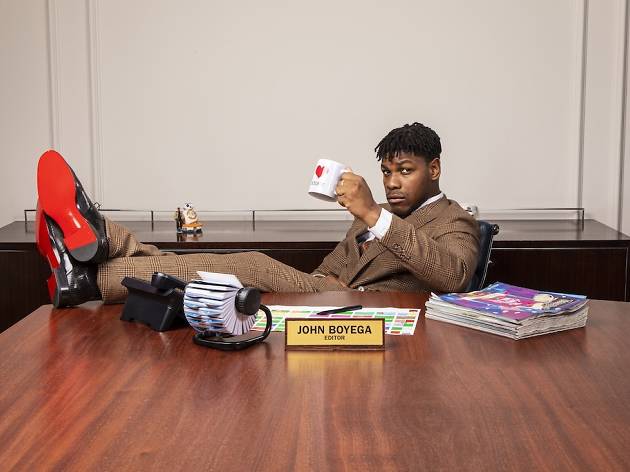 Sharp suit, gigantic grin, infectious sense of fun: you know when Time Out London's guest editor, John Boyega, is in the room. The Peckham boy-turned-galactic superstar is a natural in the editor's chair, with his feet up on the desk, flicking through layouts, and he has everyone hooting with laughter. But years before he was tapped up for Star Wars as its most relatable new hero, Finn, he was seizing the city's opportunities: training at Theatre Peckham; performing and taking in shows at Shakespeare's Globe, the Royal Albert Hall, the Roundhouse, the Young Vic.
RECOMMENDED: Upcoming movies in Singapore
Let's start with Theatre Peckham, which I know is close to your heart.
Theatre Peckham was where I trained – the first theatre where I really discovered the arts. I got a scholarship there when I was at primary school. Teresa Early, who's the founder, was like: "You can come and train for free." She gave me a really good opportunity. All of a sudden I was opened up into a world of contemporary theatre, dance, tap, ballet…
I didn't have you down as a ballet kid...
Ballet classes were a bit tough! But I got to meet other kids who were into the performing arts, which was hard in school. A lot of my friendships are from there. I felt like I had creative people around the whole time, always performing. We did performances at the Roundhouse, my college drama group won a competition to perform at the National Theatre, and all of that made me more passionate about it. It's so important to have these youth groups, and not cut their funding.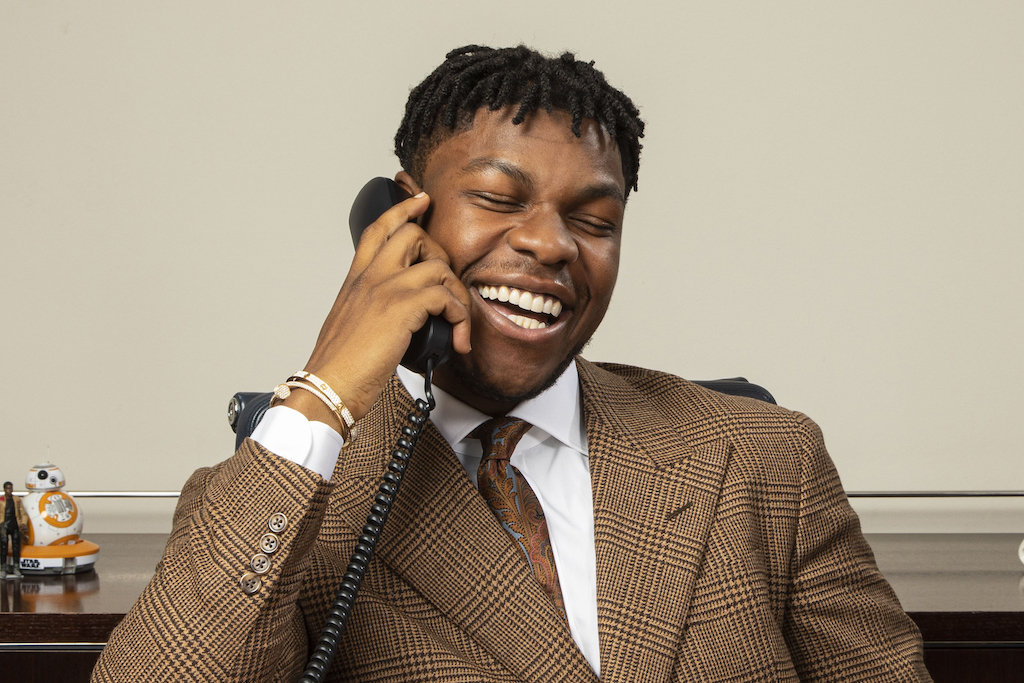 Photography: Andy Parsons
You bought a house for your mum and dad with your first big paycheque. Clearly family is very important to you.
If your family ain't important to you man, I'm so sorry!
Sometimes in your twenties, you boomerang away from your parents though.
I had that a little bit, travelling, more distance. Now I'm like: Mum, Dad! It's the switch of roles as your parents get older they become your babies. They're curious every day about who you are as a person. I can tell my parents are so aware of the limited time a human being has on this planet that they're trying as much as possible to communicate. They're always showing love and that's important when that time comes you don't want to feel regret as to what that connection is.
You still take your friends and family to your premieres. Do they ever do anything embarrassing?
Nooo! My dad is my guy. He doesn't know anyone in Hollywood so he will be talking to a big massive star and he'll say: "Oh, that man is very nice. Very tall." And I'll be like: "Dad, you were just talking to Dwayne Johnson, dude!" "Very tall" – I love that.
How important are your friends?
My friendship circle is cool. It's great for me, mental-health-wise, to still feel like part of the lads, to not be like the leader. Because I'm the youngest; I'm not the leader. I don't want to feel like the famous guy – it's not my forte.
You sometimes see kids who get wealthy and successful early then go off the rails. How come that hasn't happened to you?
I don't know if that narrative is true. I get it: money, fame, all those things are big temptations and can sway your mind in several different ways but there's something about you being the person that worked for what you have. People have bad days and I don't judge them. I used to when I wasn't a celebrity. I'd see something about a celebrity, I'd laugh, I'd give my opinion, but once I became one I'd see things that were not even true. I don't want to partake: it kills your brain cells. When it comes to keeping grounded it isn't just that this person got money and fame then started acting like a dick – maybe they were poor before and maybe when they got rich they were kicked out of that environment, like: "You've changed, you can't stay." Then they go to the wealthy and the wealthy are like: "You're from a poor background, go back there." That can cause you to have bad days. I understand that.

Photograph: Lucasfilm/Lucasfilm Ltd
You're facing the end of Star Wars. It's huge. It's not just another movie, it's part of our culture, it's like Christmas. How does that feel?
The way everyone's going on about the release of this film you'd think Jesus was born this year! You'd think he's about to come this December! It's part of everyone's culture and childhood: it's a big part of mine. The feeling of seeing that "Star Wars" logo coming out of the screen – it just reminds you of how you felt the first time you watched it. I'm happy to be one part of the jigsaw puzzle because it is frickin' massive. It's emotional.
Was everyone crying on set on the last day?
For real. We all had a big cry. It's also the feeling of joy and being thankful for you guys, for all the people who've been coming out to see the films, in a time when it's harder and harder to get people out to the cinema. It's appreciated. It's a part of people's lives. To be one of the many faces of it is very cool.
If Star Wars asked you to come back for a sequel in 40 years' time would you do it?
Yeah, man! I'd come on with my walking stick, my Burberry walking stick! That's what I want!
Last time we met, you talked about how proud you were about helping make the franchise more diverse. What else needs to happen in the industry?
I still feel very proud of the growth that's been going on, but, for me, ownership is the most exciting thing. Many actors are writing and taking ownership of the creative process. And for the industry to follow suit in backing up that voice, that's super-important. You want to know in the next ten years you won't have to have certain conversations – just to leave the BS politics and all that crap in the real world and let art be art.
There's a crop of amazing filmmakers from different backgrounds coming through. How important is representation among the makers, not just the actors?
It's very important to be the makers – especially if you have cultural awareness of these characters and those stories that you're writing – but even if you're creating a fantasy, that's your imagination. Seeing people take ownership of that: it gives me motivation to keep going.
What's next for you?
I set up my production company in 2016, on the back of Pacific Rim Uprising, after a long time being on set learning and seeing people who are at the top of their game producing, collaborating and finding funding for projects. I would love an opportunity to play British as well as American roles, I'd love to explore roles at home. With British entertainment there's something quite humble. We're like: "We're entertaining you, sorry if it's too loud!" Whereas in America they're like: "Here we go, here's the action!" And I feel like a bit of that DNA mixed in with what it means to be British, which means various different things would be incredible for our industry and create more opportunities for actors.
Because of playing Finn in Star Wars, you're a hero to a lot of kids now. What advice would you give the young John Boyega?
Shut your mouth and work! Stop talking about it – you're only talking about it because you're scared. Work! And be easier on yourself when it comes to obstacles because you didn't choose those obstacles to be there.
And what if it all hadn't worked out? Editor of Time Out London? Estate agent?
Estate agent was definitely on the cards! Architect, cartoonist. Or, you know, working at Butlin's as a character in one of their pop videos.
Star Wars: The Rise of Skywalker hits cinemas on December 19.