5 dishes you need to try at the World Street Food Congress
The queues may be long, but these dishes from five international street vendors are worth the effort
There's a helluva lot of food to try at this year's World Street Food Congress Jamboree, and we don't blame you if you'll feel a little overwhelmed. There are a total of 24 street food vendors vying for precious little stomach space, so take it from us and try these five dishes that you've just got to make space and time to queue for. The jamboree runs only until this Sunday, April 12, at the open field opposite Bugis Junction, so make your way, pronto.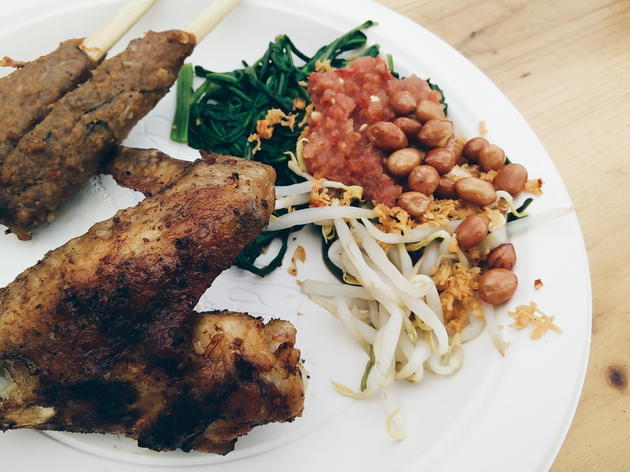 Ayam taliwang ($10) from Taliwang Bersaudara (Indonesia)
It's billed to be so fiery it's 'not for the faint-hearted', so of course we had to take that challenge. We loved the grilled chicken wing for its crispy blistered skin and the meaty beef sate – both are seasoned just-so with the aromatics – but the real fire lies in the accompanying sharp and pungent sambal. If you're a seasoned ayam penyet eater, the heat would be pretty manageable on the palate, but tread slowly and cautiously anyway when smearing the sauce on your meats. The blanched veggies on the side also come in pretty handing in dousing the flame.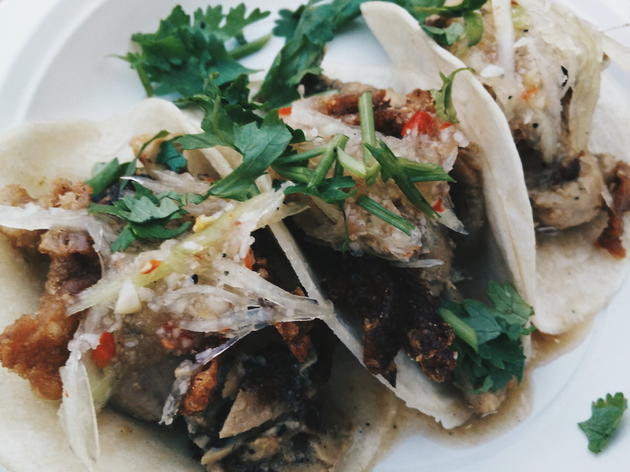 Chicken inasal taco ($9) from East Side King (USA)
If Philippines-born Chef Paul Qui looks familiar, well, that's because he bagged Top Chef in season nine for his street food chops. East Side King is the only food truck at the Jamboree, and you wouldn't miss standing in the queues that snake around the benches for his Asian-inspired morsels. Chicken inasal is a typical Filipino poultry dish that's marinated with lime, pepper and vinegar before it gets scorched on the grill, and Qui's version comes served on a soft taco with crunchy fried chicken skin.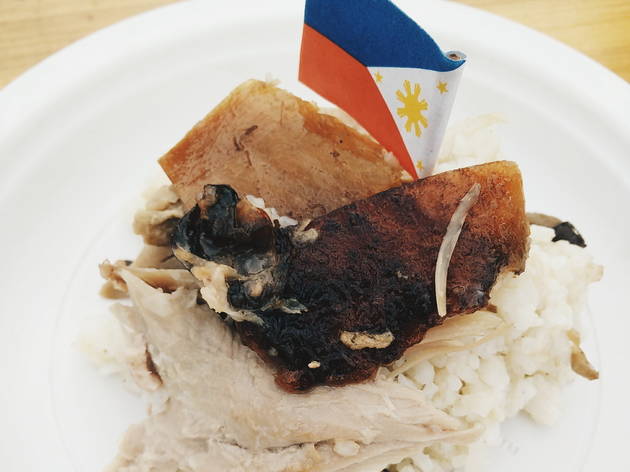 Truffle lechon diva ($13.80) from Pepita's Kitchen (Philippines)
Here's a piece of advice: go early. There's nothing quite like roasted suckling pig to whet Singaporeans' appetite, so it's little wonder that this dish sells out quickly. Heck, even Anthony Bourdain proclaimed lechon as the 'best pig ever' on his show, No Reservations. This version by Pepita's Kitchen is stuffed with truffle rice and Chinese mushrooms, and each piggy is slow-roasted for about four hours to achieve that prized crackle over tender shreds of meat. If there's one stall that's worth queuing in the merciless sun for, it's this.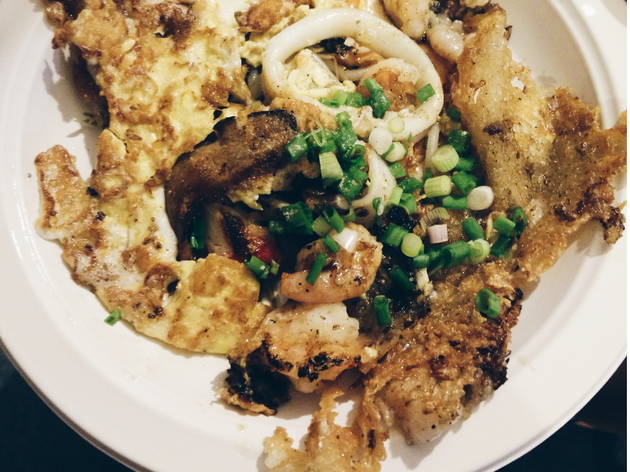 Seafood omelette ($10) from Hoy Tord Chao Lay (Thailand)
Of course, Singapore's favourite street food capital is on the list too. Hoy Tord Chao Lay is back by popular demand for its smoky, crisp-edged omelettes that are sold with plump oysters (hoy tord) or with generous chunks of prawns and squid (talay tord). Niphon, the man behind the stove, has been featured on countless TV shows and magazines, but he remains dedicated to his craft. Even with him relentlessly frying up multiple batches of omelettes simultaneously, the queue hardly ever subsides.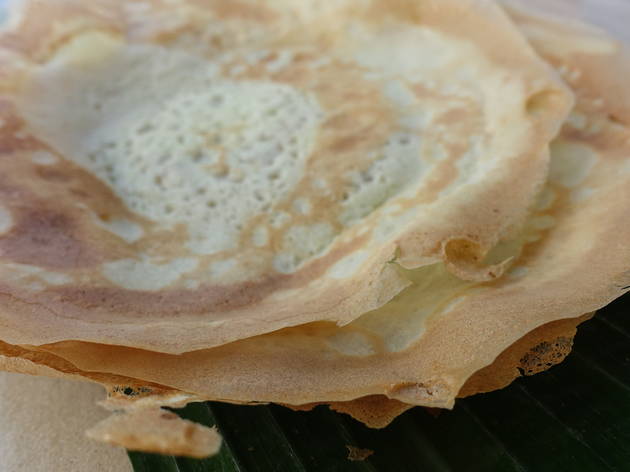 Apom ($4.50) from Penang Apom Manis (Malaysia)
Our first thought when we saw the queue was, 'Wait, why are people queuing for plain pancakes?' But that skepticism flew out of the window once we had a bite of soft-centred, feather-thin crepes fresh off the charcoal stoves. The fragrance and flavour is familiar, akin to Chinese egg rolls. It's a deceptively simple snack, but it requires constant attention from the vendor. Penang-ite Ravindran Supramaniam juggles eight stoves, moving endlessly to pour the coconut milk-and-egg batter into the tiny non-stick works and flip them over quickly. We easily demolished our set of three pieces, so you might want to order more.
Open field next to Bugis Junction, along Tan Quee Lan St (wsfcongress.com). Bugis MRT. Wed & Thu 5-10.30pm; Fri 4-11pm; Sat 1-11pm; Sun 1-10.30pm. Free admission.