Singapore's secret eating and drinking spots
From hidden restaurants and secret bars to dining in someone's home, discover a side of Singapore you won't find in the guidebook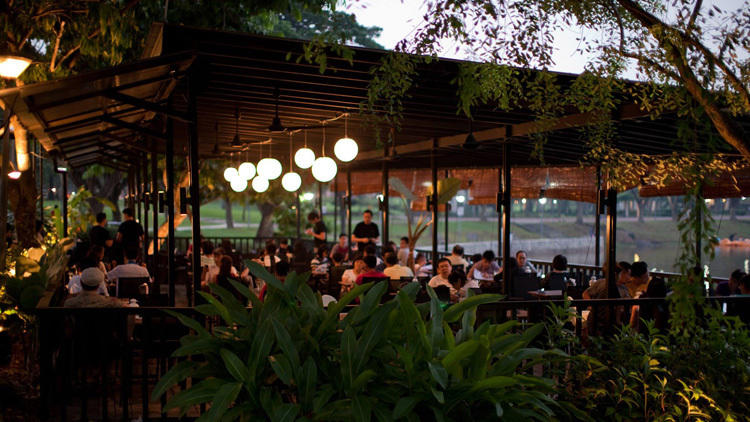 Try popiah in Joo Chiat
The best place to try the Fujian Province speciality, popiah – a kind of giant fresh spring roll meets a wrap – is surely Kway Guan Huat Joo Chiat Original Popiah & Kueh Pie Tie in Joo Chiat, which has been making popiah skins by hand since 1938. Watch the chefs twirl the dough to create these delicate but resilient layers (they do demonstrations every morning from 8.30- 11am) – the result is a warm, chewy bite with ingredients such as egg and prawn, and sweet and savoury sauces. It's about as tasty a bite as you can get in town for $2. 95 Joo Chiat Rd (6344 2875,www.joochiatpopiah.com; Tue-Sun 10am-8pm).
Eat among the greenery in a Singapore park
Hidden in the lush Botanic Gardens, Corner House replaces Botanic Gardens stalwart, Au Jardin, at a historic black and white that was once the abode of the garden's dedicated custodian and director, EJH Corner. Local executive chef Jason Tan serves up a nine-course degustation menu ($248) and set brunches, lunches and dinners ($96) with gastro-botanical sensabilities, giving as much attention to the greens as he does his proteins. For something even more secluded, Bacon & Booze (900 Punggol Rd End; 6489 5679) located at the North-Eastern tip of Punggol serves up an array of craft beers and suitably matching beer grub to match. Placed a little more inland, Punggol Park is worth a trip for lake-front dinner joint Wild Oats, a follow-up to the Mount Emily namesake. The restaurant draws a hip crowd for its local-infused Western food, from chendol to giant sausages, with prices from $8-20.
Stumble across craft beer and cider
The Yard may look like a knocking shop from the outside, but inside is a classic British pub, with stained glass, London Pride and Magners pear cider. Head up to the 33rd floor of Marina Bay's Financial Tower 1 to find LeVel33 and what must be one of the world's highest microbreweries, with four boutique house brews (from $9.33++) to go with the spectacular views. Out in Joo Chiat, you'll find The Cider Pit, where the impressive range of beers and ciders includes a pint of Weston's Organic Vintage Cider on tap for $10. Read about The Good Beer Company, a boutique beer stall in a Chinatown hawker centre, in our pick of best new hawkers feature.