Staycation Spotlight: Wanderlust, The Unlimited Collection by Oakwood
A refurbished gem in the heart of one of the city's historical neighbourhoods
Wanderlust has had a reputation as one of the city's most eclectic boutique hotels in the past, with its retro-style themed rooms and acclaimed Cocotte restaurant on the first floor. But it has since been given a new life. While the hotel's name and facade remain the same, not much else has.
Now owned by 8M and managed by Oakwood, the hotel evokes more understated aesthetics. Gone are the quirky-themed rooms with free-standing bathtubs, spaceships and neon-lit beds. The interiors have undergone a massive makeover, while still merging the building's old charm with modern sensibilities. In its place, minimalistic rooms that are a more grown-up version of its past life, catered towards the modern digital nomad.
Have we got your attention? Here's a peek at what you can expect if you book a staycation at Wanderlust.

RECOMMENDED: Staycation Spotlight: Duxton Reserve Singapore, Autograph Collection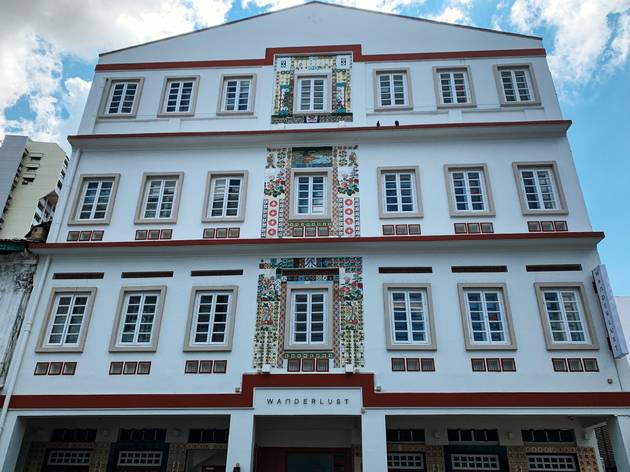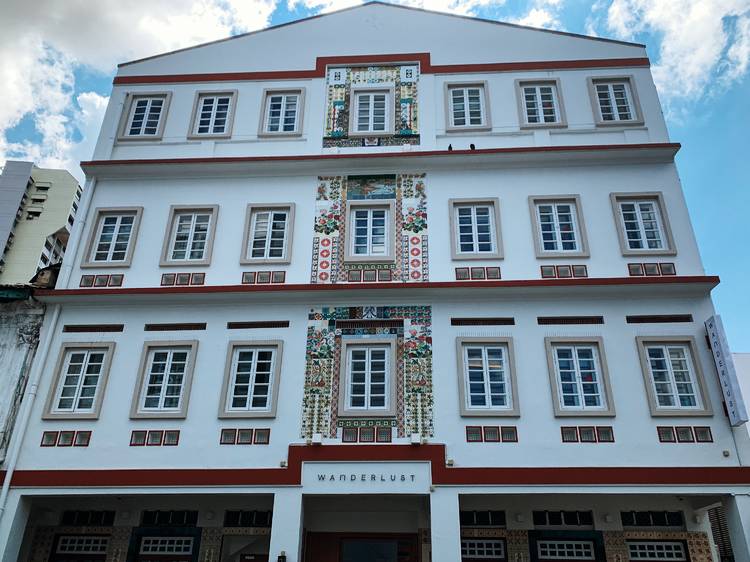 Photograph: Dewi Nurjuwita
The facade the hotel is housed in is an architectural marvel in itself. Dating back to the 1920s, the four-storey building was once the Hong Wen School and is part of the Little India Conservation Area.
While the building has been refurbished, it retains most of the original architectural elements – including the intricately painted ceramic tiles on its front facade and the classic stained glass windows at the upper storeys. The facade has also been repainted in subtle colours that direct attention to the property's unique features.
Photograph: Dewi Nurjuwita
Wanderlust is still a charming boutique hotel, no less. The minute you step into the building, you're welcomed into a cosy check-in area bedecked with warm wooden accents, Persian rugs, plants and eclectic memorabilia. Remember to scan in with TraceTogether and have your temperature taken first, of course. The lobby is also a chillout spot and co-working space for guests.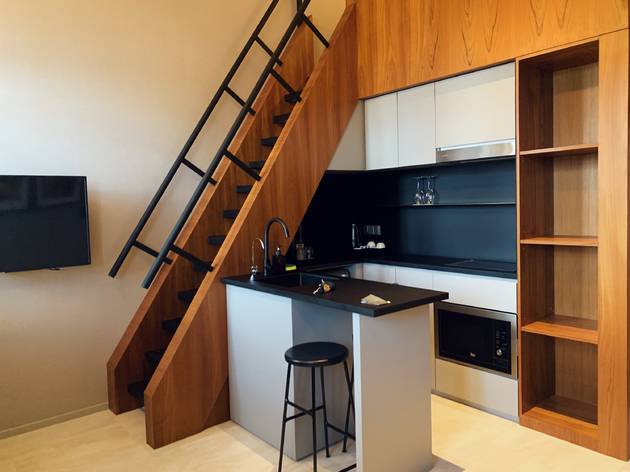 Photograph: Dewi Nurjuwita
The boutique hotel is only home to 29 rooms, with three different room categories: Deluxe, Studio Premier and Studio Loft. We stayed in the Studio Loft on the uppermost floor.
Far from the quirky rooms of the old Wanderlust, our Loft room boasts a neutral colour palette and evoke modern minimality. There's a separate living space – including a kitchenette with everything you need – on the first floor. There's even a smart TV and Bluetooth speakers should you want to spend the night in. On the upper deck, you'll find the comfy queen-sized bed, perfect for catching a snooze. The spacious bathroom is worth a shout too, equipped with a relaxing rain shower and Ashley & Co amenities.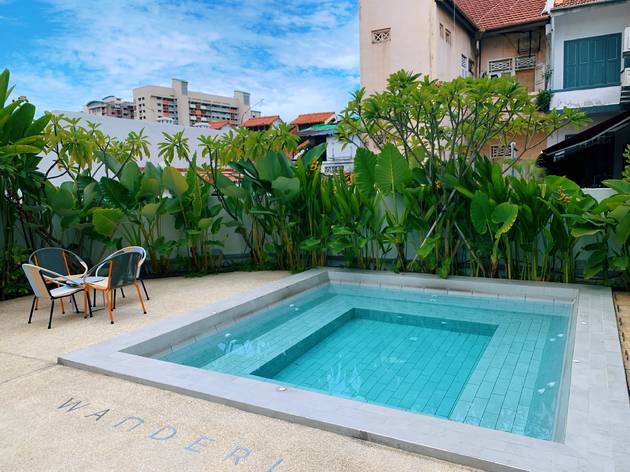 Photograph: Dewi Nurjuwita
Wanderlust is an intimate boutique hotel, so it boasts a smaller range of amenities. And while the hotel doesn't have its own F&B concepts, it shares a space with chef Rishi Naleendra's Sri Lankan restaurant Kotuwa.
On the second floor, you'll find a lush roof deck garden with a jacuzzi – but it's currently closed for renovations.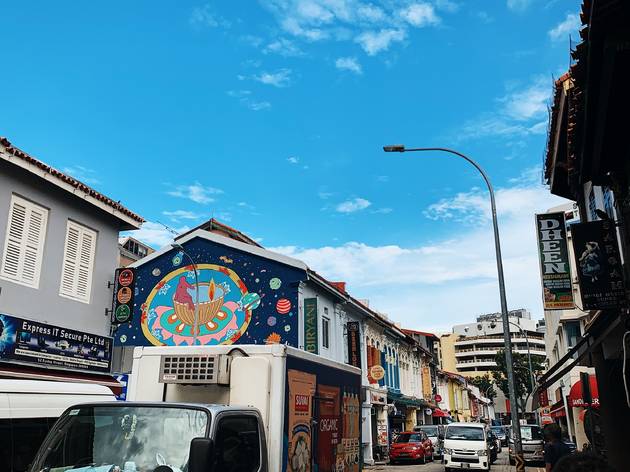 Photograph: Dewi Nurjuwita
Perhaps the biggest draw of Wanderlust is the unique neighbourhood that it calls home. The hotel is nestled right in the heart of Little India, one of Singapore's historical enclaves that is unlike any other. Wander into the back-alleys of Little India and Jalan Besar, breathe in the sweet smell of jasmine and roses at the various flower stalls, try Indian desserts like Gulab Jamun and Gajar Ka Halwa, savour delicious Pakistani cuisine at Tekka Market and marvel at murals splashed across the walls of the 'hood. A night owl? Little India never sleeps. Go wild shopping for essentials and more at Mustafa Centre, which is open 24 hours a day.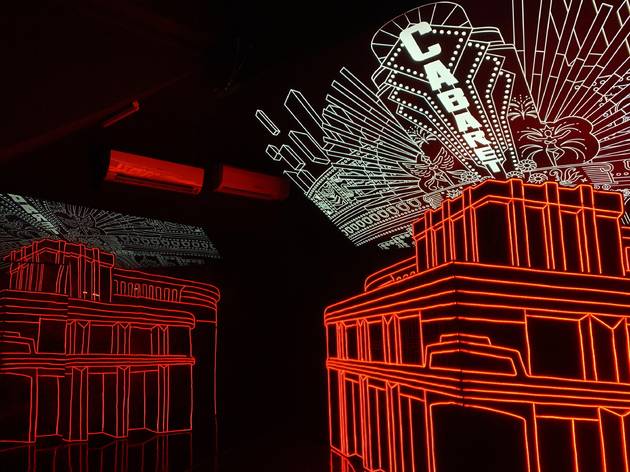 Photograph: Dewi Nurjuwita
Ghosts of Jalan Besar's past
Want to experience the neighbourhood in a completely different way? Embark on an immersive art experience by OH! Open House that comes in the form of a multisensory walk. Called New World's End, the audio-guided walk combines fiction and history to reveal the stories of the iconic New World Amusement Park, as well as the rich history and heritage of Jalan Besar.
Set against the backdrop of the now-defunct landmark in the 1960s, it starts at OH! Open House's new home at 85 Desker Road before taking you down back alleys, hidden rooms and fantasy spaces where you'll uncover the secrets and romance of a pair of young lovers: cinema projectionist Kiran (voiced by Salif Hardie) and New World Cabaret dance hostess Rosa (voiced by Moira Loh).
Wanderlust has teamed up with OH! Open House to offer a special offer for guests. Hotel guests get an exclusive tote bag and a red envelope with a letter and their tickets to the tour.