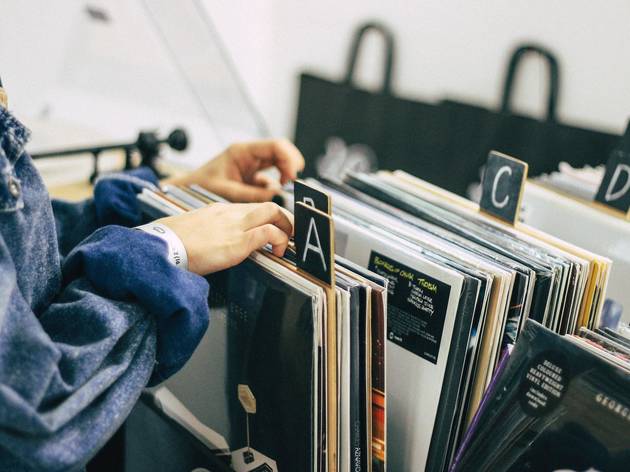 How record stores in Singapore are fighting to stay relevant after reopening in Phase 2
How the current situation has impacted independent record stores and what their reopening will bring to the table
If there's one thing that the vinyl has proven over the past decades, it's the ability to overcome any challenges that come its way. It has lived through the rise and fall of cassette tapes, CDs and even MP3s, and the Vinyl Revival in the late Noughties. Even in this age of digital streaming, the art of vinyl is still practised by many music lovers and DJs, proving the adage that old is gold.
But is this year any different? The pandemic has globally rocked the music scene, forcing festivals and concerts to cancel, and live music venues to close. People had to get their music fix elsewhere – whether it's tuning into live streams of intimate gigs and virtual festivals by international and local artists, or playing instruments and singing in unison from their balconies (remember belting out to Dick Lee's Home with your neighbours?).
Now that we're in Phase 2 of Singapore's reopening plans, music fans can resume their crate-digging ritual at record stores. While digital streaming is so much more convenient, the vinyl gives music fans something tangible to showcase their love for their favourite artists. Plus, there's just something enthralling about dropping the needle gently onto the groove of the record and hearing that initial crackle through the speakers.
But lest we forget those that were forced to permanently shut down due to the crisis. A few days shy from the announcement of Phase 2, White Label Record & Bar made a heartbreaking announcement about their closure. Not only was it a vinyl paradise for non-mainstream releases, but it was also a popular hangout for the music community.
What can music fans do? The message is simple: if you can, and while you can, please support independent record stores. Whether it's ordering some tasty bites and coffee from Choice Cuts Goods + Coffee, or bagging some merch and vinyl from The Analog Vault, every little help counts in helping these small businesses stay afloat. We might even see another vinyl revival this year – one that overcomes the challenges of Covid-19.
RECOMMENDED: We explore the vinyl scene in Singapore and the best record stores in Singapore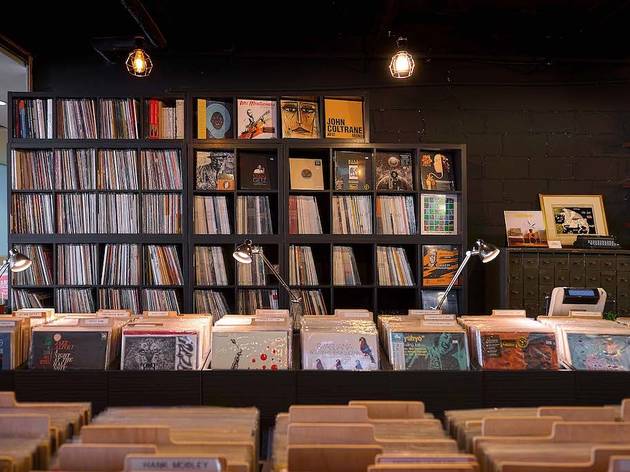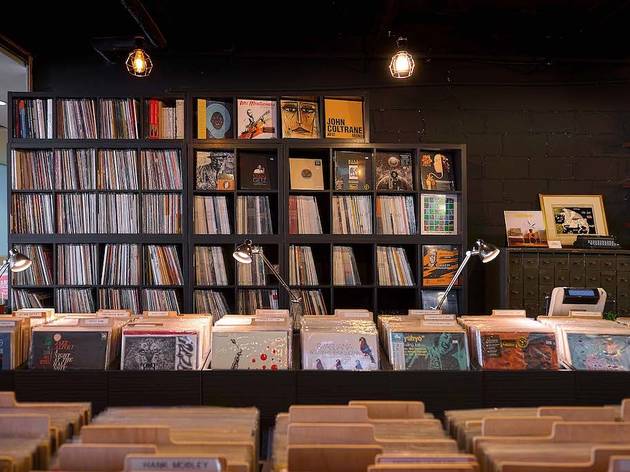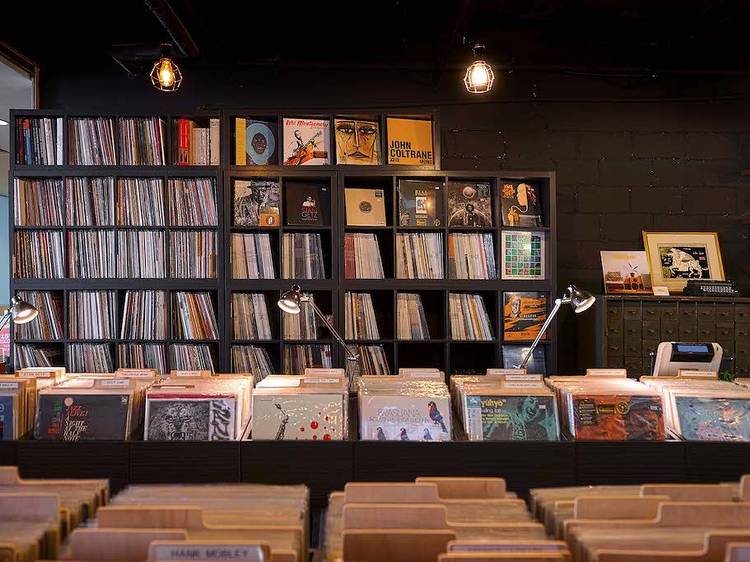 Photograph: The Analog Vault
The reopening of record stores during Phase 2
Following the announcement that non-essential retail shops are allowed to open for business from June 19, record stores such as Curated Records, The Analog Vault, Hear Records, and Choice Cuts Goods + Coffee have unlocked their doors, welcoming music lovers to resume their crate-digging ritual – with caution, of course.
Retail staff and shoppers are reminded to follow safety guidelines and social distancing rules, including wearing a mask and keeping a safe distance of at least one-metre from each other. Just like every other venue in the city, it's required for everyone to scan the Safe Entry QR code at the shopfront for contact tracing purposes.
While most stores have returned to their usual hours, others are open with a reduced timetable. Many are yet to be finalised, so expect change at short notice. If you're planning on making a trip, be sure to check ahead before you leave your house.
Despite things slowly returning to normalcy, the road to recovery is still quite a stretch. The situation has caused us to develop a new normal that businesses, as well as individuals, have to adapt.
"All in all, we are seeing some new business ideas that we didn't have before, but we are still seeing the total sales decline by 50% or more."
- Tirso Garcia, on behalf of Choice Cuts Goods + Coffee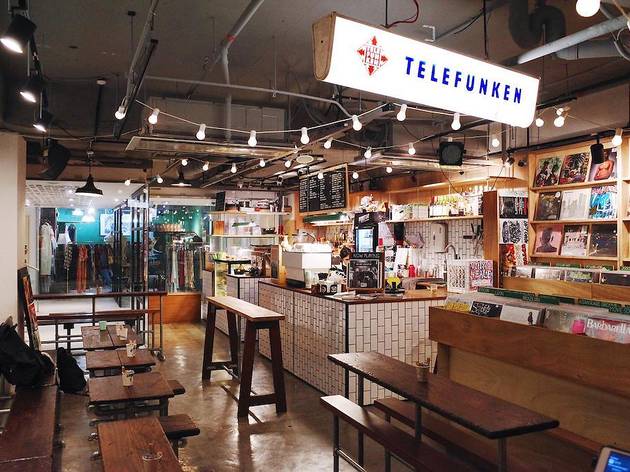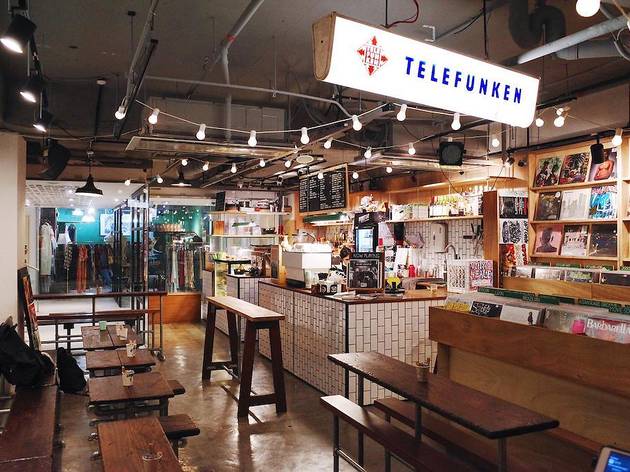 Photograph: Choice Cuts Goods + Coffee
Taking a huge hit from the global crisis
The pandemic has put the world of record stores in peril. Due to the circuit breaker measures, physical stores were forced to close for over two months. Shifting to online alternatives and delivery services seemed to be the logical next step to survive. However, online shopping doesn't come without pitfalls.
"With our store being at the Esplanade, we have seen a significant drop in people visiting the mall due to the cancellations of events. Tourists typically also make up a big portion of our customer base where we rely on new and existing customers visiting the store, but this has been affected as well," shares Nick Bong, on behalf of The Analog Vault. "[Due to the circuit breaker, we had to] close the storefront and move our business purely online, which has affected the growth of the store and the overall workflow within the shop. Some of our recent new shipments have also been delayed, disrupting the ecosystem of the store and in return affecting our sales."
Stores islandwide had to react quickly upon the news. Those without an online store had to find other solutions to stay afloat. For Choice Cuts Goods + Coffee, it had to rely on its only essential service: delivering food and coffee to its customers. "We had to adjust numerous times while trying to get the word out of how our service has had to change," says Tirso Garcia, on behalf of Choice Cuts Goods + Coffee. "Dre Reyes and I as stake-holders are actually the ones doing most of the delivery by bike. This is because we want our customers to know that it is something new, [and] we are constantly trying to improve. We have had some teething issues and by doing it ourselves, we can really make quick adjustments and even provide service recovery."
Besides making its menu readily available for delivery, the team has also brainstormed some new ideas. "We are exploring how we can fulfil online payment for vinyl record sales, but this is also a work in progress," says Tirso. "All in all, we are seeing some new business ideas that we didn't have before, but we are still seeing the total sales decline by 50% or more."
It's great to see many stores pushing forward, not letting the global crisis dampen their spirits. "[The] drop in sales is inevitable. On the flip side, we are given the luxury of time, something that we didn't have very much for the last six years running the business. We'd have a quick rest and continue curating an even better inventory for the re-open of the store when the lockdown's lifted," shares Tremon Lim, on behalf of Curated Records.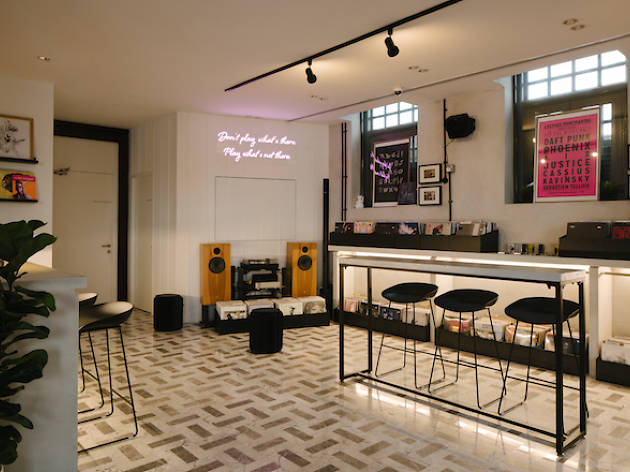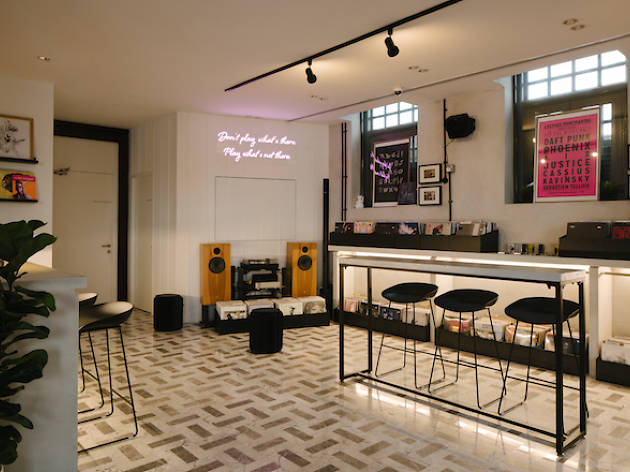 Photograph: White Label Records/Marc Tan
The paradox of shutting your store in order to survive has been brutal for small businesses. There's no denying that it has been especially vexing for record stores, many of which were already barely scraping by.
Hearts broke on June 15 when White Label Records & Bar announced its closure. The popular music hangout at 28 Ann Siang Road initially planned to reopen its doors after the circuit breaker, but due to the high level of uncertainty that surrounds small businesses including music venues, it was forced to shut down. But it's not all goodbyes as the team continues to revamp the Singapore Community Radio and its news music platform Vinyl of The Day.
"We'll definitely look into bringing [White Label Records & Bar] back to life again down the road when the situation is under control and regulations are eased," states White Label in a statement on Facebook.
"We really want to give something big back to our customers who have continuously shown their love and support especially during this time."
- Tremon Lim, on behalf of Curated Records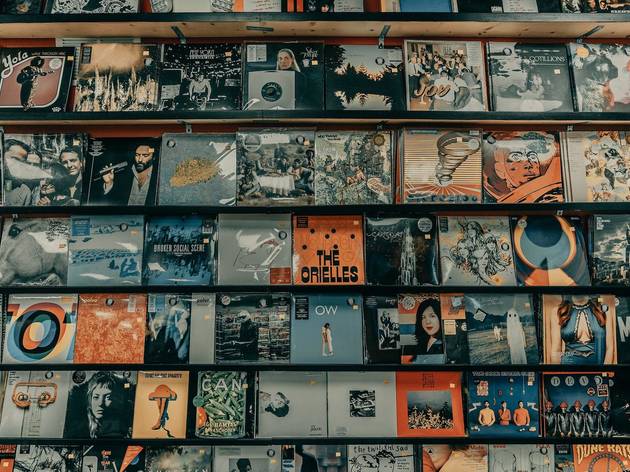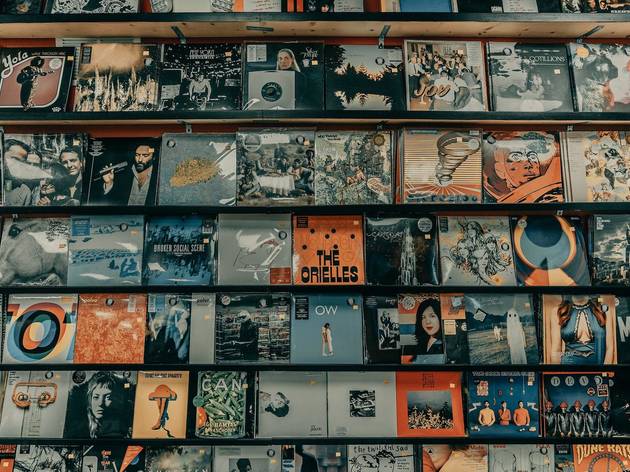 Photograph: Clay Banks/Unsplash
Record Store Day is back... for real
If there's a day vinyl lovers look forward to the most, it's Record Store Day (RSD). RSD is usually celebrated on the third Saturday of April every year. But due to the pandemic and the circuit breaker measures, the annual music affair was initially postponed to June 20 before splitting it over three separate dates on August 29, September 26, and October 24.
Said in a recent statement from Record Store Day, "Record Store Day organisers have looked at numerous possible dates and various ways to re-work an event that takes place at thousands of record stores around the world, taking into consideration the varying circumstances and situations they and their customers might find themselves in at any point this year." The statement added, "Fingers crossed for the return of the biggest party of the year on the third Saturday of April 2021."
However, not all record stores participate in it. Record stores like Hear Records and Choice Cuts Goods + Coffee don't usually throw an RSD shindig and have told us that they don't plan to do so. "RSD should be about experiencing the soul of record stores and not about coming in for a limited edition and then [disappearing] for 364 days until the next RSD. [RSD] should be every day," says a representative of Hear Records.
Others take the opportunity to celebrate the love for records in their own unique ways. "In the past, [Curated Records] had celebrated [RSD] with in-house gigs, mystery vinyl giveaways, and had our sales donated to charity," Tremon tells us. "We have yet to firm up the details for this year, but we really want to give something big back to our customers who have continuously shown their love and support especially during this time."
Perhaps, we might see a revival of music events in the later dates – with restrictions, no less. "Hopefully, when things have settled a little, we are planning to do an in-store event with some of our favourite DJs and artists soundtracking the day. We will also be doing a special sale on that day along with selling limited edition Record Store Day titles at the store. Fingers crossed!" says Nick.
Record Store Day has released a new list of releases for its much-disrupted 2020 edition including releases from Pink Floyd, Odd Future, New Order, Gorillaz, and Robyn on August 29. Releases from The Doors, Fleetwood Mac, Grouplove, Nas, Roger Waters, Wale and more drop on September 26, while releases from Miles Davis, Freddie Gibbs & Madlib and others drop on October 24. Fans will have to wait until Black Friday on November 24 to get their hands on The Rolling Stones' Let It Bleed Limited Collector's Edition.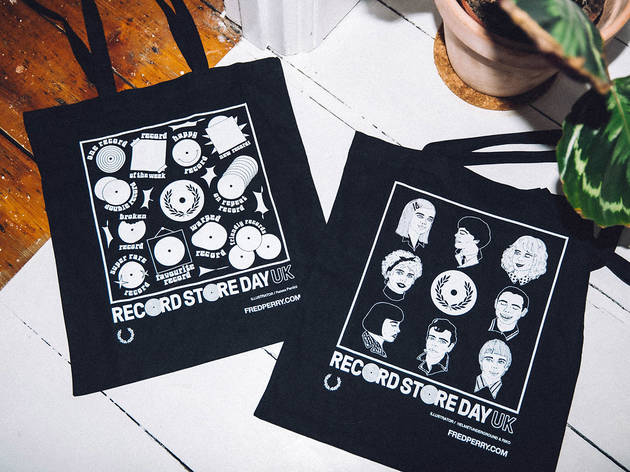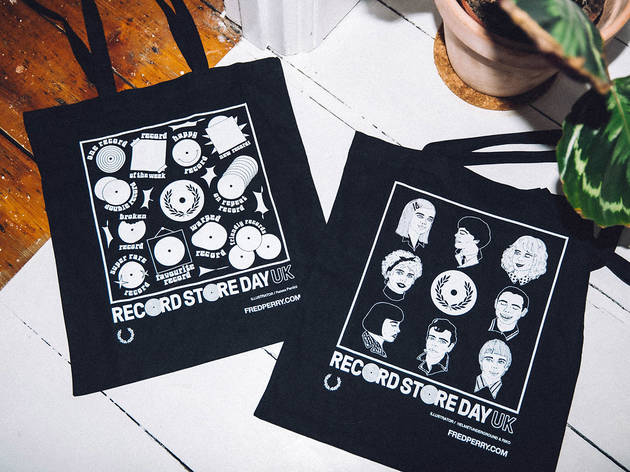 Photograph: Fred Perry/Record Store Day
What can you do on Record Store Day?
Pop-up stores
Straits Records recently closed its doors at Bali Lane, but thanks to an initiative by the National Arts Gallery and Singapore Art Museum, vinyl lovers can check out the indie record store's pop up while sipping on a cuppa at The Substation from now until October 11.
Exclusive merchandise
Snap up an exclusive Fred Perry bespoke tote bag designed by illustrators Raissa Pardini and Rikohelmet which is given away with every purchase at selected record stores including Mosta Records and The Analog Vault.
Storewide sale
The Analog Vault is throwing a storewide sale for customers. Cop your new favourite vinyl at 10 percent off. However, this does not include consignment and RSD 2020 titles, as well as Audio Technica products. If you're a member, you get to enjoy 20 percent off – sweet. Not one? Spend $150 in a single receipt to qualify.