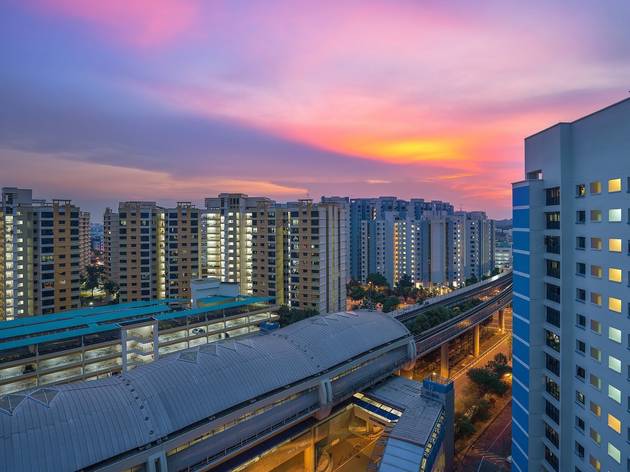 What you can and cannot do in Singapore after the 'circuit breaker'
As 'circuit breaker' restrictions are eased in the coming weeks and months, we'll keep you updated on the latest developments
On Friday, April 3, Prime Minister Lee Hsien Loong gave new meaning to the phrase 'circuit breaker'. To most people, it refers to a safety device that stops the flow of current in an electric circuit, but to people living in Singapore, it means hunkering down at home in order to break the chain of transmissions of Covid-19 in the community.
The circuit breaker was meant to last till May 4, but on April 21, PM Lee addressed the nation once more, extending the circuit breaker measures till June 1. Now, it looks like some of these restrictions we've had to deal with for the past two months will finally be eased as Singapore reopens in three phases. We know that you have even more questions about what can and can't be done in Singapore. Let us help clear the air and break down the restrictions for you.
For more information on current regulations, you can also visit gov.sg
Time In is committed to keeping you in the loop with the best ways to stay entertained and connected. Celebrate your city while staying safe with the best things to do at home.
The overall circuit breaker ends on June 1 and the government plans on reopening Singapore in three phases over several months.
Phase 1: Safe Reopening
From June 2, you can receive two visitors per day from your immediate family (children or grandparents). Some businesses are allowed to reopen with Safe Management measures in place and children can go back to school and student care centres.
Phase 2: Safe Transition
After a few weeks of Phase 1, the government will decide if it's safe for us to move to Phase 2 where more of our regular activities can resume. This is the phase most of us are looking forward to – but it's likely that Phase 2 will be rolled out over a couple of months. Activities include small group gatherings, dining in at F&B services, opening retail outlets, gyms and fitness studios. Sports, recreation and outdoor facilities like the stadiums can also reopen.
Phase 3: Safe Nation
If the situation remains stable after the completion of Phase 2, Singapore will enter Phase 3 and stay here until an effective vaccine or treatment for Covid-19 is found. During Phase 3, medium-sized gatherings can resume, and spas, massages, cinemas, theatres, bars, pubs and nightclubs are allowed to reopen.
How quickly we transition to the different phases depends on the ongoing situation. If more clusters form as restrictions are eased, it is likely that measures will be tightened once more. We all have to play our part and stay home as much as possible. When you do go out, it's still mandatory wear and mask and practise social distancing.
Here's everything you need to know about face masks in Singapore
Please continue to stay home as much as possible. You should only go out for daily essentials like takeout or groceries. You can also leave the house to seek medical attention or other services like banking or the mailing of items but do try to run your errands as quickly as possible.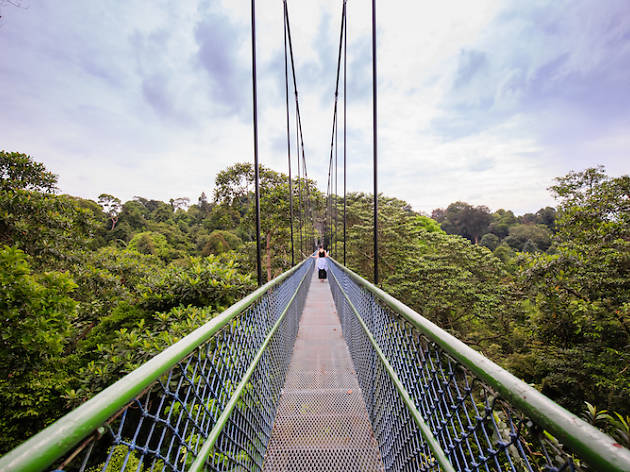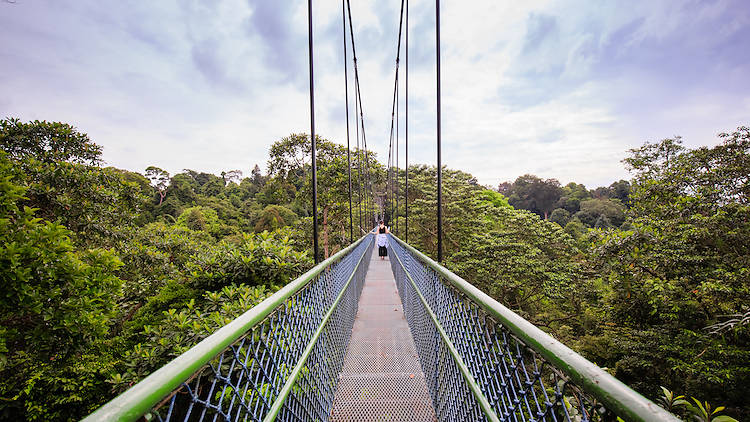 Photograph: Shutterstock
How about for some fresh air?
Recreational activities like going for a walk, run or a bike ride around your neighbourhood are permitted. However, you have to do so alone. As of April 10, all sports stadiums are closed because people continued to flout rules and came together to exercise. Popular beaches such as East Coast Park, Changi Beach Park, Pasir Ris Park, Punggol Point Park, Sembawang Park and West Coast Park are also closed.
If you live near a park, this real-time map produced by NParks allows you to check how crowded public parks are before heading down.
You can also get some exercise at home with more and more local gyms offering free online workouts.
Can I visit family and friends?
If your family lives in the same household as you, then yes, you can "visit" them because you stay together. From June 2, you can also receive two guests from your immediate family each day. But beyond that, you shouldn't be hopping from flat to flat to check in and see how your extended family and friends are doing.
As of April 7, private social gatherings of any size, in homes or public spaces, are banned under the Covid-19 (Temporary Measures) Bill. You can be charged up to $10,000 for holding private or public social gatherings.
You should avoid visiting the elderly as they are most at risk of infection but if you have elderly parents or grandparents above 60 years old, you can help them with their daily needs if necessary. You are also not allowed to drop off your children at their grandparent's place.
Instead, keep in contact with family and friends through the wonders of technology. Organise virtual meetups on Google Hangouts, Zoom or even Houseparty. Here's a handy guide on how to use it to call friends and even play games like Heads Up! on the app. You can also put a smile on their faces by ordering them a meal or some flowers.
How about my boyfriend/girlfriend/partner?
Sorry, if you're not currently living with your boyfriend/girlfriend/partner then you can't visit them. Try organising an online date to spend quality time together.
Single? Download some dating apps and start swiping – it might be a refreshing change to take the time and get to know someone better before meeting IRL. Plus if you can't carry on a conversation till June then they probably aren't the one anyway.
What if I break the rules?
Instead of getting a written warning, you'll instantly be fined $300 if you're caught by flouting safe distancing rules such as not lining up at least 1m away from the people around you. There are more than 3,100 enforcement officers or safe distancing ambassadors currently patrolling the island. Repeat offenders face stiffer penalties including prosecution in court. You could also be fined up to $10,000 and face imprisonment for holding private or public social gatherings.
Can I use public transport?
Our network of trains and buses remain open but you should try to avoid using them during peak times like before 10am and in the evening. When you do use public transport, you must use a mask, maintain a distance from the person next to you where possible and avoid talking. If possible, we'd encourage you to use pedal power for your commute: cycling is not only a great form of exercise, it's also better for the environment too.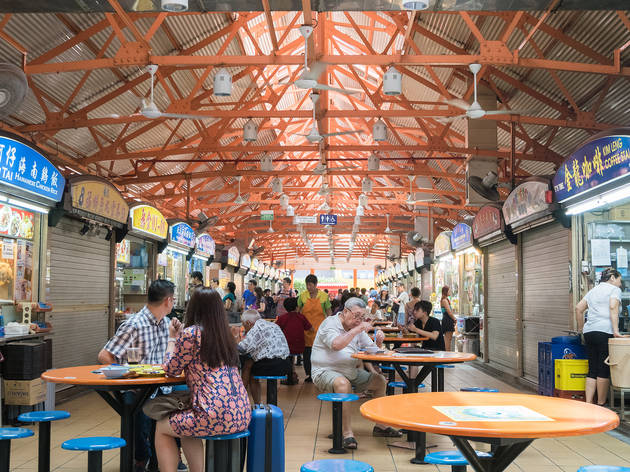 Photograph: Shutterstock
Can I still get food and drinks from my favourite venues?
Good news, after a long break, McDonald's is back as of May 11 via contactless McDelivery, Drive-Thru and takeaway. Most of its restaurants are open from 7am to 9pm, with the exception of those in parks, tourist attractions and some schools.
You can also get burgers delivered from these alternatives instead.
As of April 21, all "less critical" services must shut including standalone stores that sell only beverages like bubble tea, fruit juices, soya milk and smoothies. Stores that predominantly sell liquor, wine and beer also have to remain closed.
However, those located in hawker centres, food courts, and coffeeshops may continue to operate. You can also rely on these alternative bubble tea shops that offer both takeout and delivery. Bakeries that primarily sell bread are also not affected by the closure.
If it's for essential services, sure. If it's for a new outfit so that you look cute in your Work From Home Zoom call, then no, unless you're shopping online. You can shop at supermarkets, convenience stores, grocery retailers and wholesale, hardware stores and wet markets – remember to bring along your NRIC for registration. You will also need to fill in the SafeEntry digital check-in with your details before you can enter malls and supermarkets.
From May 12, laundromats, pet supply shops and home-based food businesses are also allowed to reopen with proper safe distancing measures in place. Optometry services are also available by appointment only.
From June 2, all home-based businesses that operate on a delivery or takeaway model are allowed to operate again. Motor vehicle servicing, aircon servicing, pet services like grooming, physiotherapy and rehabilitation can also resume. School bookshops and shops selling school uniforms are also allowed to open.
However, most retail stores that sell clothes like Zara, electronics like Challenger, furniture like Courts and Ikea and even department stores like Robinsons and Tangs have temporarily closed. You can still get some retail therapy done at these local online shopping sites.
Can I still get a haircut?
Hairdressers and barbers are currently open for basic services but from June 2, they are allowed to resume all hairdressing services including colouring treatments.
Roots showing? Here are some of the best hair salons in Singapore because we all deserve a little treat. Just remember to use SafeEntry when you head down for your appointment.
However, beauty therapists, nail salons, tattoo parlours, massage parlours (excluding health-related services) are not allowed to operate till we reach Phase 3.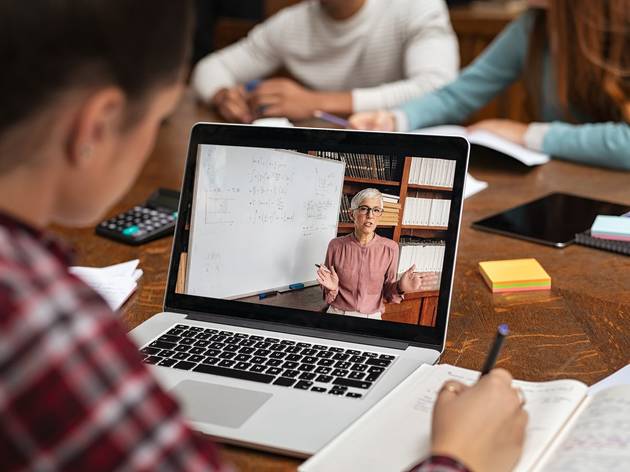 Photograph: Shutterstock
Is there anything I can do? I'm going mad!
There are still plenty of things you can do at home. Check out our ongoing list of things to do this week including live-streams and DJ sets you can party to at home, online classes where you can pick up a new skill and other ideas on how you can make the most of the situation and help the community. If you're the active sort, tune in to online workouts from some of the gyms and studios in Singapore.
Just don't. Defer all non-essential travel – most of the cities have closed their borders anyway, and if you do manage to get a plane ticket out of Singapore, you'll most likely spend your entire time on lockdown instead of doing what travellers enjoy – sightseeing, eating, drinking and having fun in general. The world, unfortunately, has to wait. You'll also be required to serve a 14-day Stay-Home Notice if you're flying into Singapore.
Okay, how about a staycation?
Sorry, not allowed either. Hotels are not allowed to receive new guests during this time while other hotels are being used as space spaces for those returning to Singapore to serve their Stay-Home Notice. I don't know about you, but the idea of someone in the room next to you being ill isn't exactly my idea of a relaxing holiday.
The Integrated Resorts like Marina Bay Sands and Resorts World Sentosa have also announced temporary closures in case you were thinking of taking the family out to Universal Studios Singapore or the SEA Aquarium. Other attractions around the city have shut their doors too.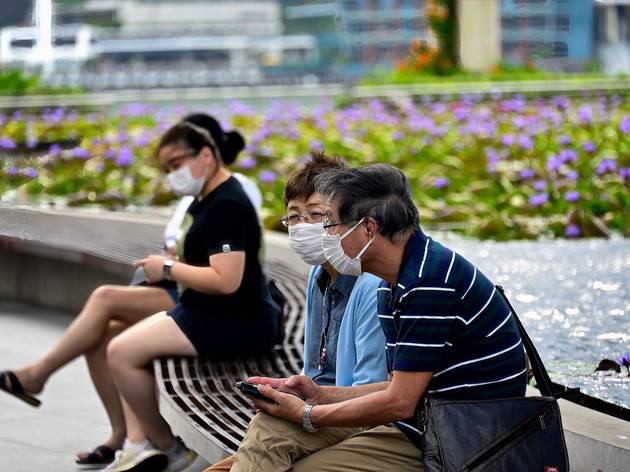 Photograph: Shutterstock
If you're staying at home as much as possible, I'd say you're doing a bang-up job so far. The government has also advised that should you leave the house, be sure to wear a face mask to keep your droplets to yourself. This doesn't just protect you but those around you. Coupled with good hygiene practices and washing your hands for 20 seconds at the minimum as regularly as you can, you should be on the right path. Also, don't touch your face!
How can I help those around me?
What if I have more questions?
Still have more question about the 'circuit breaker' measures? You can contact the Ministry of Health's Covid-19 enquiries emergency line at 1800 333 9999 to seek clarification.
You can also visit gov.sg for the latest news and updates.