Interview: Joff Oddie, Wolf Alice
Joff Oddie, the guitarist from London's indie-rock band Wolf Alice, sits down with us to chat all things festive, touring Asia and his rugby aspiration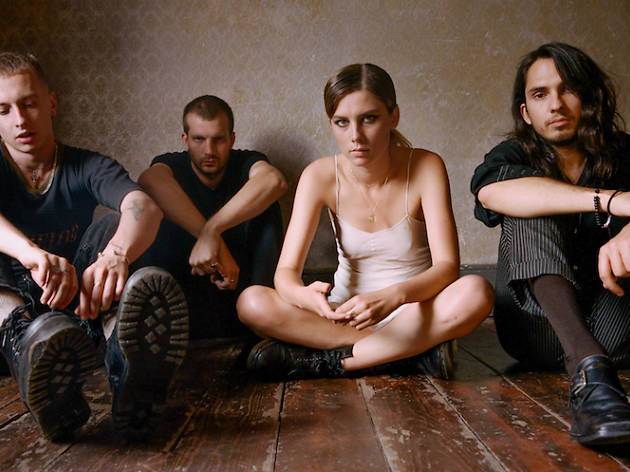 No introduction's necessary for this indie-rock London outfit. Wolf Alice – comprising of Ellie Rowsell, Joff Oddie, Theo Ellis and Joel Amey – churns out a heady mix of grunge, rock and folk-influenced tracks that have earned them Grammy and BRIT Awards nominations, including shortlisted for a Mercury Prize. The quartet broke out in 2015 with their compelling debut album My Love is Cool, which is followed by their sophomore record Visions of a Life.
Performing for the first time at the St Jerome's Laneway Festival Singapore, the band's also presenting On the Road, a docu-film by Michael Winterbottom that follows the rock icons on tour, at The Projector. In the midst of the exciting times ahead, we managed to steal a quick moment with the band's lead guitarist Joff Oddie to say what's up.
Hey Joff, how have you been?
Very good thank you! We've been on tour and just arrived back [in London] yesterday morning. I've been enjoying sitting on my own sofa, playing my guitar and not doing a lot of things, which is very nice.
I know you guys closed the year with a show in Atlanta. What are your plans for the holidays?
Yeah, we actually have a very typical English Christmas. We've all been talking about it for quite awhile. It's awesome to have a little bit of a break. 2017 had been kinda crazy!
Who would you say is the most festive band member?
Oh man, I don't know. None of us are like a crazy Christmas person but we're all big family people. And for us especially in the UK, it's more of a celebration with family, friends, community and togetherness.
Do you guys usually take time off for the holidays?
We've actually never done Christmas on tour. We usually take a week or so, which is nice. But this is definitely going to be one of the first new year's in a long time. The band's got a bit of time off so we can be lazy, sit around and get fat eating mince pies!
"We always wanna make sure our festival sets are just as fun as our own gig"
Has anyone seen the latest Star Wars then?
I'm not an avid fan but I've seen Rogue One with Theo and our tour manager Johnny Haskett in Buffalo and there were people dressed up in Chewbacca and all that. They were all so excited to watch it but Johnny fell asleep about five minutes and snored his way through the film. Theo and I were getting dirty looks. It was pretty funny though!
After your holiday break, you're heading back on the road and it'll be the band's first time in Singapore. How excited are you guys?
Super excited. We heard we'd have to try some seafood. I'll be honest, I read a lot about the country but I'm not too sure. What would you recommend we do if we had some extra time?
Oh, definitely check out the rest of Gardens by the Bay. It's basically this huge park that looks like a scene from James Cameron's movie Avatar.
Wow, really? That sounds sick [laughs]. I have to check that one out.
Since it'll be your debut here, what can the fans here expect from you guys?
We're going to be loud. A lot of jumping around. It's going to be fun. Hopefully, the audience will have fun with us and we'll give them something to headbang to.
How do you guys usually choose the songs to play at festivals, considering set times are slightly shorter than a typical concert?
We choose songs that are mostly more upbeat or are crowd favourites. We try to keep it fast and heavy. But we always wanna make sure our festival sets are just as fun as our own gigs.
"We haven't been in a studio together making music for a long time and we were ready to do that all over again"
Other than Singapore, I see you guys are visiting India too. Are there any plans on doing an Asia tour soon?
Oh, I'd completely love to. But this is the first time in the bucket list that we've gone here. It's definitely the first step to a potential tour in the future. This is us saying hello to Asia!
Do you guys have a wish list of Asian cities then?
Well, we're all very excited to be in Singapore. And I'd love to go to Bali and Seoul too. Though, I'm personally quite keen on going back to India. I went there for a couple of months for holiday by myself when I was 18. It'd be nice to go back now that I'm older and wiser. I'd mostly travelled up north – like to Kashmir and the Himalayas – but we'll be playing down south. It'll be at places that I didn't get to visit before.
Let's talk music for a second. You guys had been on tour for so long before returning to the studio to record your latest album Visions of a Life. How did you guys readjust yourselves from all that high?
I think by the end of all that touring we were just so excited to go back to the studio. Because you know, performing is only half of the job. We'd been on tour for two years and we haven't been in a studio together making music for a long time. We were basically ready to do that all over again.
Speaking of Visions of a Life, I know the album cover features an old photograph of Ellie Rowsell's aunt dancing, who grew up to become a dancer. Growing up, did you ever aspire to become a musician?
I'd always wanted to become a rugby player and play for England. My dad's a big rugby fan and he took me to the local team when I was a kid. I'd completely fell in love with it. It's such an amazing game. But as I got a little bit older, the guys got a little bit bigger than me [laughs]. And I kinda didn't enjoy practising on a Sunday morning like I'd used to. I picked up a guitar later and got into music a lot more. I also had an injury that took me out for six months or so, and in that spare time I just switched passions really ­– my focus after just moved towards music.
Do you remember who was your first musical inspiration?
My stepfather used to be in a band and they'd have band practice in the family house. I'd remember going to sleep and hearing the band play. It always felt kinda magical and he'd have a couple of guitars around the house too.
Don't miss the screening of Wolf Alice's docu-film On the Road at The Projector on Jan 11.