Interview: Thundercat
The bassist with the other-worldly skills lets us in on his genius moves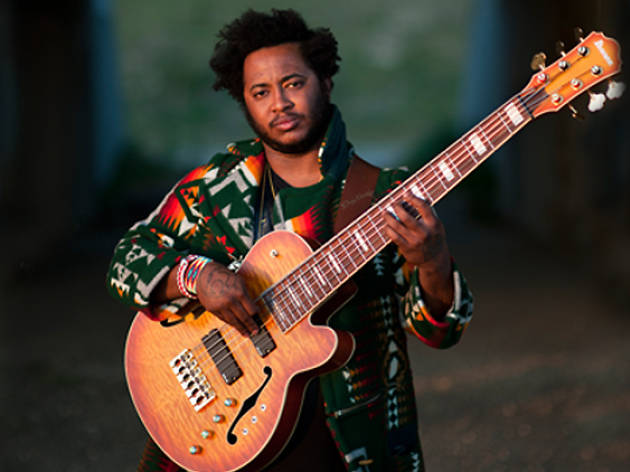 Stephen Bruner is one of those musicians who wields a virtuosity that inspires questions like, 'How can he make all that sound so easy?' As Thundercat, the bassist and singer has established himself very solidly as a maker of near-mystical R&B, funk and jazz fusion, all of which have been relied on by fellow scene-stealers such as Flying Lotus, Kamasi Washington and Kendrick Lamar, for their own next-level projects. Ahead of his upcoming stint at Laneway 2016, we chat with him about his recent mini-album The Beyond / Where the Giants Roam and his involvement in some of the best records of the year.
'I'm just working on making the best music that I can.'
You've had so much great music to your name this year. How has 2015 been for you?
It's been very interesting to see everything move in autopilot. I honestly didn't know what to expect. I'm just working on making the best music that I can. With Lotus, everything is always very intense and I try to give it my all every time I sit down to work with him. The same translated with Kendrick and Kamasi and everything that I was involved in. I never knew what was going to come of it, though.
How different was it making The Beyond as compared with your two earlier records?
Yes, it was very different. It was created in between You're Dead! and To Pimp a Butterfly (TPAB). A lot of the music I was making then was pooled by Lotus and Kendrick. For example, I had already finished the song that became 'Complexion' on TPAB. It had a whole different style and name and we stripped it back to arrive at 'Complexion'. Likewise, the songs on The Beyond mostly changed in this way too.
You tweeted that much of The Beyond has to do with you coming to terms with the 'insanely brutal' deaths of some close friends. Have the songs helped?
Music has always been my therapy and I definitely realized that when I was making it. The sadness that it brought about kept me focused. When I'd sit there by myself, memories would come to me and the music helped me to not avoid them and just go on. That definitely helped.
What was it like working with Kendrick Lamar on TPAB?
It was a really amazing experience! I wish I could express to you how much of an artist Kendrick is. He's a monster, creatively. He just goes – he's one of a kind. You can hear it in the music. Whether it's singing or rapping, he doesn't shy away from things at all. He likes what he likes but at the same time, he's open to finding out something new. You can't say the same about most other artists. They have it in their minds that they're this person and they stop reaching out. Kendrick is always reaching out.
You also worked on Kamasi Washington's The Epic. Did being involved in these records change how you approached your own music?
Oh, absolutely. I've been playing with Kamasi my whole entire life, so being part of this album and seeing how much he's grown as a musician has been a spiritual thing for me, as an artist. There's so much history there. And from Lotus, I've learnt production and songwriting techniques. It's all different facets of the same thing and I'm happy for all the projects I've been a part of.
What kind of impact do you think Brainfeeder has had on contemporary music?
It's the epitome of underground music in Los Angeles. There's no way the light it has brought forth has not been shed on other scenes and other sounds. Brainfeeder makes me want to keep generating better music.
What's got you excited about playing in Singapore for Laneway 2016?
I'm looking to have so much fun and connecting with everybody in an open-minded way. Hopefully, I won't get booed!